Hydroelectric power, supplied mostly from dams, provides approximately 20 percent of the world's electricity, an amount of energy equivalent to 3.6 billion barrels of oil. However, a recent study by researchers at Oxford University has found that large dams cost so much money and take so long to build that they may not be economically viable.
Hydropower dams work by stopping up a river's flow and channeling its water through a turbine to produce electricity. Most of the world's hydropower comes from large dams, which are defined as having a wall height of over 15 meters (49.2 feet). The first large dam was built in Egypt in 1902, with the 20th century seeing the construction of 40,000 large dams worldwide.
The report, published in the University of Oxford's Energy Policy, examined 245 large hydropower dams in 65 countries built between 1934 and 2007. It shows that the costs of dam construction were underestimated by 96 percent on average, and that construction times were 44 percent longer than first estimated.

China's Three Gorges Dam is currently the world's largest, producing 14 percent of the country's hydropower output. Its construction resulted in the flooding of a valley that contained many endangered plant and animal species, as well as the displacement of 1.3 million people.
Atif Ansar, the report's author, said little had been learned over the past 70 years of large dam construction.
"Even before accounting for negative impacts on human society and environment, the actual construction costs of large dams are too high to yield a positive return," he said. "Large dams also take inordinately long periods of time to get built, making them ineffective in resolving urgent energy crises."
Ansar suggested there are two main reasons for the increases in costs and construction times.
"Both experts and laypersons are systematically too optimistic about the time, costs and benefits of a decision," he said. "Project promoters also deceive the decision-makers and the public with strategic misrepresentations."
The report is based on the most comprehensive economic analysis of large dams ever undertaken, and was released during the ASEAN Renewable Energy Week in March, held in Kuala Lumpur, where South East Asia's Energy Ministers met.
The report comes after the completion of the Bakun Hydropower Dam in Malaysia's Sarawak region, which Swiss-based environmental organization, the Bruno Manser Fund, says exceeded expected costs by between 200 and 500 percent. Twelve more large dams are planned for this region alone. Baram Dam is the next large dam to be constructed, and it is expected to displace 20,000 indigenous people in 26 villages.

The Congo River ends in the Democratic Republic of Congo (DRC). Once built, the Grand Inga Hydropower project would be the world's largest dam, resulting in a total diversion of two-third of the river's water.
The authors suggest that dam planners need to increase their initial cost estimates by 99 percent and their construction schedules by 66 percent if they want to achieve 80 percent certainty that the projects are completed within budget and on time.
The World Wide Fund for Nature (WWF) estimates that there are 48,000 dams over 15 meters (50 feet) high around the world, with more than half of those in China.
Another 1,600 large dams are currently under construction, many of them in environmentally sensitive areas. In the Democratic Republic of Congo (DRC), plans are underway for the construction of what will be the world's largest dam – the Grand Inga Hydro Power Project. Together with those already built, this dam will divert two-thirds of the water in the Congo River, which is known for its high species richness. The Lower Congo Rapids portion alone has at least 80 known species of endemic fish, and many areas still await biological surveying. Dams threaten aquatic species by blocking natural migration routes, displacing huge amounts water, and detrimentally altering habitat.
Of the world's 227 largest rivers, 60 percent are severely fragmented by dams, diversions, and canals, leading to the degradation of ecosystems. In addition to ecological damage, dams also have direct negative impacts on human communities, with an estimated 40-80 million people displaced from their homes by dam construction.
Citations:
Ansar, A. et al., 2014. "Should we build more large dams? The actual costs of hydropower megaproject development." Energy Policy. University of Oxford.
Related articles
Controversial Amazon dams may have exacerbated biblical flooding
(03/16/2014) Environmentalists and scientists raised howls of protest when the Santo Antônio and Jirau Dams were proposed for the Western Amazon in Brazil, claiming among other issues that the dams would raise water levels on the Madeira River, potentially leading to catastrophic flooding. It turns out they may have been right: last week a federal Brazilian court ordered a new environmental impact study on the dams given suspicion that they have worsened recent flooding in Brazil and across the border in Bolivia.
Sharp jump in deforestation when Amazon parks lose protected status
(03/01/2014) Areas that have had their protected status removed or reduced have experienced a sharp increase in forest loss thereafter, finds a new study published by Imazon, a Brazilian NGO.
Nicaragua Canal could cause ecological disaster, warn experts
(02/20/2014) Nicaragua's plans for a canal linking the Pacific and Atlantic Oceans could trigger an environmental disaster through habitat destruction and alteration, introduction of non-native species, pollution, and sedimentation, warns a commentary published in this week's issue of Nature.
New dolphin discovered in the Amazon surprises scientists
(01/23/2014) Researchers have discovered a new species of river dolphin from the Amazon. Writing in the journal Plos One, scientists led by Tomas Hrbek of Brazil's Federal University of Amazonas formally describe Inia araguaiaensis, a freshwater dolphin that inhabits the Araguaia River Basin. It is the first true river dolphin discovered since 1918.
Rainforest news review for 2013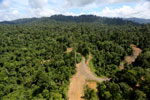 (12/26/2013) 2013 was full of major developments in efforts to understand and protect the world's tropical rainforests. The following is a review of some of the major tropical forest-related news stories for the year. As a review, this post will not cover everything that transpired during 2013 in the world of tropical forests. Please feel free to highlight anything this post missed via the comments section at the bottom. Also please note that this review focuses only on tropical forests.
Africa to build world's largest dam, but who will benefit?
(12/17/2013) The Congo River traverses the continent of Africa, ending its journey in the Democratic Republic of Congo (DRC) where it spills 1.5 million cubic feet per second into the Atlantic Ocean. Now, plans are underway to harness this tremendous force of water in what promises to be the world's largest hydropower scheme, The Grand Inga.