Wildlife officials suspect foul play in the deaths of seven Sumatran elephants on the outskirts of Tesso Nilo National Park. Officials stumbled on the corpses of one female elephant, five young males, and one male calf in mid-February. Although the males had their tusks hacked off, the officials suspect the elephant were poisoned in revenge for disturbing illegal palm oil plantations inside the park.
"There is an indication that they were poisoned," Muhammad Zanir, head of the local wildlife agency, told the AFP. "Some people may consider the elephants a threat to their palm oil plantations and poison them."
Sumatran elephants (Elephas maximus sumatranus) are listed as Critically Endangered by the IUCN Red List, with populations decimated by the massive deforestation that has transformed the Indonesian island over the last couple decades. In recent years, Sumatran elephants are also falling victim to mass-poisonings, allegedly undertaken by some palm oil plantations who view the elephants as pests since they can cause heavy damage to the fruit trees.
"Killing of elephants in and around [Tesso Nilo National Park] has dramatically increased since 2012: a total of 33 elephants have been found dead, many more may have remained undetected," reads a statement from Eyes on the Forest, a local NGO. "If forest loss and elephant killings do not slow down, Tesso Nilo's elephant population might go extinct in less than 10 years."

Sumatran elephants in Bukit Barisan Selatan National Park. Photos by Rhett A. Butler.
Tesso Nilo was established as a national park in 2004, but was already heavily fragmented by thousands of migrants, many of whom have illegal stayed on inside the park. The park is located in Riau province, which has lost some of the most forest on the island. In 1985, Riau was believed to be home to over 1,600 Sumatran elephants, by 2009 only 330 survived. Today, there are likely less.
Eyes on the Forest called on palm oil companies to stop buying fruit produced illegal from inside the park, pointing specifically to Wilmar and Asian Agri based on investigations by WWF.
"Oil palm plantations already cover millions of hectare in Indonesia, they do not need to be established even inside the few precious wildlife reserves the country has," the group wrote. "Resident palm oil companies are facilitating these killings by providing a market. Without their purchases of the illegally grown oil fruits growers would have no reason to operate inside the national park."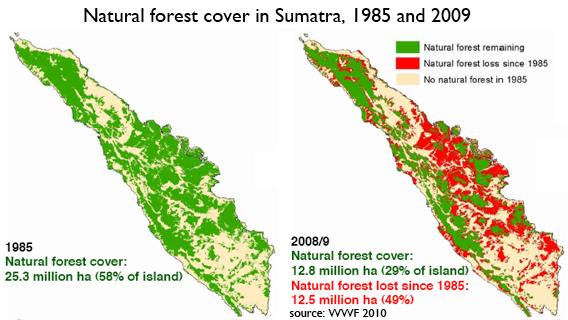 Related articles
One person killed, two injured in elephant attacks in Indonesia this year
(02/12/2014) It was near dawn on Jan. 4 when a critically endangered Sumatran elephant (Elephas maximus sumatranus) destroyed a small shack near a plantation in Indonesia's Aceh province, killing a local farmer from West Aceh district and injuring his 13-year-old son. Yusmani, 59, was trampled to death while his son, Reverendi, escaped with a broken leg.
Bornean elephant meets palm oil: saving the world's smallest pachyderm in a fractured landscape
(10/01/2013) In the Malaysian state of Sabah, where most conservation students are still foreigners—either European or American—Nurzahafarina Othman stands out: not only is she Malaysian, a Muslim, and a mother of a young daughter, but she's rapidly becoming a top researcher and champion for the world's smallest elephant: the Bornean elephant (Elephas maximus borneensis). Although sometimes described as a pygmy elephant, they still weigh 2,000 kilograms (4,400 pounds). The origin of these 'tiny' elephants in Malaysian Borneo have baffled scientists for decades.
Five Aceh elephants die in just six weeks
(08/14/2013) Police in Indonesia's Aceh province are investigating the killings of three critically endangered Sumatran elephants, as conflicts with humans led to a series of elephant deaths across the province last month. Five elephants have died in Aceh since late June, including two orphaned calves, highlighting the need to mitigate conflicts between elephants and local communities as deforestation drives the animals into villages and plantations in search of food.
Featured video: Sumatra's last elephants versus palm oil
(08/05/2013) A new video by The Ecologist documents the illegal destruction of the Leuser protected area in Sumatra for palm oil production, a vegetable oil which has become ubiquitous in many mass-produced foods and cosmetics. The destruction of the forest has pushed elephants and people together, leading to inevitable conflict with casualties on both sides. Elephants are increasingly viewed as agricultural pests for crop-raiding while locals—some of them squatting in protected land—lack the means and resources to keep elephants at bay. Meanwhile, palm oil plantations often see elephants as a threat to the palms.
.