Europe's grassland butterfly population has plummeted in the past two decades, new research published on Tuesday shows, with a near halving in the numbers of key species since 1990.
The precipitous decline has been blamed on poor agricultural practices and pesticides, by the European Environment Agency, which carried out the research. Falling numbers of butterflies are bad news not just for nature-lovers and for biodiversity, but have a knock-on effect on farming, as—like bees—they act as pollinators, and their disappearance harms birds and other creatures that need them for food.
Butterfly populations are a leading indicator of the health of other insect species. The new study therefore suggests many other species of insect, which are also food sources for birds and small mammals, and which play a key role in the health of the countryside, are also under threat.
Scientists from the EEA, the European Union's environment watchdog, looked at 17 key species of grassland butterflies, of which seven were common species and 10 more specialist, using data gathered from 1990 to 2011 in 19 European countries. Of the total 17 species, eight have declined, including the common blue, which has suffered a serious fall in numbers; two species remained stable, including the Orangetip; and only one increased. The trend for the remaining six species is still uncertain, including the much-appreciated Lulworth skipper, beloved of butterfly watchers.

A new study finds that common blues and other butterflies are declining across Europe. Photo by: Böhringer Friedrich/Creative Commons 2.5.
Grassland butterflies make up the majority of butterflies in Europe, with over 250 species out of the more than 400 found in Europe. Others species prefer to colonize woods, wetlands, heaths and other habitats. Chris van Swaay, one of the authors of the report, from the Dutch conservation organization De Vlinderstichting, said that the same pesticides that affect bees – leading to the EU to ban certain products, at least temporarily – also have an effect on butterflies. "The pesticide problem is especially a problem in the intensive agricultural areas of western Europe," he said. "In eastern Europe, it is less of a problem."
Grassland species are also particularly important because so much of EU land is given over to agriculture: if butterflies cannot thrive on farmland, they will suffer dramatic declines. The EEA warned that as a result of intensive practices, with the aggressive use of pesticides and other chemicals, the loss of hedgerows, field margins and other semi-wild areas, as well as the monocultures prevailing in many areas and the rapid turnover of land, many large areas of farmed land are becoming "sterile" in terms of biodiversity.
The EEA, which worked with conservation charities such as Butterfly Conservation Europe to put together the European grassland butterfly indicator, said that in some areas of affluent north-western Europe, agriculture had become so intensive that butterflies are now confined to marginal land such as road and rail verges and even urban gardens, as well as the small proportion of farmland that is managed with environmental aims in mind.
Hans Bruyninckx, executive director of the EEA, said: "This dramatic decline in grassland butterflies should ring alarm bells – in general Europe's grassland habitats are shrinking. If we fail to maintain these habitats we could lose many of these species forever. We must recognize the importance of butterflies and other insects—the pollination they carry out is essential for both natural ecosystems and agriculture."
Perhaps surprisingly, intensive agriculture is not the only threat to butterflies—the abandonment of previously cultivated agricultural land, in central and southern Europe, is also a problem when it results in the neglect of key grassland habitats. When farmland is abandoned, it rapidly turns to scrub, and Europe's grassland butterfly species have evolved over millennia to live on grassland, including land under old forms of cultivation that were less intensive.
Paul de Zylva, nature campaigner at Friends of the Earth, said: "Bees, butterflies and pollinators in general are facing decline across Europe for the same reasons—loss of habitat, intensive farming and the use of pesticides. Unfortunately the recently reformed Common Agricultural Policy is worse for wildlife than its predecessor. European governments must stop using tax-payers' money to prop up a farming system that isn't doing enough to protect nature and biodiversity."
Original Post: Grassland butterflies in rapid decline in Europe
Related articles
Losing just one pollinator species leads to big plant declines
(07/22/2013) A shocking new study finds that losing just one pollinator species could lead to major declines in plant productivity, a finding that has broad implications for biodiversity conservation. Looking at ten bumblebee species in Colorado alpine meadows, two scientists found that removing a single bee species cut flower seed production by one-third. Pollinators worldwide are in major trouble as they are hit by habitat loss, pesticides, disease and other impacts. In fact, the EU has recently banned several pesticides that have been linked to the global bee decline.
EU labels another pesticide as bad for bees
(06/18/2013) A widely used insect nerve agent has been labelled a "high acute risk" to honeybees by the European Food Safety Authority (EFSA). A similar assessment by the EFSA on three other insecticides preceded the suspension of their use in the European Union.
U.S. loses nearly a third of its honey bees this season
(05/09/2013) Nearly a third of managed honeybee colonies in America died out or disappeared over the winter, an annual survey found on Wednesday. The decline—which was far worse than the winter before—threatens the survival of some bee colonies. The heavy losses of pollinators also threatens the country's food supply, researchers said. The US Department of Agriculture has estimated that honeybees contribute some $20bn to the economy every year.
Europe bans pesticides linked to bee collapse
(04/29/2013) The EU has banned three neonicotinoid pesticides (imidacloprid, clothianidin and thiamethoxam) linked to the decline of bees for two years. The ban will apply to all flowering crops, such as corn, rape seed, and sunflowers. The move follows a flood of recent studies, some high-profile, that have linked neonicotinoid pesticides, which employ nicotine-like chemicals, to the widespread decline of bees seen both in Europe and North America.
Domesticated bees do not replace declining wild insects as agricultural pollinators
(04/03/2013) Sprinkled with pollen, buzzing bees fly from one blossom to another, collecting sweet nectar from brilliantly colored flowers. Bees tend to symbolize the pollination process, but there are many wild insects that carry out the same function. Unfortunately, wild insect populations are in decline, and, according to a recent study, adding more honey bees may not be a viable solution.
Common pesticides disrupt brain functioning in bees
(03/27/2013) Exposure to commonly used pesticides directly disrupts brain functioning in bees, according to new research in Nature. While the study is the first to record that popular pesticides directly injure bee brain physiology, it adds to a slew of recent studies showing that pesticides, especially neonicotinoids, are capable of devastating bee hives and may be, at least, partly responsible for on-going Colony Collapse Disorder (CCD).
EU pushes ban on pesticides linked to bee downfall
(02/05/2013) Following a flood of damning research on the longterm impact of neonicotinoid pesticides on bee colonies, the EU is proposing a two year ban on the popular pesticides for crops that attract bees, such as corn, sunflower, oil seed rape, cotton. The proposal comes shortly after European Food Safety Authority (EFSA) released a report that found neonicotinoid pesticides posed a "number of risks" to bees.
New study adds to evidence that common pesticides decimating bee colonies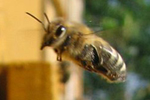 (10/24/2012) The evidence that common pesticides may be partly to blame for a decline in bees keeps piling up. Several recent studies have shown that pesticides known as "neonicotinoid" may cause various long-term impacts on bee colonies, including fewer queens, foraging bees losing their way, and in some cases total hive collapse. The studies have been so convincing that recently France banned the use of neonicotinoid pesticides. Now a new study finds further evidence of harm caused by pesticides, including that bees who are exposed to more than one chemical, i.e. neonicotinoid and pyrethroid, were the most vulnerable.