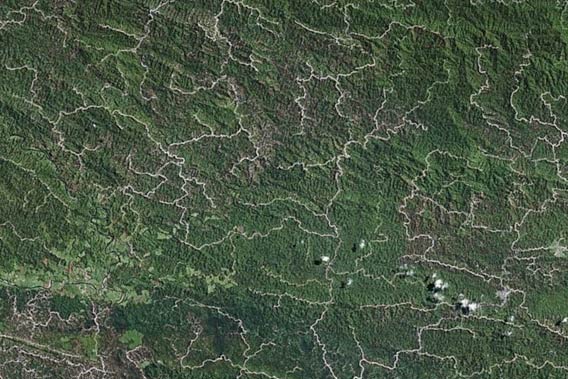 Logging roads criss-cross Sarawak's forests. Photo courtesy of Google Earth.

Tax evasion, kick-backs, bribery, and corruption all make appearances in a shocking new undercover video by Global Witness that shows how top individuals in the Sarawak government may be robbing the state of revenue for their own personal gain. Anti-corruption groups have believed that corruption has been rife in the Malaysian state of Sarawak for decades, but Global Witness says their investigation offers undeniable proof.
"This film proves for the first time what has long been suspected—that the small elite around Chief Minister Taib are systematically abusing the region's people and natural resources to line their own pockets," said Tom Picken, Forest Team Leader at Global Witness. "It shows exactly how they do it and it shows the utter contempt they hold for Malaysia's laws, people and environment."
By sending in individuals posing as foreign investors seeking land for a palm oil plantation, the organization documents how connected individuals, such as Chief Minister Taib's cousins, are able to use forest lands as pawns to accrue personal profit. In their bid to buy land, a lawyer promises the fake investors that they can buy it tax-free by paying into an account in Singapore, which the lawyer calls "the new Switzerland," instead of paying the full amount in Sarawak as law requires. The lawyer tells the investor that be working with Taib's cousins, he is "talking to people of substance, okay? People who have assets in their hands."
At one point, another lawyer even suggests to the investors that they would need to pay a certain percentage of the price, in this case 10 percent, to an unnamed contact who would then funnel the money over to Chief Minister Taib as a kick-back.
Meanwhile documents show that relatives of Taib, in this case his cousins, have received land at a pittance and thereby are able to sell it for a small fortune.
The land in question is currently inhabited by indigenous people, who have seen their fortunes fall heavily in Sarawak over the last few decades. Although they have inhabited much of Sarawak's forests for centuries, indigenous people have no legal ownership to their lands. Industrial logging and plantation have displaced and impoverished whole communities, while it appears top government officials have reaped the benefits. Such people are referred to as "naughty" and "squatters" by Taib's cousins in the video.
But what is perhaps most surprising is the candor and flippancy with which family members of Chief Minister Taib and lawyers discuss not just skirting Sarawak law, but knowingly breaking it. Over and over, the fake investors are told "it's been done before," and not to be concerned about future ramifications since, as they imply, there won't be any.
"The Taib family and their friends have treated Sarawak's natural resources like a personal piggy bank for decades," adds Picken. "Until Singapore and other financial service centers stop allowing corrupt politicians and criminals to shield themselves and their loot from justice back home, the likes of Taib will continue to get away with stealing from their own people."
But Chief Minister Taib has denied any of the allegations raised by the video.
"I saw the so-called proof. Could it not be someone trying to promote themselves to become an agent to get favors from me?" he told journalist Liza Bong when asked about the video. "It has nothing to do with me right? I think it is a bit naughty of them for using their big power to blacken my name."
He added, "They are trying to frame me."
A recent report by the Bruno Manser Fund estimates that Taib, who has headed Sarawak for over 30 years, is worth $15 billion or just slightly less than the entire state's annual GDP. The report estimates the full worth of the Taib family at $20 billion. The bulk of this money, according to Bruno Manser, has been made through corruption in logging, agriculture, property, and media.
While Taib recently claimed that 70 percent of Sarawak's forests are intact, satellite imagery puts that number closer to 5-10 percent. The Sarawak government has not allowed foreign inspection of its forests since 1991.
Related articles
Malaysian candidate pledges to drop controversial dam in Sarawak if elected
(01/14/2013) Malaysia's current opposition leader, Anwar Ibrahim, has pledged to cancel the controversial Baram Dam in Sarawak if upcoming general elections sweep him into the office of Prime Minister. Ibrahim made the announcement while visiting the state of Sarawak, located on the island of Borneo, over the weekend, according to the indigenous rights NGO, Bruno Manser Fund.
Penan suspend dam blockade, give government one month to respond to demands
(11/15/2012) Members of the Penan tribe have suspended their month long blockade of the Murum dam in the Malaysian state of Sarawak, reports Survival International. However, according to the indigenous group the fight is not over: the departing Penan said the Sarawak government had one month to respond to demands for sufficient compensation for the dam's impact or face another blockade. Over 300 Penan people participated in the blockade, which stopped traffic leading to the construction site.
Indigenous blockade expands against massive dam in Sarawak
(10/08/2012) Indigenous people have expanded their blockade against the Murum dam in the Malaysian state of Sarawak, taking over an additional road to prevent construction materials from reaching the dam site. Beginning on September 26th with 200 Penan people, the blockade has boomed to well over 300. Groups now occupy not just the main route to the dam site, but an alternative route that the dam's contractor, the China-located Three Gorges Project Corporation, had begun to use.
NGO: Malaysian leader worth $15 billion despite civil-servant salary; timber corruption suspected
(09/19/2012) Abdul Taib Mahmud, who has headed the Malaysian state of Sarawak for over 30 years, is worth $15 billion according to a new report by the Bruno Manser Fund. The report, The Taib Timber Mafia, alleges that Taib has used his position as head-of-state to build up incredible amounts of wealth by employing his family or political nominees to run the state's logging, agriculture, and construction businesses. Some environmental groups claim that Sarawak has lost 90 percent of its primary forests to logging, while indigenous tribes in the state have faced the destruction of their forests, harassment, and eviction.