Grasslands in Kenya's Masai Mara. Photo by: Rhett A. Butler.
Few of the world's ecosystems are more iconic than Africa's sprawling savannahs home to elephants, giraffes, rhinos, and the undisputed king of the animal kingdom: lions. This wild realm, where megafauna still roam in abundance, has inspired everyone from Ernest Hemingway to Karen Blixen, and David Livingstone to Theodore Roosevelt. Today it is the heart of Africa's wildlife tourism and includes staunch defenders such as Richard Leakey, Michael Fay, and the Jouberts. Despite this, the ecosystem has received less media attention than imperiled ecosystems like rainforests. But a ground-breaking study in Biodiversity Conservation finds that 75 percent of these large-scale intact grasslands have been lost, at least from the lion's point of view.
"These savannahs conjure up visions of vast open plains. The reality is that from an original area a third larger than the continental United States, only 25 percent remains," co-author Stuart Pimm, with Duke University, said in a statement. Currently around 30 percent of the world's rainforest remains.
The study's authors write that while "global assessments of how much tropical moist forest remains are made routinely, and, in the case of the Brazilian Amazon, monthly […] comparable assessments of tropical dry woodlands and savannahs are few."
In order to determine how much intact savannah remains, the study took a "lion's view." In other words they focused on habitat that would be intact enough for the region's top predator, the African lion (Panthera leo leo), to survive.
"If areas retain lions, the continent's top predator, they are likely to be reasonably intact ecosystems," the scientists explain in their paper. "By considering the size of savannah Africa from the lion's perspective, we can assess how much of it remains in large, relatively intact areas, not yet heavily modified by human influence. Clearly, smaller areas will still support less complete sets of species."
Researchers then used high-resolution satellite imagery to measure the extent of Africa's grasslands, defined as areas that receive 300 to 1,500 millimeters of rain annually.
"Based on our fieldwork, we knew that most of the information out there from low-resolution satellite-based studies was wrong," explains lead author Jason Riggio of Duke University's Nicholas School of the Environment. "Existing global maps are quite coarse and show large areas of African woodlands as being intact. Only by utilizing very high-resolution imagery, were we able to identify many of these areas as being riddled with small fields and extensive, if small, human settlements that make it impossible for lions to survive."
In all the study estimates that savannah ecosystems capable of containing African lions cover 3.3 million square kilometers. Such grasslands are vanishing rapidly due to massive population growth across Africa and ongoing conversion of grasslands into agriculture and cities.
Furthermore the study estimates that 32,000-35,000 African lions survive today, down from almost 100,000 animals 50 years ago. Lions aren't only vanishing due to habitat loss, but poaching, human-wildlife conflict, poisoning, and legal hunting—considered unsustainable by some—are also taking their toll.

Habitat loss in the Okavango Delta in Botswana. Photo by: Jeremy Hance.

Aerial view of African buffalo herd in Botswana. Photo by: Jeremy Hance.
CITATION: Jason Riggio, Andrew Jacobson, Luke Dollar, Hans Bauer, Matthew Becker, Amy Dickman, Paul Funston, Rosemary Groom, Philipp Henschel, Hans de Iongh, Laly Lichtenfeld, Stuart Pimm. The size of savannah Africa: a lion's (Panthera leo) view. Biodiversity Conservation. 2012. DOI: 10.1007/s10531-012-0381-4.
Related articles
Illegal hunting threatens iconic animals across Africa's great savannas, especially predators
(10/25/2012) Bushmeat hunting has become a grave concern for species in West and Central Africa, but a new report notes that lesser-known illegal hunting in Africa's iconic savannas is also decimating some animals. Surprisingly, illegal hunting across eastern and southern Africa is hitting big predators particularly hard, such as cheetah, lion, leopard, and wild dog. Although rarely targets of hunters, these predators are running out of food due to overhunting and, in addition, often becoming victims of snares set out for other species.
Unpaved road through Serengeti to progress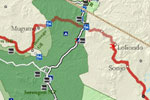 (07/02/2011) After a week of confusion, the Tanzanian government has finally clarified its position on the hugely-controversial Serengeti road. The Minister for Natural Resources and Tourism, Ezekiel Maige, confirmed that a paved highway will not be built through the northern Serengeti National Park, however the government is still planning to construct a gravel road through the park. Yet critics have long warned that even an unpaved road would open Pandora's box: eventually commercial and population pressure would push the road to be paved, widened, and fenced leading to a collapse of the world's largest remaining-and most famous-land migration. Two million wildebeest, zebra, and Thomson's gazelle pass along this route in annual migration from Tanzania to Kenya.
Road through the Serengeti will eventually 'kill the migration'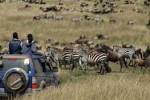 (07/08/2010) Tourists, conservationists, individuals, and tour companies have launched an international outcry against the Tanzanian authorities in response to the announcement of the planned construction of the trans-Serengeti Highway highway. There is even a Facebook group and an online petition with 5,038 signatures. But the government has responded by saying that the plans are still on course.
A lion's story, an interview with the filmmakers of The Last Lions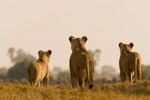 (02/14/2011) The new theatrical film, The Last Lions does not open, as one would expect, with a shot of lions or even an African panorama. Instead the first shot is a view of our planet from space at night. Billions of artificial lights illuminate continent showing just how much humans over the past few thousand years have come to dominate our world. Then comes the lions, but not in person, just in this staggering, and little known, statistic: in the last 50 years we have gone from a population of 450,000 lions to 20,000 today, a 95% decline. While the dramatic story of the The Last Lions follows the perils and tragedies of lion motherhood in one of the world's last untouched places—the Okavango Delta—this statistic hangs over the film, reminding us that the story we are witnessing is on the verge of extinction.