Hurricane Sandy storm surge on the New Jersey shore. Photo by: Master Sgt. Mark C. Olsen/U.S. Air Force/New Jersey National Guard.
As the devastation wrought by Hurricane Sandy—killing over 100 people and producing upwards of $50 billion in damage along the U.S. East Coast—has reignited a long-dormant conversation on climate change in the media, it's important to note that this is not the only weird and wild weather the U.S. has seen this year. In fact, 2012 has been a year of record-breaking weather across the U.S.: the worst drought in decades, unprecedented heatwaves, and monster forest fires. While climatologists have long stated that it is not yet possible to blame a single extreme weather event on climate change, research is showing that rising temperatures are very likely increasing the chances of extreme weather events and worsening them when they occur.
Heat
In March the U.S. suffered a truly bizarre extreme weather event: a heatwave that made early spring feel like the height of summer. The March heatwave shattered 15,272 day and nighttime records across the U.S. and made March 2012 the warmest March on record for the country. Then came summer 2012 when a longer-than-usual heatwaves worsened forest fires, exacerbated drought, and led to a series of destructive wind and thunderstorms known as derechos. July 2012 set the record for the warmest month ever in the U.S., beating out past scorchers set during the Dust Bowl.
The link between such extraordinary heatwaves and climate change is crystallizing. A recent study in the Proceedings of the National Academy of Sciences (PNAS) found that extreme heatwaves have increased worldwide by at least 50 times during the last 30 years. The research, headed by James Hansen of NASA, concluded that anthropogenic global warming was the only explanation for the observed increase in heatwaves.
Fire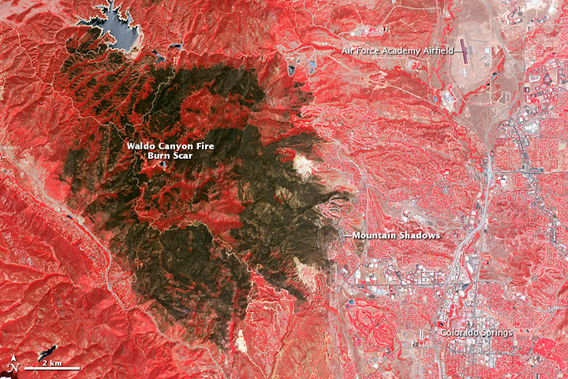 Fire scar from Waldo Canyon Fire in Colorado. Photo by: NASA.
Heat makes fire more likely, and 2012 was a record-breaker for forest fires in the U.S. as well. New Mexico suffered its largest wildfire yet when 289,478 acres (117,148 hectares) burned up in the Gila National Forest. Another fire in New Mexico, however, proved to be the most destructive in the state's history when it destroyed over 250 buildings. Colorado suffered a particularly damaging wildfire as well: the Waldo Canyon Fire destroyed over 300 homes, killed two people, and prompted a visit from President Obama. It was the state's second largest wildfire on record.
While several factors are leading to explosive monster fires, including the practice of suppressing small fires rather than letting them burn out, scientists are increasingly outspoken that there is also a climate factor in these conflagrations. Rising temperatures, droughts, and less snow pack are increasing prime fire conditions in some parts of the U.S., particularly the Southwest.
"I have no doubt climate change is playing a role in this," climate scientist Kevin Trenberth, who heads the Climate Analysis Section at the National Center for Atmospheric Research (NCAR), told The Salt Lake Tribune in July. Located in Boulder Colorado, Trenberth's NCAR lab was evacuated during the Waldo Canyon Fire.
And drought
A record drought hit the U.S. heartland this spring and then spread, impacting over half of the contiguous U.S. by the end of the summer. The government declared disaster areas in 1,692 counties across 36 states. The combination of record heat and dryness decimated the nation's globally-important corn crop: with around 45 percent of the crop lost, fears for another global food crisis have risen for next year. The price of corn, which is used to feed livestock and for biofuels, hit a record high in August. Even as the U.S. East Coast was hammered by rain, drought conditions still persist across much of the U.S.
A recent report in American Meteorological Society has shown that climate change is increasing the likelihood of such droughts. For example, it found that climate change had increased the chances of a major drought in Texas in 2011 by 20 times.
"This is what global warming looks like at the regional or personal level," Jonathan Overpeck, climatologist with the University of Arizona, told the Associated Press over the summer. "The extra heat increases the odds of worse heat waves, droughts, storms and wildfire. This is certainly what I and many other climate scientists have been warning about."
Notice that scientists do not say climate change has caused these extreme events, instead they argue that rising global temperatures have increased the likelihood of extreme events and increased their potency. A common metaphor to describe this phenomenon is that climate change has "loaded the dice" for extreme weather events.
So, what about Hurricane Sandy?
The connection between hurricanes and climate change has come under more debate than heatwaves and droughts, however scientists still point several ways in which the storm may have been exacerbated by climate change. Year-after-year of rising sea levels—caused by climate change due melting glaciers and the fact that warmer waters actually expand—certainly added to Sandy's devastating storm surge, which hit 14 feet in some places. A warmer ocean also results in increased evaporation, leading to heavier precipitation. Combining the sea level rise with more precipitation probably resulted in a double-whammy for coastal flooding.
In addition, higher oceanic temperatures and more precipitation may increase the intensity of some hurricanes. In fact, recent science shows that while hurricanes in general may occur less often due to climate change, particularly intense ones, like Sandy, are expected to occur more frequently in upcoming decades. Temperatures over the Atlantic Ocean were 3 degrees Celsius (5.4 degrees Fahrenheit) above average during the reign of Sandy.
| | |
| --- | --- |
| | Hurricane Sandy's track. Notice how it veers eastwards. Image by: Cyclonebiskit. |
Finally, the hurricane's route was pushed by a rare blocking pattern—an unmoving block of atmosphere pressure—near Greenland. This blocking pattern, which pushed Sandy westwards into New Jersey and New York, may be connected to sea ice loss in the Arctic, according to recent research. Usually a hurricane like Sandy would move out eastwards and perish over the ocean, but this one was steered directly into the coast. Much more research on this theory is needed, but it may be that Arctic sea ice loss—which hit a new record low this year—could have helped form the blocking pattern that brought Sandy along its unusual course.
"I would be very cautious," Stefan Rahmstorf, professor of physics of the oceans at the Potsdam Institute for Climate Impact Research, told Reuters. "But there is reason to suspect that there could be a connection between the record sea ice loss this summer and the path of this storm."
Much more research on this theory is needed, according to experts. In fact, the research on how the warming atmosphere is impacting extreme weather is still in its infancy. Hurricane Sandy, itself, was a truly bizarre storm—a combination hurricane and snowstorm—that has not been studied widely by climatologists. Still, scientists are beginning to see stark changes in extreme weather around the world, not surprising given that weather-systems are not independent of our climate, and new research is showing that a warmer world is very likely a more extreme one. It's not going to get any better, experts say, until societies begin to dramatically cut greenhouse gas emissions while adapting to a more extreme atmosphere.
Political implications

Hurricane Sandy last night over Georgia and Florida. Photo by: NASA.
Hurricane Sandy—not the drought, fires, or heatwaves—has brought a sudden debate about climate change in the U.S. media and among U.S. politicians. Hitting just days before the 2012 Presidential election, the storm prompted New York City Mayor Michael Bloomberg on Thursday to endorse Barack Obama for a second term, largely focusing on Obama's stance on climate change.
Barack Obama came into office with ambitious hopes to forge a comprehensive cap-and-trade agreement to cut U.S. greenhouse gas emissions. When that failed, the administration settled for high fuel efficiency standards and new rules on coal-fired plants. However, the last couple years, Obama has discussed climate change only infrequently.
Mitt Romney, for his part, has gone from saying that he believes humans are responsible (at least partially) for current warming—a view espoused by the vast majority of experts and every major scientific institution—to questioning if there is any connection between rising greenhouse gas emissions and climate change. Romney surrogates have also stressed that the ex-governor does not believe the U.S. federal government should regulate greenhouse gas emissions.
At the Republican National Convention, Mitt Romney joked that, "President Obama promised to begin to slow the rise of the oceans and to heal the planet. My promise is to help you and your family." The jab produced much laughter and applause. In the last few years, the Republican Party has shifted largely from debating how to deal with climate change to denying the science.
Both Romney and Obama have remained silent on climate change since Hurricane Sandy.
Related articles
Hours before Hurricane Sandy hit, activists protested climate inaction in Times Square
(10/30/2012) On Sunday, as Hurricane Sandy roared towards the coast of the Eastern U.S., activists took to the streets in New York City to highlight the issue of climate change. Activists organized by 350.org unfurled a huge parachute in Times Square with the words, "End Climate Silence," a message meant to call attention to the fact that there has been almost zero mention of climate change during the presidential campaign, including not a single reference to the issue in the four presidential debates.
How climate change may be worsening Hurricane Sandy
(10/29/2012) While scientists are still debating some fundamental questions regarding hurricanes and climate change (such as: will climate change cause more or less hurricanes?), there's no debating that a monster hurricane is now imperiling the U.S. East Coast. A few connections between a warmer world and Hurricane Sandy can certainly be made, however: rising sea levels are likely to worsen storm surges; warmer waters bring more rain to increase flooding; and hotter temperatures may allow the hurricane to push both seasonal and geographic boundaries.
Lack of climate change in presidential debates part of larger trend
(10/23/2012) The final presidential debate between President Barack Obama and Governor Mitt Romney, focusing on foreign policy, ended like all the others: without a mention of climate change or its likely impacts on Americans, from rising sea levels to worsening extreme weather to the threat of instability abroad. While environmental groups have kicked-off a campaign to target this "climate silence," the lack of discussion on climate change is a part of a larger trend in the U.S. where media coverage of the issue has declined even as scientists argue that impacts are increasing.
Will we need to pull carbon out of the atmosphere to save ourselves?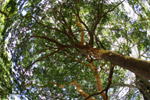 (10/17/2012) This year saw the Arctic sea ice extent fall to a new and shocking low, while the U.S. experienced it warmest month ever on record (July), beating even Dust Bowl temperatures. Meanwhile, a flood of new research has convincingly connected a rise in extreme weather events, especially droughts and heatwaves, to global climate change, and a recent report by the DARA Group and Climate Vulnerability Forum finds that climate change contributes to around 400,000 deaths a year and costs the world 1.6 percent of its GDP, or $1.2 trillion. All this and global temperatures have only risen about 0.8 degrees Celsius (1.44 degrees Fahrenheit) since the early Twentieth Century. Scientists predict that temperatures could rise between 1.1 degrees Celsius (2 degrees Fahrenheit) to a staggering 6.4 degrees Celsius (11.5 degrees Fahrenheit) by the end of the century.
Norway to double carbon tax on oil industry for climate change programs
(10/15/2012) Beginning next year, Norway will nearly double the carbon tax on its domestic oil industry to help set up a $1 billion climate change fund for programs in developing nations among other green projects. The Scandinavian nation is the world's 13 largest oil producer and third biggest oil exporter, yet has been one of the most active champions of funding climate change projects.
Over 70 percent of Americans: climate change worsening extreme weather
(10/10/2012) According to a new poll, 74 percent of Americans agree that climate change is impacting weather in the U.S., including 73 percent who agreed, strongly or somewhat, that climate change had exacerbated record high temperatures over the summer. The findings mean that a large majority of Americans agree with climatologists who in recent years have found increasingly strong evidence that climate change has both increased and worsened extreme weather events.
Nary a mention of climate change during U.S. presidential debate
(10/04/2012) The hour-and-a-half long debate between President Barack Obama and ex-governor Mitt Romney last night ended without a single reference to climate change. Frustrated with the lack of discussion on the issue from both candidates, environmental activists sent a petition with over 160,000 signatures to debate moderator, Jim Lehr, urging him to ask a question about climate change. The petition fell on deaf ears.
Arctic sea ice is 'toast' as old record shattered
(09/19/2012) Some twenty days after breaking the record for the lowest sea ice extent, the Arctic sea ice has hit a new rock bottom and finally begun its seasonal recovery. In the end, the Arctic sea ice extent fell to just 3.4 million square kilometers (1.32 million square miles) when only a few months ago scientists were wondering if it would break the 4 million square kilometers. The speed of the sea ice decline due to climate change has outpaced all the computer models, overrun all expert predictions, and shocked even the gloomiest scientists.
Featured video: Chasing Ice trailer
(09/11/2012) A new film, opening in the U.S. in November, follows the exploits of National Geographic photographer, James Balog, as he attempts to photograph the end of glaciers and great ice sheets, which are diminishing and, in some cases, collapsing under the heat of global climate change. The film, which won a cinematography award at Sundance, documents the lengths one person will go to capture images of a vanishing world.
Wind can power the world, says two new studies
(09/10/2012) Wind power is up to the challenge of providing more-than-enough energy for global society, according to two new and unrelated studies. Both studies, one published in Nature Climate Change and the other in the Proceedings of the National Academy of Sciences (PNAS), found that wind power from surface winds alone could produce hundreds of terrawatts (TW) meanwhile current global society uses around 18 TW.
Sea ice falls to record low with over two weeks of melting left
(08/27/2012) One of the most visible impacts of climate change—melting summer sea ice in the Arctic—just hit a new milestone. Scientists with the U.S. National Snow and Ice Data Center (NSIDC) have declared that this year's Arctic sea ice extent dipped below the previous record set in 2007 as of yesterday. The record is even more notable, however, as it occurred more than a fortnight before the Arctic's usual ice melt season ends, meaning the old record will likely not just be supplanted, but shattered.
July 2012: hottest month in U.S. history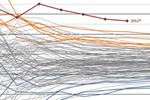 (08/08/2012) Last month was not only the hottest July in U.S. weather history, but the hottest month ever recorded in the contiguous U.S, besting a record struck in July 1936 during the Dust Bowl, according to new data from the National Oceanic and Atmospheric Administration (NOAA). The average temperature last month over the contiguous U.S. was 77.6 degrees Fahrenheit, or 3.3 degrees Fahrenheit above the 20th Century average. Making matters worse, crippling drought continued to spread over 63 percent of the lower 48 states.
Climate and culture: abrupt change and rapid response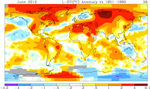 (08/06/2012) As the world experiences record heat, increased drought and fires, unprecedented ice melt and similar extreme weather anomalies decades before expected, climatologists have been forced to reconsider previous climate change projections and research techniques. Less than a decade ago, scientific consensus considered warming of more than 2 C and atmospheric levels of carbon dioxide near 450 parts per million (ppm) as acceptable or "safe". Revised climate science literature and expert opinion now regard safe atmospheric levels of carbon dioxide as below 350 ppm, or less than 1 C rise in average planetary temperature. Many researchers and environmentalists, however, recognize that the present deviation from pre-industrial temperatures of 0.8 C may be unacceptable to prevent runaway climate change and widespread disasters.
Extreme heatwaves 50 to 100 times more likely due to climate change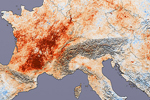 (08/05/2012) A recent rise in deadly, debilitating, and expensive heatwaves was caused by climate change, argues a new statistical analysis published in the Proceedings of the National Academy of Sciences (PNAS). Climatologists found that extreme heatwaves have increased by at least 50 times during the last 30 years. The researchers, including James Hansen of NASA, conclude that climate change is the only explanation for such a statistical jump.