Monthly DETER deforestation data from INPE since August 2008. Augusts denoted by orange.
Satellite imagery released by the Brazil's National Space Research Institute (INPE) reveals a sharp jump in deforestation during the month of August.
The new data, released with little fanfare and without the usual press release on INPE's homepage, was first highlighted by O Eco, a Brazilian environmental news site.
Some 522 sq km of Amazon rainforest was cleared in the month of August, an increase of 220 percent over August a year ago, according to INPE's near-real time deforestation detection system DETER. Clearing was concentrated in Pará (44 percent) and Mato Grosso (40 percent), two states where the bulk of deforestation in the Brazilian Amazon has occurred over the past thirty years.
The monthly forest loss is the highest recorded since July 2009 when 836 sq km were cleared.
While the data may seem alarming at first glance, analysts generally don't read too much into a one-month spike in clearing, which can be highly variable, especially during the June-October dry season when most deforestation occurs. The question is whether the jump is sustained.
Deforestation for the 12 months ending July 31, 2012 is expected to be the lowest on record, continuing a trend of falling deforestation in the Brazilian Amazon. Nonetheless there are worrying signs that the trend could reverse. Brazil's Congress is currently pushing revisions that would further relax the country's Forest Code. Environmentalists say these changes could spur increased deforestation. At the same time, macroeconomic conditions are shifting toward a climate that would favor increased deforestation. The Brazilian real has weakened in recent months, making Brazilian agricultural exports more competitive in overseas markets. Meanwhile soy and corn prices are surging, creating an incentive for agricultural expansion, which is an important driver of deforestation in Brazil.
Brazil contains the greatest extent of tropical forest cover in the world. More than 60 percent of the Amazon rainforest lies within Brazil.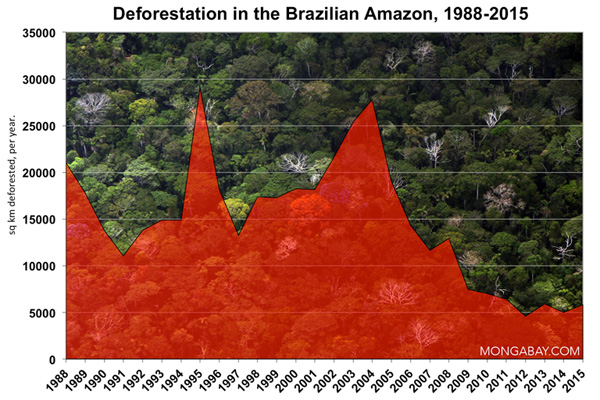 Related articles