Herd of elephants crossing a river in Kenya. Photo by: Rob Roy.
Scientists have long known that African elephants (Loxodonta africana) are talented tree-topplers, able to take down even large trees in order to gobble out-of-reach leaves. However the extent of his behavior across a large area has been difficult to quantify. But a new study in Ecology Letters has used a bird's-eye view—with 3-D—of Kruger National Park in South Africa to determine the impact of elephants on trees.
"Previous field studies gave us important clues that elephants are a key driver of tree losses, but our airborne 3-D mapping approach was the only way to fully understand the impacts of elephants across a wide range of environmental conditions found in savannas," says lead author Greg Asner of Carnegie's Department of Global Ecology in a press release.
Asner and his team employed their Carnegie Airbone Observatory (CAO), a airplane mounted with a Light Detection and Ranging (LiDAR) model, creating incredible 3-D images of vegetation using lasers. Monitoring over 50,000 trees, the researchers found that elephants were responsible for about 20 percent of downed trees between 5 and 8 meters tall (16-30 feet).
"Our maps show that elephants clearly toppled medium-sized trees, creating an 'elephant trap' for the vegetation," Asner explains. "These elephant-driven tree losses have a ripple effect across the ecosystem, including how much carbon is sequestered from the atmosphere."
Elephant tree-toppling is of course a natural impact that has been going occuring for millions of year. However greater insight into the pachyderms' behavior will help the government manage the region.
"Knowing where increasing elephant impacts occur in sensitive landscapes allows park managers to take appropriate and focused action," noted Danie Peinaar, South African National Parks' head of science.
Related articles
Dozens of elephants massacred in Chad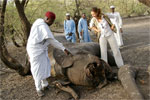 (07/26/2012) Poachers killed at least 30 elephants in southwestern Chad during the early hours of Tuesday, July 24. During the night, Stephanie Vergniault, president of the organization SOS Elephants, described on her Facebook page how a group of armed horsemen chased a herd of elephants with "war weapons near the SOS Elephants camp in the Chari Baguirmi area. After daybreak, the SOS Elephants team counted 28 carcasses, most with missing tusks. The exact number of carcasses with missing tusks is unclear because the team was afraid to stay and investigate further due to the presence of the poachers hiding on the other side of the Chari River.
Guilty pleas in NYC ivory bust
(07/13/2012) Two ivory dealers pled guilty to trafficking some $2 million worth of elephant ivory.
Poaching results in elephant gender imbalance in Indian park
(07/09/2012) Scientists have undertaken a new census of Asian elephants (Elephas maximus) in India's Biligiri Rangaswamy Temple Tiger Reserve (BRT) following almost 30 years of sustained poaching. Estimating that the park contains four female elephants for every male, the scientists warn in a new study in mongabay.com's open access journal Tropical Conservation Science that this gender imbalance threatens the population. Poachers target male Asian elephants for their tusks, generally leaving females untouched.
Tracking elephants in Cameroon to mitigate conflict with locals
(07/09/2012) Elephant conservation is imperiled by poor spatial planning, according to a new study in mongabay.com's open access journal Tropical Conservation Science. Tracking two elephant matriarchs in and around Bénoué National Park in Cameroon, scientists found that the herds spent over half their time outside of the park, highlighting the potential for human-wildlife conflict as elephants are known to raid fields.
Gabon torches their ivory stock as poachers attack okapi reserve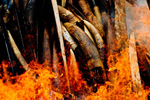 (07/02/2012) Last week, the west African nation of Gabon committed over 1,200 ivory tusks and carvings to the fire. The act, which was meant to send a strong signal to illegal wildlife poachers across Africa, came only a few days after militia poachers stormed the Okapi Wildlife Reserve in the Democratic Republic of the Congo (DRC). The assailants killed 13 okapis and six people, including two wildlife rangers, in retaliation for a crackdown against poaching and mining in the protected area. Poaching has reached epidemic levels in Africa due to increasing bushmeat consumption and a rise in East Asian demand for black-market ivory and rhino horns.
Elephant numbers halved in Central Africa in 5 years
(06/08/2012) Elephant numbers in areas surveyed by the Wildlife Conservation Society (WCS) in Central Africa halved between 2006 and 2011, hinting at the carnage wrought by the surging commercial ivory trade and demonstrating a need to boost protection efforts, said the Bronx Zoo-based conservation group.