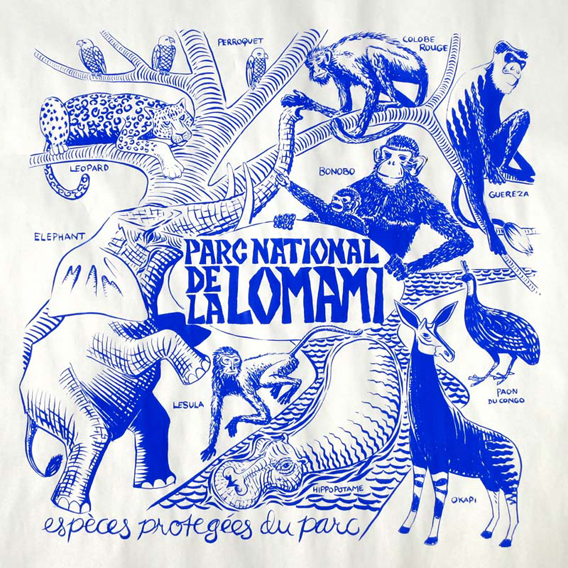 Bandana by Roger Peet to promote conservation and wildlife identification in the Democratic Republic of the Congo (DRC). Click to enlarge.
American artist, Roger Peet—a member of the art cooperative, Justseeds, and known for his print images of vanishing species—is headed off to the Democratic Republic of the Congo (DRC) to help survey a new protected area, Lomami National Park. With him, he'll be bringing 400 bandanas sporting beautifully-crafted images of the park's endangered fauna. Peet hopes the bandanas, which he'll be handing out freely to locals, will not only create support and awareness for the fledgling park, but also help local people recognize threatened species.
Given that the DRC is one of the world's most impoverished countries, Peet says that the bandanas, which have a number of practical applications, will be an important way for people to promote conservation and raise pride in their rich and splendid wildlife. Mongabay.com recently spoke to Peet, who has started a Kickstarter campaign to fund the project, about the innovative idea of using bandanas as a conservation tool and his up-coming trip to the DRC.
INTERVIEW WITH ROGER PEET
Mongabay: Tell us about your conservation project?
Roger Peet: This is a project to create a useful wildlife identification tool for a new national park in the Democratic Republic of Congo. What I'm doing is making a detailed pen-and-ink drawing of all of the protected species that inhabit the park, and screen-printing that image on a big pile of brightly colored bandanas.
Mongabay: Why a bandana?
Roger Peet: Think of the Smokey the Bear posters that the National Park Service produces in the US. A bandana is very different from a poster. All you can do with a poster is hang it on your wall, but a bandana has many uses—you can wear it, you can wrap your child in it, you can carry something in it, and when you've washed it you can hang it out on a line and what's printed on it can be seen by whomever passes by. As a conduit for information it's durable and appropriate to a highly rural context. I aim to make it beautiful as well.
Mongabay: How do you envision these bandanas promoting conservation in the Democratic Republic of Congo?
Roger Peet: I'm going to be handing them out to the people who live in the region around the new Lomami National Park. It's my hope that they'll help to promote the idea of the park among the people who live near it, and to serve as reminders that certain species, some of which have been hunted for food, are protected within the confines of the park. Since the bandanas are designed to be objects for everyday use, I'm hoping that the message they carry will have more staying power and a greater range of transmission than something less functional.
Mongabay: You'll be traveling soon to rainforest in the DRC. What will you be doing there?
Roger Peet: I'll be volunteering with a team of Congolese and American scientists, coordinated by Drs. John and Terese Hart. We'll be surveying and censusing species within the park, and within a buffer zone around it, where hunting will still be permitted. We'll also be monitoring poaching activity in the park and the surrounding area. I'm hoping to do a lot of sketching and rough printmaking of the park's biodiversity. While I am an enthusiast of all things wild, I'm a bit of a bug nerd so I'm pretty excited about all the new insects and other arthropods I hope to see.
Mongabay: Will you tell us about Lomami National Park?
Roger Peet: The park is located in the east of DR Congo, in Maniema province near the city of Kindu. It incorporates a large area of lowland rainforest traversed by three rivers, the Lomami, the Tshuapa, and the Lualaba. Eastern DR Congo has seen a lot of deforestation, habitat destruction and biodiversity loss over the past forty years, and the Lomami National Park area is one of a dwindling number of regions where the ravages of war and of the mining, timber and commercial bushmeat sectors haven't been so acutely felt. It's an amazing forest, home to a dizzying array of species, including the bonobo chimpanzee, the small, promiscuous ape that's one of our closest relatives.
Something that I think is really important about the park is how it's being established—it's being created from the ground up, with the full participation of the people who live near it. In a reversal of how these things normally seem to happen, it's the people who live near to the park that have been the first to agree to its creation, and the process of approval has moved up the chain of authority from there. I think this is a really good way to work towards a commitment to the integrity of the park. If the people affected by its implementation are a part of the process, they are more likely to feel a sense of ownership and pride about a place that is one of the jewels of the world.
Mongabay: How can people help?
Roger Peet: Donate to my Kickstarter campaign! I'm funding my participation in this project entirely out of pocket, and every donation helps. I'm offering the bandanas as rewards for the Kickstarter campaign, along with a bunch of other art—and conservation—related items. People should also have a look at the blog run by the Harts that details their work on the park project and has a wealth of information and great photos.
Related articles
Poacher known as 'Morgan' behind devastating massacre at Okapi Wildlife Reserve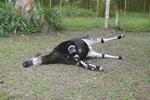 (07/05/2012) Officials have pointed to an infamous elephant poacher known as 'Morgan' as the head of the murderous attack at the Okapi Wildlife Reserve station in the Democratic Republic of the Congo (DRC) late last month. The attack by Morgan and his crew left seven people dead, including two wildlife rangers. The poachers also shot dead 13 captive okapis at the headquarters, which were considered ambassadors for the imperiled forest. One okapi remains alive, but injured and conservationists are not optimistic about its survival. UNESCO and the the NGO Fauna and Flora international have issued an emergency appeal to raise $120,000 dollars within two weeks for the victim's families as well as for rapidly rebuilding the station.
Militia massacres rangers, 13 endangered okapi at Congo wildlife reserve
(06/29/2012) Two wildlife rangers were among the six people killed during brazen attack on a wildlife facility by a militia in the Democratic Republic of Congo last Sunday. 13 endangered okapi were slaughtered during the early morning raid, which was reportedly a response to a crackdown on illegal elephant poaching and gold mining inside the Okapi Wildlife Reserve.
Congolese experts needed to protect Congo Basin rainforests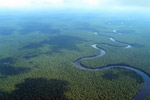 (06/20/2012) This summer, the Democratic Republic of Congo (DRC) is expected to approve a new higher education strategy which the country has developed with the World Bank and other international donors. The shape of this educational reform initiative will be critical to Congo's future in many ways. It could finally offer Congo's long-suffering people a route into the 21st century. It will also help determine the future of the DRC's forests. Nearly half of the Congo Basin's remaining rainforest is in the DRC—yet the critical role of Congolese experts in forestry, agricultural science, wildlife management and other rural sciences in protecting this forest is not widely recognized.
Controversial logging company sells operations in DR Congo
(03/23/2012) Danzer, a Swiss-German forestry company that has been subject to much criticism by environmentalists for its logging practices in the Democratic Republic of Congo (DRC), has sold its operations in the Central African country, reports Greenpeace.
Deforestation increases in the Congo rainforest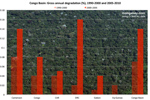 (03/20/2012) Deforestation in the Congo Basin has increased sharply since the 1990s, reports an extensive new assessment of forests in the six-nation region. Released by the Central African Forests Commission (COMIFAC) and members of the Congo Basin Forest Partnership, The State of the Forest finds that the region's annual gross deforestation rate doubled from 0.13 percent to 0.26 percent between the 1990s and the 2000-2005 period. Gross degradation caused by logging, fire, and other impacts increased from 0.07 percent to 0.14 percent on an annual basis. Despite the jump, rates in the Congo Basin remain well below those in Latin America and Southeast Asia, but the region is seen as a prime target for future agroindustrial expansion.
Forest elephant populations cut in half in protected area
(11/14/2011) Warfare and poaching have decimated forest elephant populations across their range with even elephants in remote protected areas cut down finds a new study in PLoS ONE. Surveying forest elephant populations in the Okapi Faunal Reserve in the Democratic Republic of Congo, researchers have found that the population has fallen by half—from 6,439 to 3,288—over the past decade in the park.
Unsung heroes: the life of a wildlife ranger in the Congo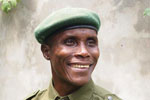 (11/01/2011) The effort to save wildlife from destruction worldwide has many heroes. Some receive accolades for their work, but others live in obscurity, doing good—sometimes even dangerous—work everyday with little recognition. These are not scientists or big-name conservationists, but wildlife rangers, NGO staff members, and low level officials. One of these conservation heroes is Bunda Bokitsi, chief guard of the Etate Patrol Post for Salonga National Park in the Democratic Republic of the Congo. In a nation known for a prolonged civil war, desperate poverty, and corruption—as well as an astounding natural heritage—Bunda Bokitsi works everyday to secure Salonga National Park from poachers, bushmeat hunters, and trappers.