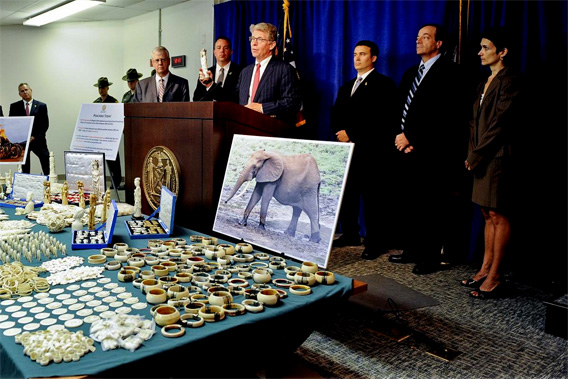 Pictured: Ivory seized by Manhattan District Attorney's Office, New York State Department of Environmental Conservation, and the United States Fish and Wildlife Service
Two ivory dealers pled guilty to trafficking some $2 million worth of elephant ivory.
According to Manhattan District Attorney Cyrus R. Vance, Jr., Mukesh Gupta pled guilty to one count of Illegal Commercialization of Wildlife, while his company, Raja Jewels, Inc., pled guilty to two counts of Illegal Commercialization of Wildlife. Johnson Jung-Chien Lu and his company, New York Jewerly Mart Corp., each pled guilty to one count of Illegal Commercialization of Wildlife.
"Poachers should not have a market in Manhattan," said District Attorney Vance. "It is unacceptable that tusks from elephants wind up being sold as mass-produced jewelry and unremarkable decorative items in this city. Despite efforts to protect populations of endangered and threatened species, poachers are pushing them to the brink of extinction.
"This is an international problem that requires local solutions. In order to curb the poaching of elephants in Africa and Asia, we need to curb the demand side of the illegal ivory trade right here at home."
Under their plea agreements, Gupta, Raja Jewels, Lu, and New York City Jewelry Mart must forfeit ivory with a retail value of $2.12 million and pay $55,000, which will be donated to the Wildlife Conservation Society (WCS) for use in the groups anti-poaching and elephant protection initiatives.
The plea bargains come as the illegal ivory trade is surging worldwide, taking a heavy toll on wild elephant populations. According to TRAFFIC, the trade monitoring organization, 80 percent of elephants killed today are butchered for their ivory, most of which goes to China.
TRAFFIC earlier this week warned that Laos is emerging as a major transit point for ivory trafficking. Vietnam and Malaysia are also hubs for the trade.
Related articles