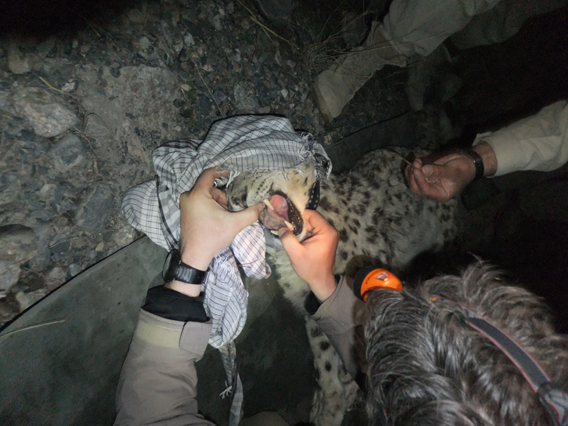 The research team conducts a dental exam of a snow leopard prior to its release. Photo by: Anthony Simms/WCS.
Scientists have captured and collared two snow leopards (Panthera uncia), arguably one of the world's most elusive predators, in Afghanistan for the first time. Undertaken by researchers with Wildlife Conservation Society (WCS) and Afghani vets, the successful operation was conducted as a new study finds that snow leopard habitat could shrink by nearly one-third due to anthropogenic climate change in the Himalayas.
"The information garnered from the tagging will assist researchers as they learn more about the range, behavior, movements, and habitat used by snow leopards," Peter Zahler, WCS Deputy Director of Asia Programs, said in a press release. "This information in turn will help us in our partnership with the Afghan Government and local communities to design protected areas and management strategies to optimize the conservation of this big cat."
Listed as Endangered by the IUCN Red List, snow leopards face a barrage of threats including poaching, loss of prey, and human encroachment on traditional snow leopard territory. As top predators, snow leopards are also sometimes killed in retaliation for livestock hunting when their natural prey runs short. Now, however, a new study in Biological Conservation adds a rising threat to snow leopard survival: climate change.
The study found that snow leopards, at least those in Himalayas, could lose around 30 percent of their habitat as treelines move higher due to climate change. Snow leopards generally thrive above the treeline, hunting wild ungulate and small mammals in the mountains; however, they also don't ascend much higher than about 4,800 meters (16,000 feet). This means the species thrives in a narrow band of elevation above the treeline and below 4,800 meters.
"We know that snow leopards rarely venture into forested areas, and there's a limit to how high these animals can ascend. If the treeline shifts upward, as our research predicts it will, we're looking at the snow leopard faced with diminishing options for where it can live," explains co-author Jessica Forrest, a researcher with the World Wide Fund for Wildlife (WWF).
The researchers employed both computer modeling and data from field expeditions to understand how the Himalayan forest may shift as the world warms. Looking at three future scenarios of greenhouse gas emissions the researchers found that snow leopard habitat could Shrinking leopard habitat in the future could lead to other problems, as well.
"Loss of alpine habitat not only means less room for snow leopards, but also has the potential to bring them closer to human activities like livestock grazing. As grazing intensifies and the leopards' natural prey decline, they could begin preying more heavily on livestock, resulting in increased retaliatory killings," co-author and WWF snow leopard expert Rinjan Shrestha said.
Experts fear that many alpine species could be squeezed out as global warming allows lower ecosystems to move up into high altitudes.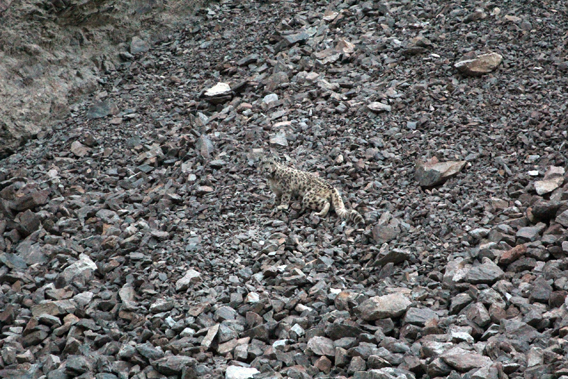 Find the snow leopard? The first collared snow leopard after it was fitted with a satellite collar. Photo by: John Goodrich/WCS.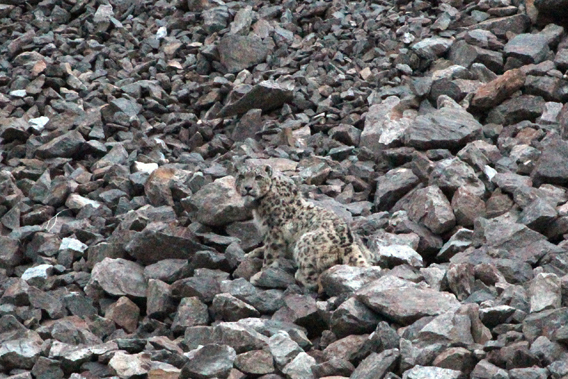 Close-up of collared snow leopard. Photo by: John Goodrich/WCS.