A system providing monthly alerts on deforestation and forest degradation in the Brazilian Amazon will soon be generated on the Google Earth platform Engine, reducing the time it takes to process and disseminate data, reports Imazon, the Brazilian NGO that developed the Alert System of Deforestation (SAD).
Imazon says that beyond the performance gains, the new Earth Engine-based SAD will facilitate access to alerts on mobile devices and tablets.
The system will also allow users to upload data from the field, boosting the collaborative monitoring capabilities.
SAD serves as an independent deforestation monitoring system to complement the Brazilian government's own system for tracking forest clearing in the world's largest rainforest.
Related articles
Global deforestation alert tool developed from NASA satellite imagery launches
(05/30/2012) Mongabay.com is pleased to announce the beta version of a global forest disturbance alert system (GloF-DAS) developed in partnership with Cal State Monterey Bay and NASA Ames Research Center. The tool offers the potential to pinpoint areas that are being deforested on a quarterly basis.
Brazilian deforestation lower in 2012 to date
(05/18/2012) Deforestation in the Brazilian Amazon is lower in 2012 relative to the same period last year according to satellite-based data released by Imazon, an NGO.
NASA map reveals the heights of the world's forests
(02/20/2012) The height of a forest is important in a number of different ways. First the taller a forest, the more likely there are important niche habitats in the canopy providing homes to unique species. In addition, a forests' height says something about its ability to sequester carbon: the taller a forest the more carbon it can hold. Now a team of researchers, led by NASA, has created the world's first global map showing the height of the world's forests (click here for interactive map), publishing their findings in the Journal of Geophysical Research.
Breakthrough technology enables 3D mapping of rainforests, tree by tree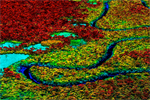 (10/24/2011) High above the Amazon rainforest in Peru, a team of scientists and technicians is conducting an ambitious experiment: a biological survey of a never-before-explored tract of remote and inaccessible cloud forest. They are doing so using an advanced system that enables them to map the three-dimensional physical structure of the forest as well as its chemical and optical properties. The scientists hope to determine not only what species may lie below but also how the ecosystem is responding to last year's drought—the worst ever recorded in the Amazon—as well as help Peru develop a better mechanism for monitoring deforestation and degradation.
Google Earth boosts deforestation monitoring capabilities
(02/07/2010) Google has taken a step towards ramping up the deforestation monitoring capabilities the Google Earth Engine by contracting Massachusetts-based Clark Labs to develop an online version of its Land Change Modeler application.