UPDATE: (June 1, 2012) Radio Free Sarawak is reporting that Jaban is not in custody in Sarawak. The outlet issued the following clarification: "there has been some news that [Jaban] has been present in Miri over the past two days and he appears to be moving freely. This is encouraging information and we are currently concluding, therefore, that he decided to hide himself voluntarily after being frightened by questioning at KK airport and being led to understand that he would be wanted for further questioning by Special Branch when he got to Sarawak."
Peter John Jaban, a broadcaster on Radio Free Sarawak better known by his on-air pseudonym Papa Orang Utan, was arrested on Thursday Kota Kinabalu International airport, while attempting to board a plane to Miri, Sarawak, reports The Sarawak Report.
Jaban "was detained, photographed and had his documents photocopied, before being escorted onto the flight" according to the campaigning publication, whose reporting targets corruption in the Malaysian government, deforestation, and perceived injustices against Sarawak's native people. The Sarawak Report says that Jaban will be met in Miri by agents from the Special Branch, Malaysia's intelligence service.
Jaban was returning to Sarawak to celebrate the traditional Dayak harvest festival, Gawai, with his family. Jaban is said to have been wary about returning to Sarawak, where civil liberties are severely curtailed. Jaban has been a vocal critic of Sarawak chief minister Abdul Taib Mahmud, whose accused by campaigners of looting billions of dollars from Sarawak's treasury through his family's dealings in the forestry sector. In the 1980s Taib brutally suppressed protests by indigenous communities opposed to logging.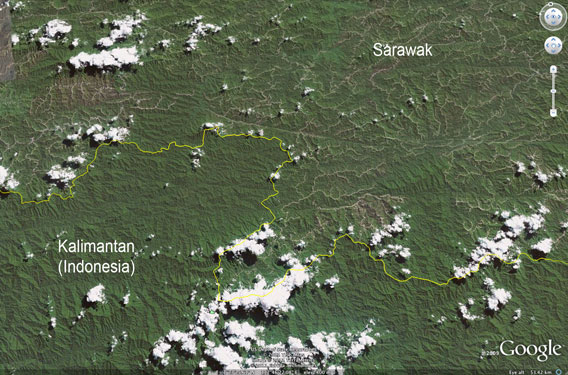 Logging roads and damaged forest in Sarawak compared with healthy forest in Kalimantan (Indonesian Borneo). Photo courtesy of Google Earth.
The arrest comes as Malaysia cracks down on a pro-democracy movement led by opposition parties. Anwar Ibrahim, an opposition leader, was arrested last week for taking part in a protest in Kuala Lumpur in late April.
Radio Free Sarawak and The Sarawak Report rely on sensationalist headlines and leaked documents to campaign against Taib and his associates. Authorities have tried to shut down the radio program and the web site, both of which were established by Jaban and Clare Rewcastle Brown, a former BBC reporter who is the sister-in-law of former British Prime Minister Gordon Brown.
Related articles
The other side of the Penan story: threatened tribe embraces tourism, reforestation
(12/19/2011) News about the Penan people is usually bleak. Once nomadic hunter-gatherers of the Malaysian state of Sarawak on Borneo, the indigenous Penan have suffered decades of widespread destruction of their forests and an erosion of their traditional culture. Logging companies, plantation developments, massive dams, and an ambivalent government have all played a role in decimating the Penan, who have from time-to-time stood up to loggers through blockades, but have not been successful in securing recognition of legal rights to their traditional lands. Yet even as the Penan people struggle against the destruction of their homelands, they are not standing still. Several Penan villages have recently begun a large-scale reforestation program, a community tourism venture, and proclaimed their a portion of their lands a "Peace Park."
NGOs call for arrest of Malaysian leader for corruption, money laundering
(12/12/2011) A coalition of Malaysian and international NGOs are calling for the arrest of Sarawak chief minister Abdul Taib Mahmud and 14 family members for alleged abused of power, corruption, and money laundering, reports the Bruno Manser Fund, a group that has signed the letter urging action.
Sarawak ruler has acquired billions in 'illicit' assets, alleges investigation
(12/04/2011) The leader of the Malaysian state of Sarawak has acquired billions of dollars' worth of "illicit" assets, alleges a new investigation by the Bruno Manser Fund, which reveals holdings in over 400 companies across two dozen countries.
Wikileaks: US warned of severe corruption in Malaysia's Sarawak state
(08/30/2011) U.S. government sources characterize the ruler of Malaysia's Sarawak as 'highly corrupt' and plagued with conflicts of interest, according to secret cables released today by Wikileaks.
Sarawak reiterates goal to convert 1 million ha of forest to oil palm plantations
(07/06/2011) Despite rising criticism over deforestation and human rights abuses, Sarawak is maintaining its target of 2 million hectares of oil palm plantations by 2020, reports Malaysian state press.