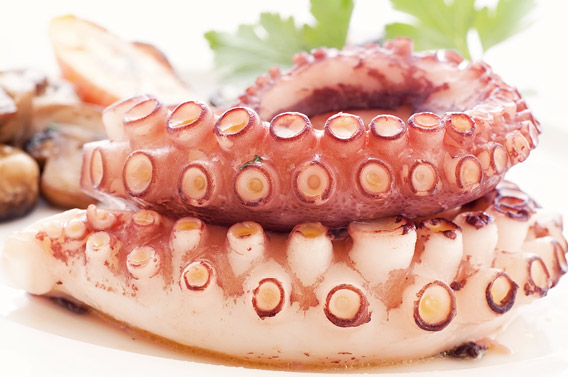 Octopus will no longer be available at Whole Foods as the fishery has several sustainability problems. Photo by: Bigstock.
Whole Foods has announced it will be the first grocery chain in the U.S. to no longer sell any seafood in the "red." Based on sustainability ratings by the Monterey Bay Aquarium and Blue Ocean Institute, fish labeled red are those that are considered either overfished or fished in a manner that impacts other species or damages marine ecosystems. Beginning Earth Day, April 22nd, Whole Foods will no longer be selling Atlantic halibut, grey sole, skate, octopus, tautog, sturgeon, among others. Already, the store doesn't sell some unsustainable catches such as bluefin tuna and orange roughy.
"This shift allows us to promote and highlight fisheries that use responsible fishing methods and source from areas where fish are most abundant and fisheries are well-managed," said David Pilat, Whole Foods Market's global seafood buyer, in a press release.
Scientists have long warned that many of the world's fisheries are well beyond sustainability, imperiling not only target species, but also bycatch animals, predators (from seabirds to penguins), and entire marine ecosystems. A landmark report last year by the International Program on the State of the Ocean (IPSO) warned that the impacts of pollution, climate change, and overfishing were combining to create a crisis in the oceans, which could lead to mass extinction.
Whole Foods says its employees will be happy to offer more sustainable alternatives to the seafood being taken off the shelves.
"Our passionate fishmongers are excellent at helping navigate our shoppers toward the best environmental choices. They stand ready to assist with cooking tips and recipe ideas and can cut your fish to order," added Pilat.
In addition to working with the Monterey Bay Aquarium and Blue Ocean Institute, Whole Foods has long partnered with the Marine Stewardship Council (MSC) to sell sustainably-certified fish, which is widely viewed as the world's leading certifier of sustainable fisheries. However, the MSC has come under heavy criticism recently for its certification of the Antarctic toothfish fishery (often sold as Chilean sea bass) in the Ross Sea, as researchers know almost nothing about the life history of the fish and the fishery threatens one of the world's last pristine marine regions. The fishery is also incredibly dangerous given the extreme seas: in 2010, 22 people were lost in a shipwreck while fishing for Antarctic toothfish.
Whole Foods will continues to sell fish that are rated yellow, which means there are some sustainability concerns or issues in how the species is caught, but not to the extent of a red-rated fish.
Related articles
Three U.S. retailers pledge to avoid fish from embattled Ross Sea
(03/14/2012) The Ross Sea, a massive bay off Antarctica, has been dubbed the world's last ocean due to its pristine state, long-untouched by industry and fisheries. However, over the last 15 years New Zealand commercial fisheries have entered the sea, seeking the slow-growing Antarctic toothfish which is usually sold as the high-end Chilean sea bass. Now as conservation groups plead for nations to grant the Ross Sea protected status, Greenpeace has begun a campaign to get good retailers to steer clear of stocking Antarctic toothfish. To date, Safeway, Wegmans, and Harris Teeter has all pledged not to source from the Ross Sea.
Atlantic sturgeon gains protection under the Endangered Species Act
(02/01/2012) The U.S. federal government has listed the massive and bizarre Atlantic sturgeon (Acipenser oxyrinchus) under the protection of the Endangered Species Act (ESA). Historically overfishing decimated the Atlantic sturgeon, while on-going threats include pollution and infrastructure, like dams and bridges that destroy habitat. Fishing for the Atlantic sturgeon has been banned since 1998, they are still caught as bycatch.
(01/05/2012) A 593 pound Pacific bluefin tuna sold for $735,000 (56.49 million yen) in Tokyo's Tsukiji market today. This beats the previous record price hit last year by over $260,000. Why so expensive? Bluefin tuna, considered the best sashimi and sushi in the world, have been fished to near extinction with the population of the Pacific bluefin the most stable to date.
US reduces catch limit of 'most important fish in the sea'
(11/15/2011) The Atlantic State Marine Fisheries Commission (ASMFC) has slashed the allowable catch of a tiny fish named menhaden by 37 percent by 2013. Dubbed the 'most important fish in the sea' by author H. Bruce Franklin, the menhaden plays a critical role in marine ecosystems as a food source for larger fish, seabirds, and marine mammals, as well as helping to regulate the marine environment. However, due to overfishing the menhaden fish has dropped 92 percent from its historical population.
First global assessment finds highest-grossing tunas and billfishes most vulnerable to extinction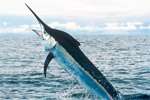 (11/09/2011) Sleek, powerful tunas and billfishes that ply the open ocean garner some of the highest prices of any fish. In January, a single bluefin tuna fetched a record $396,000 at a Tokyo auction. Yet wild fish populations pay a still higher price for such exorbitant demand: the threat of extinction. The first assessment of an entire group of commercially valuable marine species found that the most threatened fish are generally the ones reeling in the most money, including bluefin tuna and bigeye tuna.