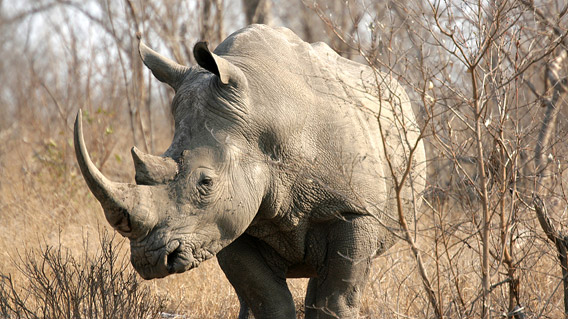 Rhinoceros, Kruger National Park, South Africa. A white rhinoceros (Ceratotherium simum) roaming Kruger, which is also home to the Critically Endangered black rhinoceros. Photo by: Bigstock.
Since the first of the year, South Africa's Kruger National Park has lost 95 rhinos to poachers, reports the blog Rhino Horn is NOT Medicine. South Africa, and Kruger National Park in particular, continue to be the epicenter for rhino poaching worldwide. South Africa has lost 159 rhinos in total this year with Kruger bearing nearly 60 percent of the fatalities.
Notably, even as rhinos continue to fall to poachers, arrests of those committing the crimes are also on the rise. Ninety people have been arrested in South Africa this year linked to rhino horn crimes.
For its part, Kruger National Park is moving quickly to put more wildlife troops on the ground.
"The first group of 75 of the 150 new rangers are currently undergoing a 6 week intense paramilitary training course. The 150 rangers are to be deployed in the Kruger National Park. They have completed their competency tests, all security checks as well as medical assessments," Edna Molewa, South Africa's Minister of Water and Environmental Affairs, said at the park yesterday.
Poachers shoot rhinos and then saw off their horns–often while still alive. The horns are then sold on the black market in East Asia, where some consumers believe it has medicinal power, even though scientific studies have continually debunked this.
Poachers have focused on South Africa to date because it contains the world's most rhinos, with nearly 2,000 black rhinos (Diceros bicornis) and over 18,000 white rhinos (Ceratotherium simum). White rhinos are listed as Near Threatened by the IUCN Red List, while black rhinos are listed as Critically Endangered. Last year the country saw a record 448 rhinos lost to poachers, just over 2 percent of the country's total population.
Spreading over nearly 20,000 square kilometers, Kruger National Park is one of Africa's most well-known wildlife reserves and has been designated a UNESCO International Man and Biosphere reserve.
Related articles
Feds bust rhino horn traffickers
(02/23/2012) Federal agents from the U.S. Fish and Wildlife Service (FWS) and U.S. Immigration and Customs Enforcement (ICE) arrested seven people on charges of trafficking endangered rhino horn in the United States, reports the Department of Justice and Department of the Interior. The arrests were made in Los Angeles, Newark, and New York.
Happy rhino news: no rhinos poached in Nepal last year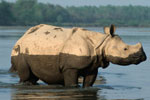 (01/10/2012) As rhinos again fell to poachers in record numbers in 2011, there was one bright-spot: Nepal. Not a single rhino was killed by poachers in the Himalayan nation, home to an estimated 534 greater one-horned rhinos (Rhinoceros unicornis), categorized as Vulnerable by the IUCN Red List. Conservationists celebrated at Chitwan National Park, which holds the vast majority of the country's rhinos.
A final farewell: the Western Black Rhino goes extinct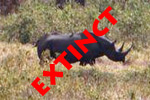 (11/12/2011) The western black rhinoceros (Diceros bicornis longipes) roams the woodlands of Africa no more. The rhino, one of four sub-species of black rhino, was declared extinct this week by the IUCN, five years after the last extensive survey of its habitat in Cameroon. The rhino becomes the second declared extinct this year. All rhinos are threatened by the rhino horn trade.
South Africa hits record poaching of rhinos—again
(11/03/2011) Two months before the end of the year, the number of rhinos killed for their horns in South Africa has surpassed last year's breaking record, reports conservation organizations WWF and TRAFFIC. So far, 341 rhinos have been lost to poaching this year; while last year saw a total record of 333. The news follows last week's announcement that the Vietnamese rhino (Rhinoceros sondaicus annamiticus), a subspecies of the Javan rhino, has gone extinct—the last individual killed by a poachers' bullet. Rhinos are killed for their horns which are used in traditional Chinese medicine, even though numerous studies have shown there is no medicinal benefit to consuming rhino horn.
The last goodbye: Vietnam's rhino goes extinct (PICTURES)
(10/26/2011) In 2009 poachers shot and killed the world's last Vietnamese rhinoceros (Rhinoceros sondaicus annamiticus), a subspecies of the Javan rhino. The Vietnamese rhino was the last rhino species that survived on the southeast Asia mainland.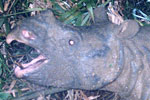 (10/25/2011) In 2009 poachers shot and killed the world's last Vietnamese rhinoceros (Rhinoceros sondaicus annamiticus), a subspecies of the Javan rhino, confirms a report from International Rhino Foundation (IRF) and the World Wide Fund for Nature (WWF). The Vietnamese rhino was the last Javan rhino to survive on the Asian mainland and the second subspecies to vanish, following the extinction of the Indian Javan rhino (rhinoceros sondaicus inermis). The Javan rhino is the world's most imperiled rhino species with now only around 50 individuals surviving in a single park on its namesake island in Indonesia.