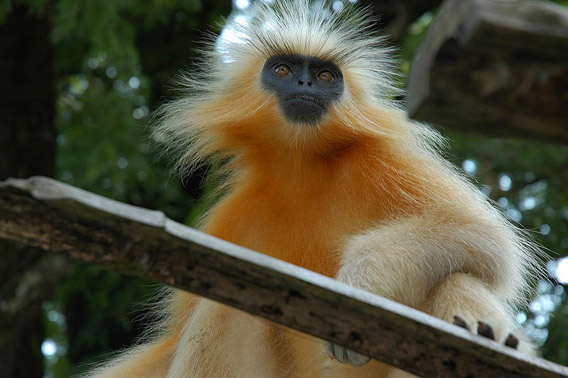 Endemic to India, the golden langur is considered Endangered. Photo by: Mousse.
In a bid to fast-track industrial projects, India's Prime Minister's Office (PMO) is opening up 25 percent of forests that were previously listed as "no-go" areas, reports the Hindustan Times. The designation will allow between 30 and 50 new industrial projects to go ahead rapidly, including road construction and coal mining.
Reportedly the changes came after industry representatives met with the Prime Minister's Office, headed by Manmohan Singh, to complain that projects were being held up by environmental regulations, in some cases taking six years for approval. The industrial group was led by Ratan Tata, head of Tata Group, a massive conglomerate that works in steel, chemicals, solar power, energy transmission vehicles, and food products like tea and coffee among other industries. In response, the PMO not only removed protection for forest lands, but also promised approval for projects would be done in 60 days and forests would be cleared within 180 days.
"Based on the limited information we have, this is a very alarming development," tropical ecologist William Laurance with James Cook University, who has recently spent time in India, told mongabay.com. "Infrastructure expansion—such as new roads, hydroelectric dams and mines—can have huge environmental impacts. They cause direct forest degradation and can also open up a Pandora's Box of further problems—such as illegal land colonization and land speculation."
According to the Food and Agriculture Organization (FAO), around 19 percent of India is covered in natural forests, excluding monoculture plantations. Many of the remaining forests are degraded and fragmented. Since 2009 India has lost 36,700 hectares according to a recent assessment. The state of Andhra Pradesh saw the largest loss in forest, which government officials blamed on logging by the communist-Maoist group, the Naxals.
India has recently pledged to expand forest cover to around 33 percent of the country, however the Minister for Environment and Forests, Jairam Ramesh, recently said such a target was "unrealistic."
"India has already lost over 80 percent of its native forests and further forest loss and degradation are still advancing rapidly," Laurace says. "The fast-tracking of big infrastructure projects can easily become a rubber stamp for bad development practices. Such ill-advised projects can have far greater environmental and human costs than the economic benefits they provide."
India's remaining forests are home to a wide variety of species, including Bengal tigers (Panthera tigris tigris), Asian elephants (Elephas maximus), golden langurs (Trachypithecus geei), and the dhole (Cuon alpinus), each of which is listed as Endangered by the IUCN Red List. India is one of 17 countries in the world that is considered "megadiverse" for its spectacular wealth of biodiversity.
Related articles
Photo essay: Lion-tailed macaques of India's Western Ghats rainforest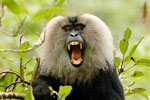 (12/19/2011) The rainforests of Western Ghats are home to some of the most wonderful creatures which are found only in these forests and no where else on the earth. The Lion-tailed Macaque Macaca silenus is the symbol of this endemic diversity of this biodiversity hotspot. Less than 2500 of these survive today making it one of the most endangered primates in the world. In 2008, a healthy population of 32 groups of these macaques were found in central Karnataka giving hope to the future of these Knights of the Western Ghats
Balancing agriculture and rainforest biodiversity in India's Western Ghats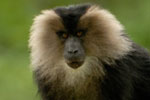 (08/08/2011) When one thinks of the world's great rainforests the Amazon, Congo, and the tropical forests of Southeast Asia and Indonesia usually come to mind. Rarely does India—home to over a billion people—make an appearance. But along India's west coast lies one of the world's great tropical forests and biodiversity hotspots, the Western Ghats. However it's not just the explosion of life one finds in the Western Ghats that make it notable, it's also the forest's long—and ongoing—relationship to humans, lots of humans. Unlike many of the world's other great rainforests, the Western Ghats has long been a region of agriculture. This is one place in the world where elephants walk through tea fields and tigers migrate across betel nut plantations. While wildlife has survived alongside humans for centuries in the region, continuing development, population growth and intensification of agriculture are putting increased pressure on this always-precarious relationship. In a recent paper in Biological Conservation, four researchers examine how well agricultural landscapes support biodiversity conservation in one of India's most species-rich landscapes.
India government: forest target 'unrealistic'
(03/20/2011) Not long ago much of India was covered in vast and varied forests. Today just over one-fifth (21%) of the nation remains under forest cover, according to the Food and Agriculture Organization (FAO) but an ambitious plan hopes to bring the forest cover percentage to 33%, or one third of the country. However that goal has been dubbed 'unrealistic' by India's influential Minister for Environment and Forests, Jairam Ramesh, as reported by The Hindu.
India commits $10 billion to expand forests
(02/25/2011) The Indian government has approved a bold plan to expand and improve the quality of its forests as a part of the nation's National Action Plan on Climate Change. The reforestation plan, dubbed the National Mission for a Green India (NMGI), will expand forests by five million hectares (over 12 million acres), while improving forests quality on another five million hectares for $10.14 billion (460 billion rupees).