A new species of mouse lemur has been discovered in eastern Madagascar, report researchers from Germany. The species is described in a recent issue of the journal Primates.
The diminutive primate is named Gerp's mouse lemur (Microcebus gerpi) after a GERP (Groupe d'Étude et de Recherche sur les Primates de Madagascar), a local lemur research group. It was discovered during surveys in 2008 and 2009 in Sahafina Forest, a fragment of rainforest just 50 km away from the well-known Mantadia National Park, which lies east of Madagascar's capital city of Antananarivo. The lemur was confirmed as a "new species" after genetic analysis of small biopsies collected during the surveys. Lemurs were not killed to make the determination that it was an undescribed species.
| | |
| --- | --- |
| | Microcebus gerpi. Photo by Blanchard Randrianambinina |
At 68 grams (2.4 ounces), Gerp's mouse lemur is "a giant" relative to Goodman's mouse lemur, a species found in nearby Mantadia, according to a press release from Stiftung Tierärztliche Hochschule Hannover, the German institution that supported the research.
The conservation status of the new species is presently unknown, but due to fragmentation of habitat in the region, it is likely at risk from further deforestation.
More than 40 species of lemur have been described in the past decade. There are more than 100 lemur species Madagascar, the only place lemurs occur naturally in the wild.
Mouse lemurs are the smallest lemurs and among the tiniest primates in the world. They are found in virtually all of Madagascar's forests where they feed on insects, fruit, and plant sap. Mouse lemurs are nocturnal and betray their presence with high-pitched chirps.
CITATION: Ute Radespiel, Jonah H. Ratsimbazafy, Solofonirina Rasoloharijaona, Herimalala Raveloson, Nicole Andriaholinirina, Romule Rakotondravony, Rose M. Randrianarison, Blanchard Randrianambinina. First indications of a highland specialist among mouse lemurs (Microcebus spp.) and evidence for a new mouse lemur species from eastern Madagascar. Primates, 2011; DOI: 10.1007/s10329-011-0290-2
Related articles
Cultural shifts in Madagascar drive lemur-killing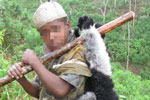 (12/15/2011) Conservationists have often found that some cultural norms, religious beliefs, and taboos play a role in holding back traditional peoples from overusing their environment. Examples of such beliefs include days wherein one cannot hunt or fish, or certain species or regions that are off limits to exploitation. But the influence of the modern world can rapidly extinguish such beliefs, sometimes for the better, in other cases not. In many parts of Madagascar, lemurs are off the menu. These primates, found only in Madagascar, play a big role in Malagasy 'fady' or taboo-related folk stories: lemurs are protectors and, in some cases, even relatives. However, according to a new paper in PLoS ONE an influx of migrants, widespread poverty, lack domestic meat, and poor law enforcement has caused a sudden rise in eating lemurs, many of which are already near-extinction due to habitat loss.
Picture: New lemur in Madagascar
(12/15/2010) Researchers have discovered a new species of lemur in Madagascar.
Photo: Lemur species rediscovered after 100 years
(04/09/2010) A species of lemur has been rediscovered more than a century after it was last spotted, report researchers from McGill University, the German Primate Centre in Göttingen Germany, the University of Antananarivo in Madagascar, and the University of Massachusetts.
Tiny lemur species discovered in Madagascar
(07/14/2008) Researchers have discovered a previously unknown species of mouse lemur on the island of Madagascar. The find brings the global number of mouse lemurs to 16.
Conservation is saving lemurs and helping people in Madagascar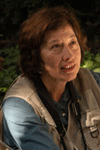 (05/07/2007) Madagascar, an island nation that lies off the coast of southeastern Africa, has long been famous for its unique and diverse species of wildlife, especially lemurs–primates found nowhere else on the planet. In recent years, the island country has also become world-renowned for conservation efforts that are succeeding in spite of extraordinary pressures from a poor population that relies heavily on forest burning for basic subsistence. A large part of this success is due to the early efforts of Patricia Wright, a primatologist who has been working in the country for more than 20 years. Wright led the effort to launch the country's leading protected area and helped Madagascar become a leading global example of conservation despite its economic adversity.
3 new lemurs named in Madagascar
(06/21/2006) To recognize an internationally renowned primatologist and champion of Madagascar's unique biodiversity, scientists who discovered three new species of mouse lemur on the island nation have named one in honor of Russell A. Mittermeier, the president of conservation International.
Lemur species named after British comedian
(11/12/2005) Researchers from the University of Zurich have named a newly discovered species of lemur after British comedian John Cleese in honor of his work with the primates from Madagascar.
Two tiny lemur species discovered in Madagascar
(08/09/2005) German and Malagasy primatologists have discovered two new species of lemurs, naming one of them after Steve Goodman, a Field Museum scientist who has devoted nearly two decades to studying the animals of Madagascar.
Dancing lemur attracts tourists to island of Madagascar
(05/30/2005) In the dry deciduous forests of south western Madagascar there lives a lemur that loudly cusses but "dances" like a ballet performer. Verreaux's sifaka is among the most popular of lemur species, a group of primates endemic to islands off the southeastern coast of Africa. While threatened, Verreaux's sifaka is easily spotted is several of Madagascar's more accessible parks.
Seeking the world's strangest primate on a tropical island paradise
(04/17/2005) Seeking the world's strangest primate on a tropical island paradise