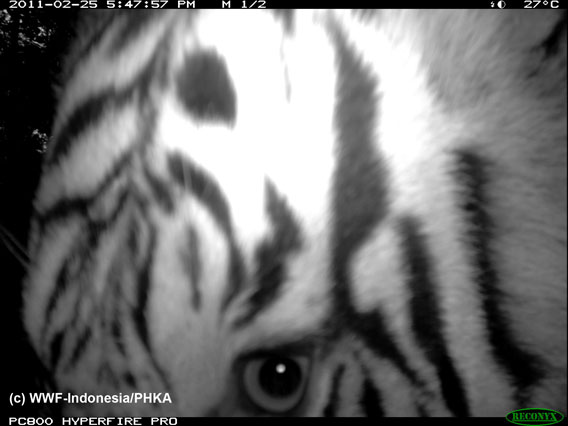 Close-up of Sumatran tiger. Photo by: WWF-Indonesia.
A single forest corridor in Sumatra has yielded camera trap photos of five wild cats species, including the Critically Endangered Sumatran tiger (Panthera tigris sumatrae). Photos were also taken of the Sunda clouded leopard (Neofelis diardi), the marbled cat (Pardofelis marmorata), the Asian golden cat (Pardofelis temminckii), and the leopard cat (Prionailurus bengalensis). The five species were all filmed by a WWF camera trap survey in a single forest corridor linking the forest of Bukit Tigapuluh and the Rimbang Baling Wildlife Sanctuary in Riau Province. Unfortunately this forest remains unprotected.
"Much of the natural forest area in the landscape is threatened by large scale clearance for industrial logging, pulp and paper, as well as illegal encroachment for palm oil plantation development," said Aditya Bayunanda WWF-Indonesia's coordinator for the Global Forest Trade Network (GFTN) program in a press release. While a portion of the Bukit Tigapuluh is protected as a national park, forests surrounding the park, which have already been selectively logged, are now under threat of total clearance.
Sumatra has one of the highest deforestation levels in the world and has become a dramatic center in the fight to save rainforests. According to a detailed report released by WWF, the island of Sumatra—Indonesia's largest—has lost half of its forest cover since 1985. Approximately, half a million hectares (larger than Rhode Island) of forest have been cleared annually, mostly for industrial palm oil and wood-paper plantations.
| | |
| --- | --- |
| | The rarely encountered marbled cat. Photo by: WWF-Indonesia. |
The five cat species documented in the forest corridor represent a wide-range of threat levels according to the IUCN Red List: the Sumatran tiger (Critically Endangered), the Sunda clouded leopard (Endangered), the marbled cat (Vulnerable), the Asian golden cat (Near Threatened), and the leopard cat (Least Concern).
"Four of these species [leaving out the leopard cat] are protected by Indonesian Government regulations," said Karmila Parakkasi, coordinator of the WWF-Indonesia Tiger Research Team. "This underscores the rich biodiversity of the Bukit Tigapuluh landscape and the forest corridors that connect to it. These amazing cat photos also remind us of how much we could lose as more of these fragile forests are lost."
While five cat species in one forest is hugely notable, the largest number of cat species recorded in a single habitat is seven from a forest in India that recently gained protection.
Bayunanda says the presence of these cats should make the Indonesian government act to save the forest.
"Concession licenses of companies operating in these areas, such as Barito Pacific, should be reviewed and adjusted according to Indonesian Ministry regulations, which state that concession areas with the presence of endangered species should be protected by the concessionaire," he says.
WWF-Indonesia also wants to see Bukit Tigapuluh National Park expanded. The Bukit Tigapuluh landscape is also home to Sumatran orangutans and Sumatran elephants amid thousands of other lesser-known species.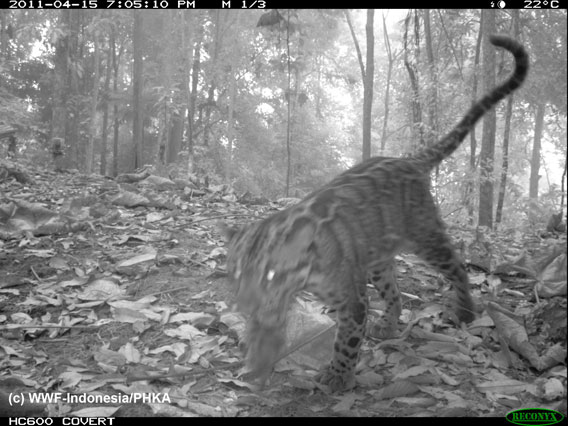 Research has only recently shown the Sunda clouded leopard as a unique species. Photo by: WWF-Indonesia.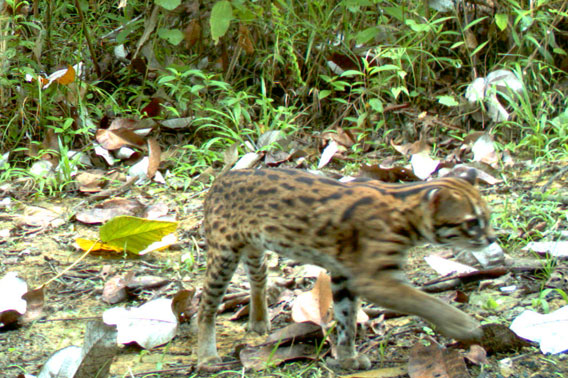 The small leopard cat. Photo by: WWF-Indonesia.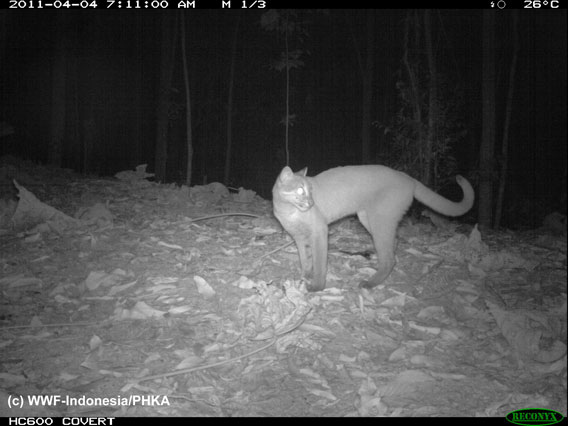 The Asian golden cat. Photo by: WWF-Indonesia.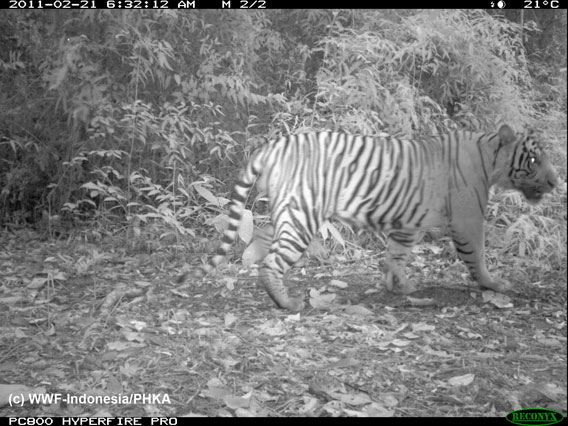 Sumatran tiger. Photo by: WWF-Indonesia.
Related articles
First ever survey shows Sumatran tiger hanging on as forests continue to vanish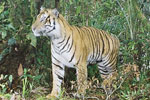 (11/10/2011) The first-ever Sumatran-wide survey of the island's top predator, the Sumatran tiger (Panthera tigris sumatrae), proves that the great cat is holding on even as forests continue to vanish. The study, carried out by eight NGOs and the Indonesian government, shows that the tiger is still present in 70 percent of the forests surveyed, providing hope for the long-term survival of the subspecies if remaining forests are protected.
Toy giant Mattel drops paper from APP and other 'controversial sources'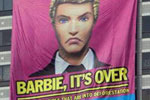 (10/05/2011) The world's biggest toy-maker Mattel has pledged to overhaul its paper sourcing policies after a hard-hitting campaign from Greenpeace linked the toy giant to rainforest destruction in Indonesia by Asia Pulp and Paper (APP). Today, Mattel pledged to increase the use of recycled paper and sustainably-certified fiber to 70 percent by the year's end, and 85 percent by 2015. In addition, the company has said any 'controversial' company engaged in natural forest destruction will be kept out of its supply line, referring to, but not naming directly, APP. Surprisingly, APP told mongabay.com that it 'applauds' Mattel's new commitments.
Featured video: Sumatran species spring to life on video camera traps
(09/21/2011) New video camera trap footage has revealed the stunning and often hidden biodiversity of Sumatra's Leuser Ecosystem, the only place in the world inhabited by elephants, orangutan, tigers, and rhinos. The video camera trap project, dubbed Eyes on Leuser, has captured 26 species to date usinf 10 video camers, including astounding footage of a sniffing Sumatran tiger, a great argus pheasant displaying for the camera, a springing sambar, and an emerald dove chasing away a mouse deer.