Researchers with the Smithsonian have catalogued almost as many crab species on tropical coral reef bits measuring just 20.6 square feet (6.3 square meters) as in all of Europe's seas, finds a new paper in PLoS ONE. The team used DNA barcoding to quickly identify a total of 525 crustaceans (including 168 crab species) from dead coral chunks taken from seven sites in the tropics, including the Indian, Pacific and Caribbean oceans.
"Given the complexity and extent of the world's coral reefs, the survey covered only a very limited depth and habitat range," said Laetitia Plaisance lead author with of the Smithsonian and the Scripps Institution of Oceanography. "And yet we have so many more species than we ever expected."
Highlighting the diversity of life found in coral ecosystems, over a third of the species encountered by researchers were only found once, while 81 percent were only found in one location.
| | |
| --- | --- |
| | Top: the coral reef crustacean, Sadayoshia edwardsii. Bottom: coral reef crustacean, Pilumnus tahitensis. Photos by: Smithsonian. |
"The finding of such large numbers of species in a small total area suggests that coral reef diversity is seriously under-detected using traditional survey methods, and by implication, underestimated," the authors write, adding that extrapolating from coral and fish diversity may have pushed scientists to underestimate the full biodiversity of coral reefs. In their case, DNA barcoding allowed the researchers to quickly determine diversity.
"DNA barcoding provides a standardized, cost-effective method of coming to grips with the staggering diversity of the world's oceans," said Nancy Knowlton with the Smithsonian and co-author of the survey. "It has enormous potential for use in broad global surveys, allowing us to find out what is living in the ocean now, and to keep track of it in the future."
The researchers found that site in the Indo-Pacific west region were the most biodiverse, while the Caribbean was the least, which goes along with what is generally known about coral reef diversity.
Past estimates of coral ecosystem diversity have ranged from around half a million to over nine million species.
"We cannot give a new estimate today, but we may be able to in a few years," Plaisance said.
It should be noted that currently less than two million species have been described on Earth, while estimates of total species have numbered from three million to a hundred million.
While being the richest marine environment, coral reefs are also one of the most threatened. Recently the World Resources Institute (WRI), along with twenty-five partners, found that 75 percent of the world's coral reefs are threatened by local and global impacts. Locally, reefs are imperiled by overfishing and pollution. But all coral reefs face the devastating impact of greenhouse gas emissions: both coral bleaching from rising sea temperatures and ocean acidification due to higher carbon dioxide levels threaten reef survival.
Charlie Veron, former Chief Scientist of the Australian Institute of Marine Science, has warned that coral reef ecosystems could be extinct within a hundred years if society doesn't move forward on cutting emissions. Vernon has recently quit his job as a scientists to work on advocacy.
CITATION: Plaisance L, Caley MJ, Brainard RE, Knowlton N (2011) The Diversity of Coral Reefs: What Are We Missing? PLoS ONE 6(10): e25026. doi:10.1371/journal.pone.0025026
Related articles
Ocean prognosis: mass extinction
(06/20/2011) Multiple and converging human impacts on the world's oceans are putting marine species at risk of a mass extinction not seen for millions of years, according to a panel of oceanic experts. The bleak assessment finds that the world's oceans are in a significantly worse state than has been widely recognized, although past reports of this nature have hardly been uplifting. The panel, organized by the International Program on the State of the Ocean (IPSO), found that overfishing, pollution, and climate change are synergistically pummeling oceanic ecosystems in ways not seen during human history. Still, the scientists believe that there is time to turn things around if society recognizes the need to change.
Coral crisis: 75% of the world's coral reefs in danger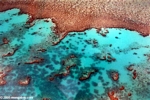 (02/23/2011) Marine scientists have been warning for years that coral reefs, the most biodiverse ecosystems in the ocean, are facing grave peril. But a new comprehensive analysis by the World Resources Institute (WRI) along with twenty-five partners ups the ante, finding that 75% of the world's coral reefs are threatened by local and global impacts, including climate change. An updating of a 1996 report, the new analysis found that threats had increased on 30% of the world's reefs. Clearly conservation efforts during the past decade have failed to save reefs on a large-scale.
Photos: Scientists race to protect world's most endangered corals
(01/11/2011) As corals around the world disappear at alarming rates, scientists are racing to protect the ones they can. At a workshop led by the Zoological Society of London (ZSL), the world's foremost coral experts met in response to a decade of unprecedented reef destruction to identify and develop conservation plans for the ten most critically endangered coral species.