As East Africa reels from a devastating famine, which is hitting Somalia the hardest, there are new fears that another African nation could soon slip into a similar situation. On July 9th of this year, South Sudan became the world's newest nation; however a few months later drought, conflict, refugees, and rising food prices could push the eastern region of South Sudan into a famine, warned officials from the fledgling nation yesterday.
"Lower harvests due to unreliable rains coupled with the rising food prices world-wide, have created a severe food shortage leaving more than 1.3 million in need of food aid," Joseph Lual Acuil, South Sudan's minister of Humanitarian Affairs and Disaster Management, said in Juba as reported by the Sudan Tribune.
Hundreds of thousands of refugees have poured into the region over the past year according to the UN, straining resources. In addition, late rains and conflict have meant that many agricultural areas are not being utilized. Finally food prices have risen rapidly: Salah Barkawi, local Beja party spokesperson, told the AFP that prices of a staple food, sorghum, have more than doubled recently.
In East Africa, officials estimate that 13 million people are threatened by hunger, while 30,000 children have died in the past three months alone.
South Sudan borders Ethiopia, Kenya, and Uganda, and some have suggested that food shortages there are a part of the wider problem facing East Africa.
Related articles
South Sudan's choice: resource curse or wild wonder?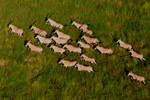 (07/11/2011) After the people of South Sudan have voted overwhelmingly for independence, the work of building a nation begins. Set to become the world's newest country on July 9th of this year, one of many tasks facing the nation's nascent leaders is the conservation of its stunning wildlife. In 2007, following two decades of brutal civil war, the Wildlife Conservation Society (WCS) surveyed South Sudan. What they found surprised everyone: 1.3 million white-eared kob, tiang (or topi) antelope and Mongalla gazelle still roamed the plains, making up the world's second largest migration after the Serengeti. The civil war had not, as expected, largely diminished the Sudan's great wildernesses, which are also inhabited by buffalo, giraffe, lion, bongo, chimpanzee, and some 8,000 elephants. However, with new nationhood comes tough decisions and new pressures. Multi-national companies seeking to exploit the nation's vast natural resources are expected to arrive in South Sudan, tempting them with promises of development and economic growth, promises that have proven uneven at best across Africa.
South Sudan's tropical forests fast disappearing
(06/06/2011) South Sudan's tropical montane forests are fast disappearing according to new analysis by PRINS Engineering. At current rates, Mount Dongotomea, located in South Sudan's most biodiverse ecosystem, could be completely stripped of tree cover by 2020.
Massive wildlife population discovered in Southern Sudan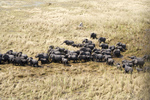 (06/12/2007) Aerial surveys by the New York-based Wildlife conservation Society found more than 1.3 million white-eared kob, tiang antelope and Mongalla gazelle in Southern Sudan, despite decades of civil war. The population, which includes more than 8,000 elephants, rivals that of the legendary Serengeti in Tanzania and suggests that the region is of critical importance for conservation efforts.