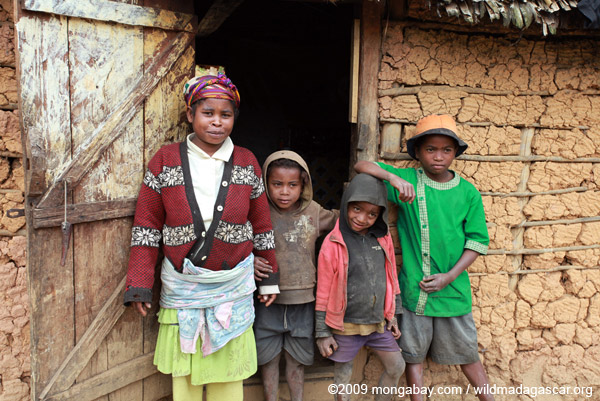 Children in Madagascar. Photo by: Rhett A. Butler.
The Tea Party and the African island-nation of Madagascar are having dueling concerts over the issue of illegal logging, reports the Associated Press. A concert in Madagascar over the weekend was meant to highlight the problem of illegal deforestation in one of the world's poorest countries. Meanwhile the Tea Party is holding a rally and concert on October 8th to support Gibson Guitar, a musical instruments company currently under investigation for breaking US law by allegedly purchasing illegally logged wood products from Madagascar.
"Our forests are disappearing every day more and more," said Razia Said, a musician and an organizer of the concert in Madagascar, told the AP.
Beginning in 2009, Madagascar suffered an illegal logging crisis. Taking advantage of a government coup, armed gangs—often funded by foreign traders—logged imperiled species of tropical hardwood, including rosewood and ebony. Logging occurred even in national parks. The sudden rise in illegal logging has also been linked to the slaughter of endangered lemurs for bushmeat. Madagascar, a global hotspot of biodiversity, is home to over 100 species of lemur, which are found no-where else in the world, along with a huge number of other endemic species, many of them threatened by habitat loss.
| | |
| --- | --- |
| | Illegal rosewood logging in Masoala National Park. Photo by Rhett A. Butler |
But illegal logging doesn't just imperil endangered species, it also hurts local economies that see their natural resources destroyed and sold off. Little is paid for raw logs in Madagascar, but by the time the material is shipped abroad and crafted into products, their value skyrockets: a single rosewood bed can cost $1 million. A recent investigation by the Environmental Investigation Agency (EIA) found that only 1 percent of the value of the logs stayed in Madagascar.
"These things are being sold for a lot of money and the people here are not getting much out of it. We'd like it to be more sanctioned and more controlled so we can save our forests," Said told the AP. It is estimated that around 70 percent of people in Madagascar suffer from malnutrition. Two-thirds of the population live below the international poverty line, making less than $1.25 a day.
Half-way across the world the Tea Party has a different view. Musical-instrument company, Gibson Guitar, is currently under investigation for breaking the US Lacey Act, which stipulates that importing companies must abide by the laws of the nations they do business with. In this case, the company is accused of buying wood products from illegal logging in Madagascar, byway of India. The investigation of Gibson Guitars is on-going and charges have yet to be leveled.
However, the nascent Tea Party has come to view the case as an example of too much regulation in the US. Gibson Guitar CEO, Henry Juszkiewicz, raised the issue's profile by becoming increasingly outspoken about his view that his company is over-regulated, including numerous appearances on conservative media outlets. The issue even made it to Washington DC when House Speaker John Boehner invited Juszkiewicz to attend a recent jobs speech by President Barack Obama.
To support Gibson Guitar, which they view as the victim not the possible law-breaker, the Tea Party of Tennessee along with other Tea Party-affiliated groups is holding a rally and concert in Nashville, Tennessee with special guest Juszkiewicz.
Rumors—spread by supporters of Gibson Guitars—claim that the US Fish and Wildlife Service would confiscate musicians' instruments, however this is untrue. The Lacey Act only applies to bulk imports and the Fish and Wildlife Service says musicians 'have no need for concern'.
"This has been politicized in an irrational way, in an almost surreal way, and been twisted into a message around jobs," Andrea Johnson, forest campaign director for the nonprofit Environmental Investigation Agency, told the Tennessean. However the Gibson rally page, named We Stand with Gibson, describes the rally as 'a stand for freedom'.
The 2008 amendment to the Lacey Act to help counter illegal logging worldwide was approved with bi-partisan support, including from the Bush administration. The amendment was green-lit not only for its global environmental impact, but also so that American businesses would not have to compete with the artificially low prices of illegally logged wood coming in from overseas, reports Grist.
Since the amendment to the Lacey Act, illegal logging has fallen worldwide.
Related articles
Madagascar asks CITES to regulate rosewood and ebony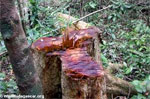 (09/29/2011) Following a logging crisis in 2009 where a number of Madagascar's remaining forests were illegally cut, the African nation has turned to the Convention on International Trade in Endangered Species of Wild Fauna and Flora (CITES) to help regulate 91 species of rosewood and ebony. "Regulating trade in these high-value timber species under CITES will help ensure that the benefits of trade flow to local people and it will also serve the global community by helping conserve these species, which will be to the benefit of entire ecosystems."
Background: the Lacey Act and the Fish & Wildlife Service raid on Gibson Guitars
(09/02/2011) On 24 August 2011, agents of the Fish & Wildlife Service (FWS) raided Gibson Guitar facilities in Nashville and Memphis, Tennessee, seizing ebony and rosewood material, guitars and guitar parts as evidence of suspected violation(s) of the U.S. Lacey Act. The Lacey Act is a long-standing anti-trafficking statute which prohibits commerce of illegally-sourced wildlife, plants and wood products from either the U.S. or other countries.
Endangered species trafficking: What did Gibson Guitar know?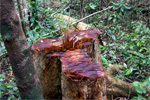 (07/07/2011) A motion filed last month by the U.S. Department of Justice alleges Gibson Guitar knew it was trafficking in endangered timber when it was busted by the U.S. Fish and Wildlife Service in November 2009, reports the Environmental Investigation Agency (EIA).