For more information on this issue: Dole destroying forest in national park for bananas
Dole Food Company has responded to allegations that it is clearing land in a national park in Sri Lanka known for its population of elephants as well as a number of threatened species. According to reports, the US-based food giant has partnered with a local company, Letsgrow Ltd, to grow bananas for export markets in Somawathiya National Park.
"This is not the case. The area being cultivated by Dole in Kandakaduwa is not located in a national park or land designated as forest land. The area we are cultivating is limited to 902 hectares and is restricted to land identified as scrub land," Dole representative, Sylvain Cuperlier, told mongabay.com. While Cuperlier cited that the area was 902 hectares, media reports have stated it is over four-times that much, 4,700 hectares.
A recent statement from Dole reasserts that the land is not in the national park, however, the company admits it does not know where their land is in relation to the protected area.
"Dole Lanka [Sri Lanka's branch of Dole] cultivates a farm in Kandakaduwa for Letsgrow (Private) Limited who has confirmed to Dole Lanka that the farm is not in the Somawathiya National Park. Dole is in the process of obtaining confirmation on the exact location of the park vis-à-vis its farm," the statement reads.
However conservation NGO, Environmental Foundation Limited (EFL), says they have proof from satellite images that the plantation is in Somawathiya National Park.
"This is very much a part of the park and should not be touched under the law," environmental lawyer Jagath Gunawardena told the Sunday Leader.
In its statement, Dole further argued that the plantation would not have a negative impact on elephant populations, a concern brought up by environmentalists.
"Regarding the presence of elephants in the farm, this is not true either. While elephants are common animals in Sri Lanka, they are not very common in this farm area. However, our workers do receive training on 'elephant attack awareness' to protect both the elephants and our workers. There is no electric fence around this farm preventing elephants from entering since the probability is limited," reads the statement from Dole, which said it has not participated in any 'elephant drives', where people drive out elephants due to concerns for crop damage.
According to reports, the Dole/Letsgrow plantation never submitted an Environmental Impact Assessment (EIA) as required by Sri Lankan law.
Dole spokersperson, Curpelier said, "Sri Lanka is a beautiful country with natural resources that deserve strong protections. It is the objective of all of our staff and employees there to work in an environmentally sensitive way that preserves the wildlife and environment."
When reached by mongabay.com, Dole declined to answer direct questions related to the exact location of the land under lease, why it hasn't produced an EIA, and why officials have not been allowed to visit the plantation.
Related articles
Dole destroying forest in national park for bananas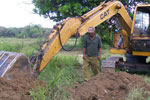 (08/14/2011) Dole Food Company, a US-based corporation famous for its tropical fruit products, is allegedly destroying rainforest in Somawathiya National Park in Sri Lanka for a banana plantation reports local press. The 4,700 hectare (11,600 acre) plantation, reportedly handed to local company Letsgrow by Sri Lanka's military, imperils an elephant migration route and a number of tropical species. Letsgrow has partnered with Dole on the plantation work, already clearing almost half the area, described as 'thick jungle'. Sri Lanka, which has only come out of a decades-long civil war in 2009, is currently seeking a rise in agricultural development.
Back from a century of extinction, conservation proposed for elusive Asian flying squirrel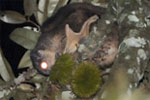 (06/27/2011) The Travancore flying squirrel (Petinomys fuscocapillus) occurs in the forests of the Western Ghats and Sri Lanka, a global biodiversity hotspot, and is listed as Near Threatened on the IUCN Red List. During the first half of the 20th century the species was thought to be extinct, but was rediscovered in the 1960s, then not seen again for over twenty years.
Photos: new super tiny frogs discovered in Sri Lanka, one critically endangered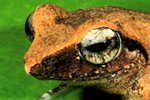 (02/09/2011) Two new incredibly small frogs have been discovered in Sri Lanka, an island nation off India with at least 100 species of frogs. The new frogs are in the genus Pseudophilautus, which are shrub frogs native either to Sri Lanka or India. One of the new species, dubbed Pseudophilautus hankeni, survives only in high mountain forests, and will likely be classified as Critically Endangered. "These species were discovered as a part of a broad amphibian survey that we carried out about 10 years ago in Sri Lanka. In that survey we discovered nearly 100 new species new to science. We are in the process of describing them now," explained Dr. Madhava Meegaskumbura, who participated in the frogs' discovery and formal description, to mongabay.com.