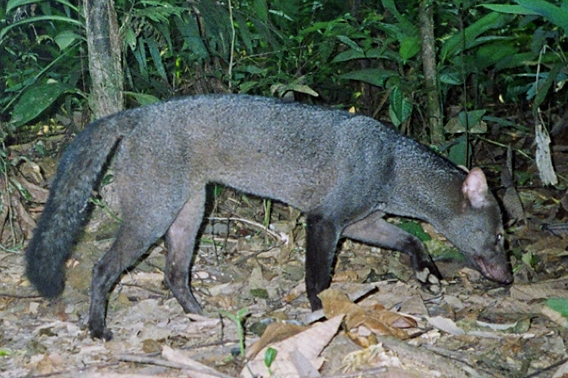 One of the Amazon's most elusive and least-known mammals, the short-eared dog (Atelocynus microtis), captured on camera trap by the Tiputini Biodiversity Station (TBS). Photo courtesy of TBS.
One of the best words to describe Amazon wildlife, including large mammals and birds, is cryptic. A person can spend a day trekking through the dense green and brown foliage of the Amazon and see nothing more than a few insects, maybe a frog here and there if they have good eyes. In fact, researchers have spent years in the jungle and never seen a jaguar, let alone a tapir. Some species like the bushdog and the giant armadillo are even more cryptic. Almost never encountered by people, in some parts of the Amazon they have taken on a mythic status, more rumor around the fire than reality. However, camera traps—automated cameras that take a flash photo whenever an animal triggers an infrared sensor—in the Amazon have begun to reveal long-sought information about the presence and abundance of species, providing new data on range and territories. And even at times giving glimpses into the private lives of species that remain largely shrouded in mystery.
The Tiputini Biodiversity Station (TBS) rests in the Ecuadorian jungle across the river from Yasuni National Park. Here a camera trap program has led to a wealth of information, resulting in several research papers (see list at the end of the interview), on an area of the Amazon that is largely intact.
| | |
| --- | --- |
| | Diego Mosquera. Photo courtesy of TBS. |
"The goal was to develop baseline information before human activities increased in the region. TBS is, to date, largely unaffected by human activities, but this may change if hunting pressures or oil exploration increase," Diego Mosquera, site manager at TBS, told mongabay.com. Before the camera traps, accumulating baselines data on so many species would have been impossible. "We started the program in December 2004, and its a pioneer study of this kind in Ecuador. We have over 30,000 pictures to date and we are working on determining densities of cats, mainly jaguars and ocelots, something never done in Ecuador. According to preliminary data, densities of both species are remarkably high at the station."
To gather such data, the program has focused in part on mineral licks around the site. Species visit these licks in order to consume minerals they can't get anywhere else.
"As expected, we captured a variety of fauna visiting the licks and wallows, including a surprising abundance of red brocket deer, tapirs, collared peccaries, white-lipped peccaries, howler monkeys and spider monkeys. The presence of these animals definitely tells us something about their apparent need for certain minerals, but also hints at a social function of such sites for many organisms," says Kelly Swing.
The program has also captured a number of photos of species that are almost never recorded, such as the short-eared dog, the bushdog, the nocturnal currasow, and the dark tree rat. Given their rarity and difficultly almost nothing is known about these animals.
| | |
| --- | --- |
| | Kelly Swing. Photo courtesy of TBS. |
"With the trap cameras sometimes you can get some insights into their behavior. The few images we have of these two canines [short-eared dogs] can tell us quite a bit about where and when they are active. In one case, we've even documented a predation event and can identify the consumption of an odd amphibian called a caecilian by the short-eared dog," says Kelly Swing.
The camera trap program has proven such a success that TBS is now considering upgrading to include video camera traps.
"We realized the potential of having video cameras when once, by accident, we set one of the old digital cameras on video instead of still picture mode. We got over 200 8 sec videos, most of them at night, so you could not see anything. However, 3 of them, recorded during the day, turned out to be amazing," Mosquera says. Funding and building video camera traps are the two obstacles to implementation.
The station has sorted through thousands of photos, some blurry and indistinguishable, and others showing remarkable scenes of wildlife that no human eye has ever caught. For Mosquera, though, his favorite image was the one that proved there was black jaguar, more popularly known as a panther, in the area.
In a May 2011 interview Diego Mosquera and Kelly Swing discussed the challenges of camera trapping, the new discoveries the technique has yielded, and hopes for the future of the program.
AN INTERVIEW WITH DIEGO MOSQUERA AND KELLY SWING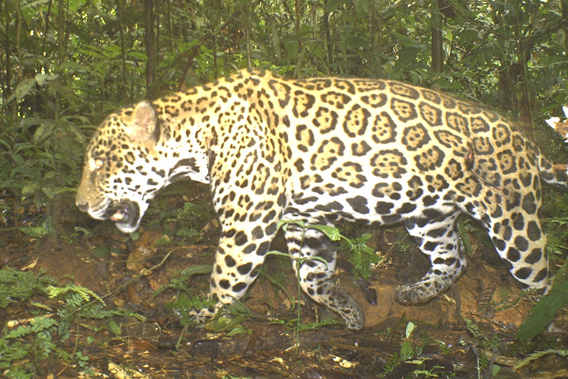 Top predator and America's biggest cat, the jaguar (Panthera onca) caught on camera trap at TBS. Photo courtesy of TBS.
Mongabay: What are your backgrounds?
Diego Mosquera: I have a degree in Applied Ecology and I am finishing a Masters in GIS (Geographic Information Systems).
Kelly Swing is the Director of the Station. He has a PhD in Zoology and has worked and lived in Ecuador for the last 20 years.
Mongabay: What makes Tiputini Biodiversity Station (TBS) unique?
Diego Mosquera: Tiputini is located in the heart of Ecuadorian Amazon, adjacent to the Yasuni National Park, known to be one of the most biodiverse places on earth.
CAMERA TRAP DISCOVERIES