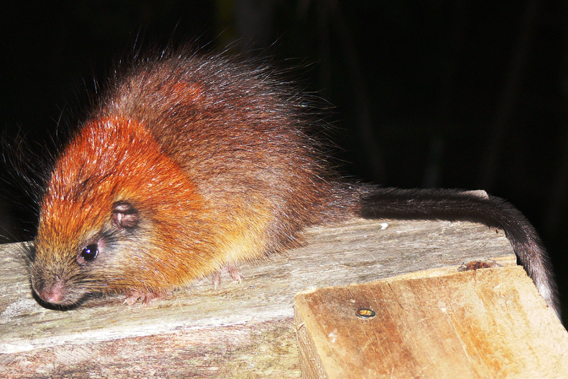 Not seen for over a century, these are the first ever photos of a living red-crested tree rat. Photo by: Lizzie Noble/ProAves.
The red-crested tree rat (Santamartamys rufodorsalis) had not been recorded since 1898 and was thought possibly extinct—that is until one showed up at 9:30 PM on May 4th at a lodge in El Dorado Nature Reserve in northern Colombia.
"He just shuffled up the handrail near where we were sitting and seemed totally unperturbed by all the excitement he was causing," said Lizzie Noble, a British volunteer with Fundación ProAves a conservation group in Colombia focusing on birds.
The nocturnal rodent hung out for a couple hours, allowing Noble and another volunteer, Simon McKeown, to take photos. Noble and McKeown were there to monitor endangered amphibians, but on this night, at least, they found themselves captivated by a long-lost rodent.
Described as about the size of a guinea pig, the red-crested tree rat—or if that's not long enough for you: the red crested soft-furred spiny-rat—had only been known from two skins previously. But the species was odd enough to be given its own genus, Santamartamys.
With its long absence it's almost certain the species is quite rare, and researchers say they expect it will be listed by the IUCN Red List as is Critically Endangered. Already, the species is believed to be imperiled by feral cats.
| | |
| --- | --- |
| | The red-crested tree rat. Photo by: Lizzie Noble/ProAves. |
Located in the Santa Marta mountain range, the 2,000 acre (809 hectare) El Dorado Nature Reserve, which was established by ProAves and other groups, has been the site of a number of remarkable incidents recently. In 2007 the Santa Marta screech owl (Otus gilesi) was discovered in the reserve—still undescribed by researchers—while last year the first ever photo of a living Santa Marta Sabrewing (Campylopterus phainopeplus), a hummingbird, was taken in the park. But the red-crested tree rat may be the biggest surprise yet.
"We are so proud that our El Dorado Nature Reserve has provided a safe haven for this enigmatic little guy to survive," said Lina Daza, Executive Director of ProAves.
"The discovery exemplifies why we buy forested properties known to be important for endangered wildlife yet at imminent risk of being destroyed."
The reserve is home to a high number of endemic birds and amphibians, some globally threatened with extinction.
"The El Dorado Nature Reserve represents the ultimate Noah's Ark, protecting the last populations of many critically endangered and endemic flora and fauna; a living treasure trove like no other on earth," said Dr. Paul Salaman, a scientist with World Land Trust-US who confirmed the identity of the species.
ProAves established the El Dorado Nature Resevere in 2005 with support from American Bird Conservancy, World Land Trust-US, Fundación Loro Parque and Conservation International, and the US's Neotropical Migratory Bird Conservation Act.
"Had we not worked with our partners to establish this reserve, it is reasonable to believe this species would still remain something that was only talked about in science journals," said George Fenwick, President of American Bird Conservancy. "Now we need to work with our partners to take steps to see that this species continues to be a part of our world,"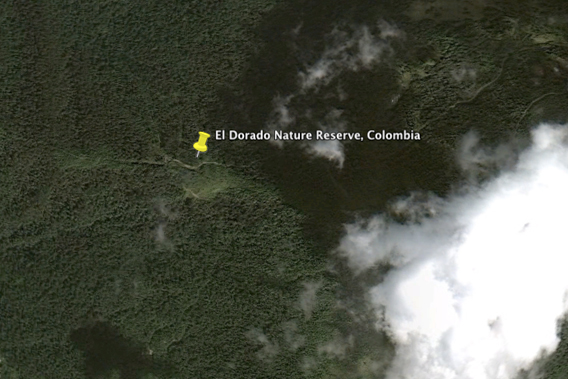 Forest landscape of El Dorado Nature Reserve in the Santa Marta mountain range. Image courtesy of Google Earth.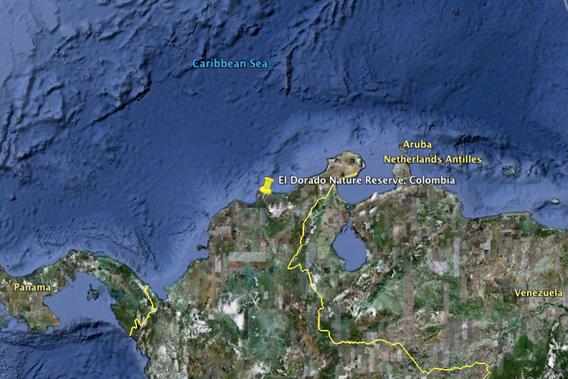 El Dorado Nature Reserve is located in northern Colombia overlooking the Caribbean Sea. Image courtesy of Google Earth.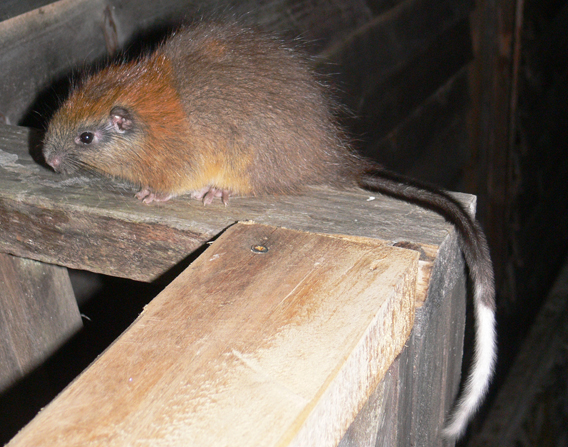 The red-crested tree rat. Photo by: Lizzie Noble/ProAves.
Related articles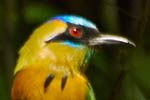 (03/11/2011) The highest coastal mountain on the planet rises 18,942 feet (5,775-meters) above the Caribbean Sea; it's snow-capped peaks piercing through the clouds some 24 miles from an idyllic tropical beach. But to the casual visitor, the Sierra Nevada of Santa Marta in Colombia does not seem so grandiose. It slopes up and down until it disappears into the clouds, jealously concealing its tropical glacier. Somewhere up there, shrouded in mystery, like an ancient treasure, hides the most impressive summit in the Caribbean. People living along this part of the coastline say the snows of the Sierra are visible from some beaches, but to me they remain elusive even after many trips to the region. To catch a glimpse of the snows from the Caribbean would be a welcoming gift, but I have really come here to experience the Sierra, whatever it would reveal.
Amazon still neglected by researchers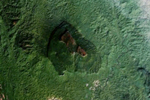 (03/28/2011) Although the Amazon is the world's largest tropical forest, it is not the most well known. Given the difficulty of access along with the fear of disease, dangerous species, indigenous groups, among other perceived perils, this great treasure chest of biology and ecology was practically ignored by scientists for centuries. Over the past few decades that trend has changed, however even today the Amazon remains lesser known than the much smaller, and more secure, tropical forests of Central America. A new study in mongabay.com's open access journal Tropical Conservation Science, which surveyed two prominent international tropical ecology journals (Biotropica and Journal of Tropical Ecology) between 1995 and 2008, finds that Central America was the subject of twice as many studies as the Amazon. In fact, according to the authors, much of the Amazon remains terra incognito to researchers, even as every year more of the rainforest is lost to human impacts.
First-ever photo of rare and spectacular hummingbird from Colombia
(03/31/2010) A conservationist has taken the first-ever photos of a living Santa Marta Sabrewing (Campylopterus phainopeplus) in the El Dorado Nature Reserve in the Sierra Nevada de Santa Marta in Colombia, reports ProAves, a bird conservation group.