This year's Save the Frogs Day (Friday, April 29th) is focusing on a campaign to ban the herbicide Atrazine in the US with a rally at the steps of the Environmental Protection Agency (EPA). Kerry Kriger, executive director of frog-focused NGO Save the Frogs! and creator of Save the Frogs Day, says that Atrazine is an important target in the attempt to save amphibians worldwide, which are currently facing extinction rates that are estimated at 200 times the average.
"Atrazine weakens amphibians' immune systems, and can cause hermaphroditism and complete sex reversal in male frogs at concentrations as low as 2.5 parts per billion. Atrazine is the most commonly detected pesticide in American groundwater and half a million pounds of Atrazine returns to the Earth in rain and snow each year," Kriger told mongabay.com, adding that, " Eighty million pounds were used in America last year, primarily on corn, but also on sugarcane, sorghum and rice."
But it's not just frogs that Atrazine hurts. According to Kriger, Atrazine has also shown to impact humans: "Epidemiological studies have found high rates of breast and prostate cancer, as well as impaired fertility, in humans living or working in areas with high Atrazine usage. Atrazine induces prostate and mammary cancer in laboratory rodents as well."
The herbicide, although one of the most heavily used in the US, has been banned in the EU since 2004 due to health and environmental concerns. Even with the ban, it will take a long time for the EU to be rid of the chemical.
"Atrazine is very persistent in the environment, and consistently turns up in drinking water at unacceptable levels. Atrazine it is still detectable in European soil," Kriger says.
Save the Frogs Day is targeting the US EPA because the location is both "practical and symbolic".
"The EPA has the power—and the responsibility—to ban harmful pesticides like Atrazine. Holding the Save The Frogs Day Rally in front of the EPA Headquarters will help ensure that the EPA staff know the American public is holding them accountable for protecting humans and wildlife," Kriger explains.
Kriger says there is an alternative herbicide, known as mesotrione, which could be used instead of Atrazine and is "not known to cause cancer". However, he adds that optimally society would increasingly switch to organic farming instead of chemical-dependent agriculture.
"While some people argue that the massive human population could not grow enough food without pesticides, I question whether we actually need to grow so much corn, much of which goes to feed cows, and into corn syrup. By reducing our consumption of junk food and beef, we would not only improve human health, reduce methane emissions and slow deforestation, we would reduce the need for harmful pesticides like Atrazine. Corn yields in Germany and Italy have actually increased in the 20 years since Atrazine was banned in those countries," Kriger says.
| | |
| --- | --- |
| | The Panamanian golden frog (pictured here with green infant) is one of a number of frog species to have gone extinct. Fortunately for this species, a population does survive in a number of zoos, but other frog species have not been so lucky. Photo by: Rhett A. Butler. |
Atrazine is just one of many impacts to amphibians populations worldwide. Undergoing what has been described as an extinction crisis, amphibians have been hard hit by deforestation, habitat loss, pollution, overexploitation for food, climate change, and a devastating fungal disease, chytridiomycosis, as ewll as agricultural chemicals. Researchers say that in the past 30 years, its likely 120 amphibians have been lost forever. Highly sensitive to environmental changes, the decline in amphibians is said by some to be an early warning of global mass extinction across all taxa.
While the rally at the EPA is the "major event" this year for Save the Frogs Day, many other events are taking place around the world on Friday to educate the public on amphibian endangerement and celebrate frogs.
"There is a wide spectrum of events [this year]," Kriger says. " In Coney Island, NY there will be a protest at Nathan's Famous, a nationwide chain restaurant that sells frog legs and refuses to remove them from their menu. The frog legs trade is growing rapidly and America is set to soon overtake France to become the world's largest importer of frog legs; protesters hope to raise awareness of the issue and bring an end to frog leg sales at the restaurant. In San Francisco, there will be a rally at the steps of City Hall to call on the city to save the Sharp Park Wetlands. The wetlands are home to endangered California Red-Legged Frogs, but San Francisco currently pumps the wetlands out to sea to accommodate a golf course. We want the city to cease the golfing operations and create California's first frog reserve."
Events are also taking place worldwide. In total there are over 100 events planned in 19 nations on six continents.
"Toronto's frog enthusiasts will be celebrating Save The Frogs Day with their 2nd Annual Frog Leap-a-Thon, a 250 meter race down the city's boardwalk. […] In Bangladesh, a 2km Frog Run is set to take place in the town of Chittagong. In South Korea, kids will make silk-screen frog art onto t-shirts," Kriger says adding that, "amphibian biologists around the world will lead hikes to show people wild amphibians in their native habitats."
If there is not an event near you, there is still time to organize one. But even if that's not possible, Kriger says everyone can help save frogs.
"Here are 5 simple ways people can help: (1) Sign the petition to get Atrazine federally banned and out of production. (2) Don't eat frog legs. (3) Inform your local schools about frog extinctions and let them know that Save the Frogs lists lots of ways teachers and students can get involved in amphibian conservation efforts. (4) Read our How to Help page, which describes over 50 ways you can help save frogs. (5) Mark your calendars: the 4th Annual Save The Frogs Day will be Saturday, April 28th, 2012."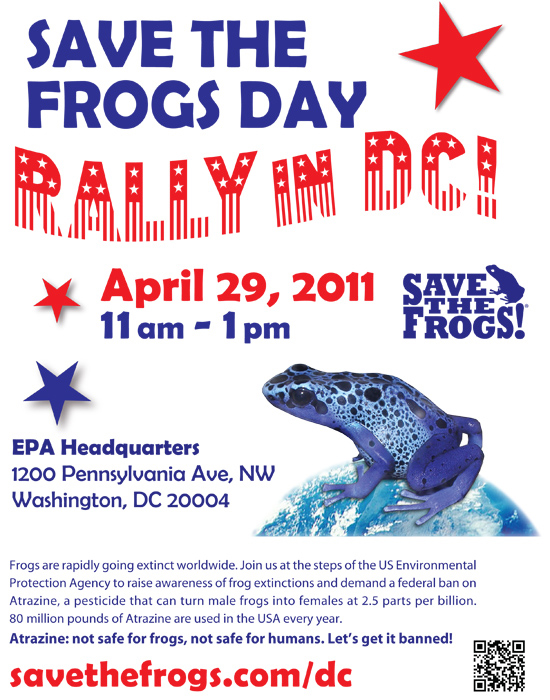 Related articles
The story of 'Save the Frogs Day', April 28th, An Interview with Kerry Kriger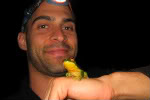 (04/26/2009) Founder and director of SAVE THE FROGS!, Dr. Kerry Kriger is responsible for the first annual Save The Frogs Day on Tuesday, April 28th with events planned worldwide from the United States to Nepal, and Australia to China. "I'm continually amazed at the positive response it's gotten. I thought of Save The Frogs Day one night last December when I was the only full-time SAVE THE FROGS! employee and I only had a couple part-time volunteers," Kriger explains.
Researchers rediscover one of the world's most sought-after lost frogs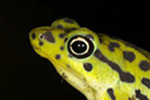 (02/17/2011) The Search for Lost Frogs, a global expedition to uncover amphibian species not seen for decades, has uncovered one of the expedition's most sought-after species: the Pescado stubfoot toad (Atelopus balios). The discovery in Ecuador was one bright spot in a search that revealed more about the crisis and extinctions of frogs than it did about the hopefulness of finding cryptic communities. In total the expedition rediscovered 4 of its 100 targeted species.
Worldwide search for 'lost frogs' ends with 4% success, but some surprises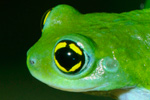 (02/16/2011) Last August, a group of conservation agencies launched the Search for Lost Frogs, which employed 126 researchers to scour 21 countries for 100 amphibian species, some of which have not been seen for decades. After five months, expeditions found 4 amphibians out of the 100 targets, highlighting the likelihood that most of the remaining species are in fact extinct; however the global expedition also uncovered some happy surprises. Amphibians have been devastated over the last few decades; highly sensitive to environmental impacts, species have been hard hit by deforestation, habitat loss, pollution, agricultural chemicals, overexploitation for food, climate change, and a devastating fungal disease, chytridiomycosis. Researchers say that in the past 30 years, its likely 120 amphibians have been lost forever.
Pictures: 6 'lost' frog species discovered in Haiti
(01/12/2011) On the eve of the anniversary of last year's destructive earthquake, scientists have announced a bit of positive news out of Haiti: the rediscovery of six species of frogs.
The march to extinction accelerates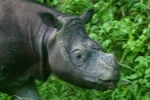 (10/26/2010) A fifth of the world's vertebrate species (i.e. mammals, birds, reptiles, amphibians, and fish) are threatened with extinction, according to a massive new study by the International Union for the Conservation of Nature (IUCN); and the situation is worsening for the world's wildlife: on average 52 species of mammals, birds, and amphibians move one category closer to extinction every year (the IUCN Red List categorizes species as Least Concern, Near Threatened, Vulnerable, Endangered, Critically Endangered, Extinct in the Wild, and then Extinct). However, the news isn't all bad. The study found that conservation action does work: in the first analysis of its kind, researchers found that the global biodiversity decline would have been 18% worse if not for conservation attention, "nonetheless," the authors—174 scientists from 38 countries—write, "current conservation efforts remain insufficient to offset the main drivers of biodiversity loss." According to the study, these drivers include agricultural expansion, logging, over-exploitation of species, and invasive species.
Frogs and friends at risk from booming global wildlife trade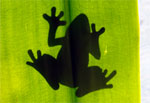 (09/08/2010) Alejandra Goyenechea, International Counsel at Defenders of Wildlife and Chair of the Species Survival Network's (SSN) Amphibian Working Group, spoke with Laurel Neme on her 'The WildLife' radio show and podcast about the global amphibian trade. In her interview, Alejandra Goyenechea discusses the benefits of frogs and the many threats – such as habitat loss, climate change, pollution, invasive species, disease, and overexploitation – to their survival. Did you know frogs indicate environmental quality, like canaries in a coal mine? Or that many have medicinal properties, like the phantasmal poison dart frog which produces a painkiller 200 times the potency of morphine?
Golden toad saved from brink of extinction
(08/17/2010) One hundred Kihansi Spray Toads have been flown to their native Tanzania after a close brush with extinction, reports the Wildlife Conservation Society (WCS).