Malaysian loggers say Japan's recovery from last week's devastating earthquake and tsunami will boost demand for rainforest timber, reports the Borneo Post.
AmResearch, an investment research firm based in Kuala Lampur, Malaysia, said logging companies that export plywood to Japan are poised to benefit from reconstruction.
"We have contacted timber players, who are also unsure of the extent of damage stemming from the latest earthquake and the aftershocks," AmResearch is quoted as saying.
"One timber player rules out a '30-40 per cent jump in exports' to Japan – which mostly buys plywood from Malaysia – but expects a probable steady rise in demand from Japan to help in the reconstruction process, depending on the extent of the damage to buildings."
AmResearch told the Borneo Post Japan accounted for 46 percent of Sarawak's total wood panel exports by volume from Jan 2010-Nov 2010.
| | |
| --- | --- |
| | Hardwood prices have risen 19 percent over the past year. |
Ta Ann Holdings Bhd, one of the timber companies covered by AmResearch and one of the largest forestry firms operation in Sarawak, a state in Malaysian Borneo, exports 90 percent of its plywood production to Japan, according to AmResearch. Ta Ann has recently been criticized by environmental activists for its links to Sarawak Chief Minister Abdul Taib Mahmud, who is the center of a corruption scandal. Activists say Taib and his family have acquired billions of dollars in overseas property holdings despite earning a modest government salary during his 30 years in power. At the same time, Sarawak's forests have been heavily logged and its native people pushed off their traditional lands.
Editor's note: The Borneo Post is owned by KTS Group, a firm whose holdings include a logging company in Sarawak.
Related articles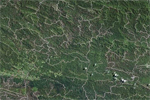 Report: corruption in Sarawak led to widespread deforestation, violations of indigenous rights

(03/10/2011) At the end of this month it will be 30 years since Abdul Taib Mahmud came to power in the Malaysian state of Sarawak. Environmentalists are using the occasion, along with new revelations, to highlight corruption and nepotism they say have characterized his regime. Chief Minister Taib and his decades-long administration are no strangers to such allegations, but a new report from the indigenous-rights group Bruno Manser Fund (BMF)—amid criticism from independent media sources, such as Sarawak Report and Radio Free Sarawak—are adding fuel to the fire. Most recently, the report describes in great detail how the tropical timber trade in Sarawak has undercut indigenous groups while toppling some of the world's greatest rainforests, all at the expense of the Sarawak people.