Update:Mongolia has announced it will cancel the hunt of 4 snow leopards for scientific research following an outcry from conservationists.
Well-known biologist and Vice President of the big cat conservation organization, Panthera, George Schaller said: "Mongolia's decision to rescind snow leopard hunting permits is the right one for the species and the country. Minister Gansukh can legitimately and proudly claim that Mongolia remains steadfast and committed to conservation efforts for snow leopards in Asia, and for that, we congratulate them."


Mother snow leopard and cub recently caught on camera trap in the Southern Gobi of Mongolia. Research there is providing new information about the private lives of the world's most elusive big cat. Photo © Panthera/Snow Leopard Trust.
Conservationists have come out in opposition against a plan by the Mongolian government to issue four permits to kill snow leopards (Panthera uncia ) for 'scientific research'. The permits were awarded to foreign nationals last month. Snow leopards are listed as Endangered by the IUCN Red List with their population declining.
"If the planned hunting of snow leopards is allowed to go forward, Mongolia's creditability as a leader in conservation of [snow leopards] and other rare species will be severely tarnished," reads a letter from Tom McCarthy, Executive Director of Panthera's Snow Leopard Program and George Schaller, Vice President of Panthera, to Mongolia's Minister of Nature, Environment, and Tourism.
Prior to this Mongolia has been seen as ahead-of-the-curve on snow leopard conservation. In fact, the South Gobi is home to the world's first long-term comprehensive study on the elusive cat conducted by Panthera and the Snow Leopard Trust.
| | |
| --- | --- |
| | More camera trap shots of mother snow leopard and cub from the Southern Gobi of Mongolia. Cub in the left hand corner. Photo © Panthera/Snow Leopard Trust. |
"We are of the opinion that no valid justification exists for killing snow leopards in the name of science. Every conceivable information need can now be obtained by non-lethal means thanks to advancements in research techniques such as genetics, camera traps, GPS-satellite collars, and other tools, all of which are being used in Mongolia," McCarthy and Schaller write.
In addition to four snow leopards, the Mongolia government will allow foreign hunters to kill two brown bears, forty grey wolves, 335 various hoofed animals, and up to 400 birds this year, according to the UB Post.
According to surveys over the last few years around 1,200 snow leopards survive in the Mongolia. Globally, between 4,000-6,500 survive in the wild. The major threats against the species differ between regions but are largely made up of poaching for skins or bones, killing due to wildlife-human conflict, and dwindling prey populations.
Panthera, which aims to protect the world's wild cats with special emphasis on tigers, lions, jaguars, and snow leopards, has started a petition against the approval of killing snow leopards for research in Mongolia.
Produced by Panthera and Snow Leopard Trust. Posted with their permission. This video was taken in August 2010 at the Tost Mountain study area in South Gobi, Mongolia where Panthera and the Snow Leopard Trust are collaborating on the first ever long-term study of snow leopards. This film clip is actually 61 images taken about a half second apart by one of our remote automated cameras. We believe it is a mother and her nearly grown cubs.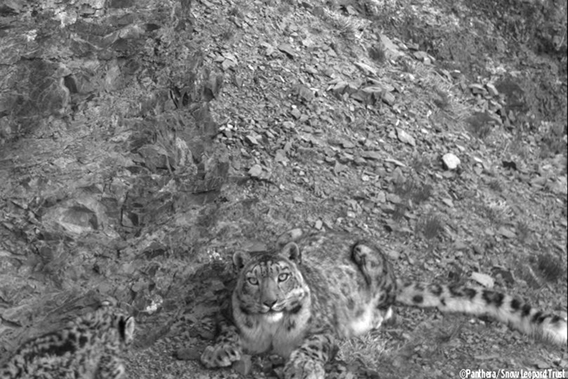 More camera trap shots of mother snow leopard and cub from the Southern Gobi of Mongolia. Photo © Panthera/Snow Leopard Trust.
.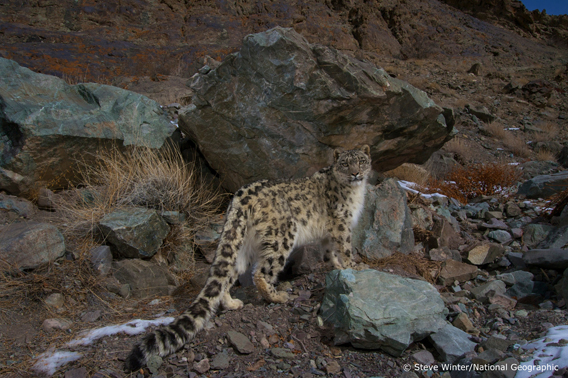 Wild snow leopard. Photo © Steve Winter/National Geographic.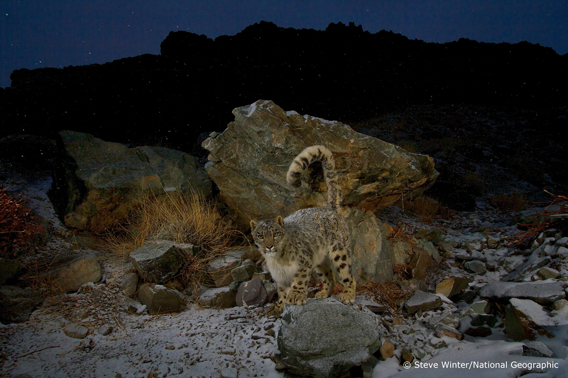 Wild snow leopard. Photo © Steve Winter/National Geographic.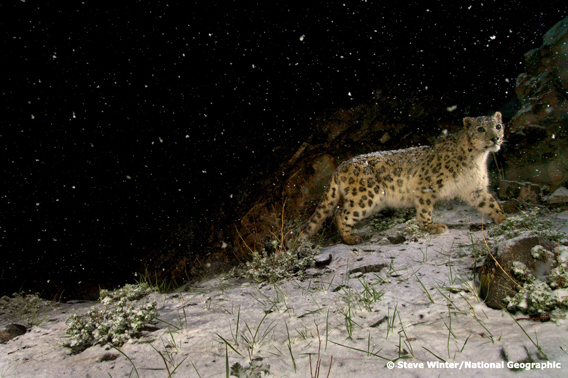 Wild snow leopard. Photo © Steve Winter/National Geographic.
Related articles
New population discovered of the America's mini snow leopard: the Andean cat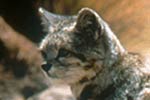 (03/16/2011) The elusive Andean cat (Leopardus jacobita), which until the late 1990s was only known to scientists by a couple photographs, has been discovered beyond the Andes mountain range for which it is named. According to researchers, the wild Andean cat resembles Asia's snow leopard, both in appearance and its habitat above altitudes of 3,000 meters (9,800 feet), only in this case the wild cat is about the size of a domesticated feline. But, scientists have now discovered that the cat, which is listed as Endangered by the IUCN Red List, also inhabits the Patagonian steppe at elevations as low as 650 meters (2,100 feet).
Eastern cougar officially declared extinct
(03/02/2011) The Eastern cougar, a likely subspecies of the mountain lion, was officially declared extinct today by the US Fish and Wildlife Service, ending 38 years on the Endangered Species List (ESA). The cougar, which once roamed the Eastern US, had not been confirmed since 1930s, although sightings have been consistently reported up to the present-day.
Apple's Snow Leopard helps real-life cats
(09/07/2009) Apple's release of its new operating system, dubbed "Snow Leopard", is helping raise awareness of the plight of one of the world's most endangered big cats, reports the Snow Leopard Trust, a group working to protect the real-life snow leopard in its mountainous habitat across Central Asia.