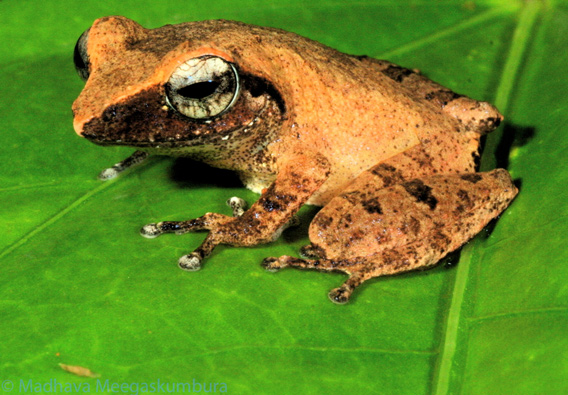 Discovered in a tea estate Pseudophilautus schneideri measures just 2.28 centimeters long. Photo courtesy of Madhava Meegaskumbura.
Two new incredibly small frogs have been discovered in Sri Lanka, an island nation off India with at least 100 species of frogs. The new species are in the genus Pseudophilautus, which are shrub frogs native either to Sri Lanka or India. One of the new species, dubbed Pseudophilautus hankeni, survives only in high mountain forests, and will likely be classified as Critically Endangered.
"These species were discovered as a part of a broad amphibian survey that we carried out about 10 years ago in Sri Lanka. In that survey we discovered nearly 100 new species new to science. We are in the process of describing them now," explained Dr. Madhava Meegaskumbura, who participated in the frogs' discovery and formal description, to mongabay.com.
Neither frog reaches an inch in length (both are just over 2 centimeters), and Meegaskumbura describes them as "less than the size of your toe".
Pseudophilautus hankeni "was discovered quite by accident, while trekking through a steep wooded area high up on a mountain" in the Knuckles Forest Reserve, Meegaskumbura said. The other new species, named Pseudophilautus schneideri , "was discovered by its unque rapid ticking call" in a tea estate next to a forest fragment.
Meegaskumbura says that Pseudophilautus hankeni "will be categorized as being Critically Endangered, because its distribution is restricted (so far found from just two localities, high up on a mountain rage), and the population density is quite low." In addition, climate change could pose a threat to this new species if the cloud forest on which it depends warms considerably.
While the other species, Pseudophilautus schneideri , was found in a tea estate, and therefore seems to be capable of surviving in human-modified landscapes, it still requires forests according to Meegaskumbura. Pseudophilautus schneideri appears dependent "on forest services (high humidity, food organisms etc.). It is not found too far away from the forest edge. So further destruction of forests will drive their populations down."
Both of the new frogs do not have a tadpole stage, but instead dig a hole to lay their eggs. When they hatch, the frogs are already fully formed.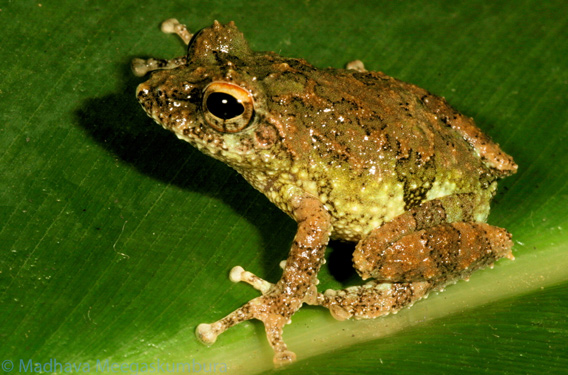 Discovered in a cloud forest Pseudophilautus hankeni measures just 2.19 centimeters long. This new species is Critically Endangered. Photo courtesy of Madhava Meegaskumbura.
Related articles
Pictures: 'Mr. Burns' frog discovered in Colombia along with 2 other new species
(11/15/2010) Three previously undocumented species of frog have been discovered in Colombia, reports Conservation International.
Photos: three new forest frogs discovered in Tanzania
(10/19/2010) Africa's most biodiverse nation, Tanzania, has added a few more species to its dockets. Researchers have discovered three new amphibians in the always surprising Eastern Arc Mountains, a region which has supplied a number of new species recently. All three new species are members of the frog genus Callulina. Described in the Zoological Journal of the Linnean Society the researchers warn that all three of the new frogs are confined to small habitats threatened by deforestation and firewood collection.
Photos: 200 new species discovered in 60-day expedition in New Guinea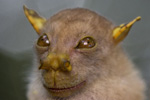 (10/06/2010) A 2009 expedition to Papua New Guinea proves once again that the island-nation is as diverse in life as it is in human cultures. It took researchers with Conservation International (CI) and the local Institute for Biological Research (IBR) just two months to uncover a startling 200 new species: averaging more than 3 a day in the remote Nakanai Mountains and Muller Range rising from the island of New Britain, a part of Papua New Guinea. Half of the new species were spiders, but the team also found two new mammals, nine new plants, two dozen frogs, and multitude of insects. Most surprising was the discovery of at least two species so unique that they are likely to be assigned their own genus.