IRIN News, a news service operated by the UN Office for Humanitarian Affairs, has reported that charcoal production in Somalia is continuing to rise despite a government ban. Charcoal production has long been one of the principal drivers of deforestation in Somalia. The charcoal, which is usually smuggled out of the country illegally for sale in the Gulf States, also provides a source of income for Islamic militias like al Shabaab, which control large parts of Somalia in open defiance of the Western-backed government.
In December, in an effort to reduce deforestation and cut off income to the militias, the Somalian government instituted a ban on charcoal exports. The ban has not been entirely useless; in fact, traders have almost entirely stopped shipping charcoal out of some ports, including Mogadishu and Merka, in response to government efforts. Only five days ago, fourteen Indian traders were convicted of illegally exporting charcoal and forced to pay $10,000 each in fines.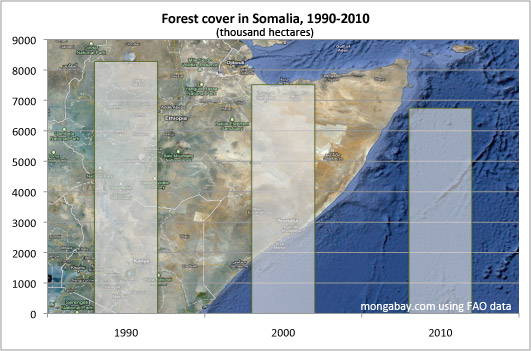 That said, the government lacks the ability to effectively police some southern ports, most notably Kismayo, which now handles 80-90% of the illegal charcoal trade. There, locals are reporting that charcoal production has actually increased over the past few months. They say that producers are also beginning to use more sophisticated equipment.
In 2000, the UN estimated that Somalia was producing 112,000 metric tons of charcoal per year. About 80% of charcoal produced is destined for export to Dubai, the UAE and Saudi Arabia, where a bag of charcoal is worth about $15. In Kismayo, traders are willing to pay around $5 for a bag. Those who produce the charcoal by cutting and burning wood, meanwhile, typically earn far less—as little as 80 cents a day. Demand is high in the Gulf States in part because of strict laws in those states aimed at limiting local deforestation.
Forested areas in Somalia are already under pressure from overgrazing and subsistence agriculture. Deforestation has contributed to desertification, which is always a threat in arid to semi-arid Somalia. In some places, old-growth acacia forests have been cut down for charcoal and replaced by thorn bushes, which make land unusable for grazing.
In 2000, local leaders tried to limit charcoal production, but were unable to do so after conflicts erupted between clans. In 2006, the Union of Islamic Courts, which was then in power, also tried to institute a ban. Their efforts ultimately proved to be futile. In 2002, a Somali woman named Fatima Jibrell won the Goldman Prize for her efforts to pass a statewide ban on charcoal exports in Puntland, Somalia. That measure, which was accompanied by awareness campaigns, was responsible for an 80% drop in charcoal exports from Puntland.