Export-oriented Brazilian furniture manufacturers are importing certified timber from the United States rather than using wood of questionable origin produced domestically, reports the International Tropical Timber Organization (ITTO) in its bimonthly update.
The ITTO reports that some Brazilian furniture makers are importing walnut, ash, oak, maple, and tulip wood from the United States, especially "when the final product is exported to the international markets where the use of certified timber is necessary."
The ITTO says that ready and year-round access to certified timber are reasons why Brazilian firms are importing wood from the U.S.


Brazil is the world's largest producer of tropical wood but inconsistent governance in the sector and seasonal fluctuations in supply availability have created problems for some exporters. A series of corruption scandals has reduced confidence in local certification systems among some buyers. However the timber sector in the Brazilian state of Pará is working to improve the credibility of traceability systems.
Related articles
Top officials busted in Amazon logging raids, but political patronage may set them free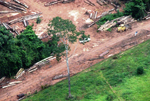 (07/08/2010) After two years of investigations, the Brazilian Federal Police arrested some of the most important politicians and authorities for illegal logging in the Amazon. Code-named Operation Jurupari, the Brazilian Federal Police uncovered a massive illegal logging scheme that resulted in the arrests of over 90 people and caused an estimated $500 million in damage to the Amazon rainforest. Over 496 square kilometers (192 square miles), an area the size of California or Spain, were affected and an estimated 1.5 million cubic meters (642 million board feet) of timber was illegally extracted. While the investigation focused on activities in the state of Mato Grosso, which is located in the southern Amazon and is one of the most deforested regions largely due to clearing land for expanding soya farms, it touched numerous others, including São Paulo, Paraná, Rio Grande do Sul, Espirito Santo, Minas Gerais and Distrito Federal.