With less than 670 Rothschild's giraffes surviving in the wild, the International Union for the Conservation of Nature's (IUCN) Red List has listed the subspecies as 'Endangered'. Surviving in Kenya and Uganda, Rothschild's giraffe (Giraffa camelopardalis rothschildi) is hanging on in small isolated populations usually in protected areas where populations are already at a maximum.
"[We] hope this will highlight to the world the critical state its tallest creature is in," giraffe-expert and conservationist, Julian Fennessey said in a statement. "As the second giraffe sub-species (of 9 known) to now be listed as endangered, we all have our work cut out to form sound conservation strategies to improve the situation in the short, medium and long term. The whole thrust of our work here is to put strategies in place BEFORE it is too late—extinction is simply not an option."
Only the West African giraffe (Giraffa camelopardalis peralta) is in worse shape than Rothschild's. With active conservation work, this subspecies has gone from some 100 individuals to 220 today, but is still in grave danger of disappearing. There are no West African giraffes surviving in captivity.
The Giraffe Conservation Foundation (GCF), the world's only conservation organization devoted to giraffes, has worked with stabilizing the West African giraffe population and is now focusing on Rothschild's.
This spring researchers announced the Rothschild's Giraffe Project to study the subspecies, which will comprise the first full study of Rothschild's giraffe. In addition, the Kenya Wildlife Service (KWS) has started up a National Giraffe Conservation Strategy, the first program of its kind to protect one of the world's most recognizable animals.
Mammals throughout Africa are in decline. A recent study found that even in protected areas, mammal populations have dropped by approximately 60 percent in 35 years.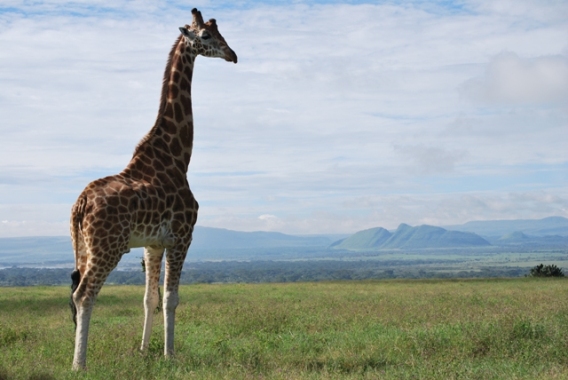 A lone male Rothschild's giraffe (Giraffa camelopardalis rothschildi). Photo by: Zoe Muller.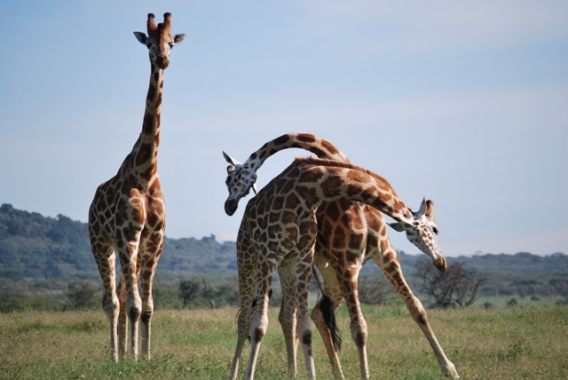 Male Rothschild's 'necking'. Photo by: Zoe Muller.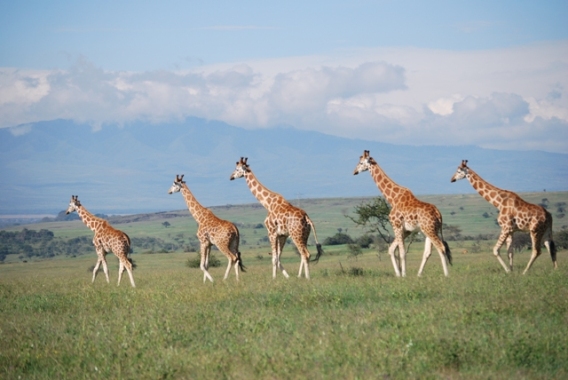 A herd of male Rothschild's giraffes on the move. Photo by: Zoe Muller.

Related articles
All about giraffes: an interview with a giraffe expert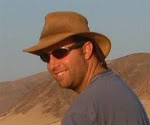 (03/09/2009) Dr. Julian Fennessy probably knows the giraffe better than anyone. Trekking across savannah, forest, and the deserts of Africa, Fennessy is collecting genetic samples of distinct giraffe populations and overturning common wisdom regarding their taxonomies. It had long been accepted knowledge that the giraffe was made up of one species and several subspecies, however with Fennessy's work it now appears that several of the subspecies may in fact be distinct species. Such discoveries could have large conservation impacts, since conservation funds and efforts are largely devoted to species. The giraffe has suffered significant declines in the past decade with the total population dropping some 30 percent across Africa.
Famous Kenyan park experiencing large declines in wildlife

(04/21/2009) In Masai Mara, one of Africa's most treasured parks, researchers have found significant, in some cases catastrophic, declines of wild grazing animals. In fifteen years six of seven hoofed animals—giraffes, warthogs, hartebeest, impala, topis and waterbucks—showed declines. The study published in the British Journal of Zoology confirms what has long been expected: wildlife populations in Masai Mara are plummeting due to increased competition with humans and livestock.
Disappearance of elephants, giraffes causes ecological chain reaction
(01/10/2008) The disappearance of elephants, giraffes and other grazing animals from the eastern African savanna could send ecological ripple effects all the way to the savanna's ants and the acacia trees they inhabit, warns a new study published in the journal Science.
6 species of giraffe "discovered"
(12/21/2007) Genetic analysis that the world's tallest animal–the giraffe–may actually be several species, according to a study published in the open access journal BMC Biology. Existing taxonomy recognizes only one species of giraffe.