A two-month old tiger cub was found drugged and concealed among stuffed-tiger toys in a woman's luggage at Bangkok's Suvarnabhumi International Airport on Sunday, reports TRAFFIC, the wildlife trade monitoring network.
The 31-year old Thai woman was scheduled to board a Mahan Air flight destined for Iran when she had difficulty checking in her oversized bag. An x-ray scan revealed something resembling a real cat.
Officers from the Livestock Development Department and the National Parks, Wildlife and Plant Conservation Department then inspected the bag and found the tranquilized cub, which is now under the care of the Rescue Center of the Department of National Parks, Wildlife and Plant Conservation. Investigators are now working to determine whether the tiger "was wild caught or captive-bred, where it came from and the suspect's intended final destination," according to TRAFFIC.
| | |
| --- | --- |
| | The live, drugged tiger cub discovered earlier this week in check-in luggage at Bangkok airport. Photo courtesy of TRAFFIC |
Tigers are listed under Appendix I of the Convention on International Trade in Endangered Species of Wild Fauna and Flora (CITES) prohibiting international commercial trade. Both captive and wild caught tigers fall under the same regulations.
Tigers are listed as Endangered species on the IUCN Red List of Threatened Species. Tiger populations in Thailand are critically threatened by poaching and trade to meet the international demand for tiger parts, products and, live tigers.
"We applaud all the agencies that came together to uncover this brazen smuggling attempt," said Chris R. Shepherd, TRAFFIC Southeast Asia's Deputy Regional Director.
"TRAFFIC is glad to see these training programs pay off in seizures, arrests and continued vigilance at the airport especially by the Department of National Parks, Wildlife and Plant Conservation."
This post is based on a press release from TRAFFIC.
Related articles
Dangerous and exploitative: a look at pet wild cats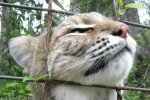 (07/13/2010) From bobcats, lynx, and pumas to the thousands of lions, tigers, leopards, cheetahs, and little wildcats living in captive environments, the WildCat Conservation Legal Aid Society is solely devoted to ending the commercial exploitation of all wildcats. Its primary objectives are to drastically reduce and subsequently eliminate the private ownership of wildcats as pets; wildcats held in roadside zoos and pseudo-sanctuaries; using wildcats for entertainment purposes; as well as hunting, trafficking, and trade of wildcats. Lisa Tekancic is an attorney in Washington, DC and founder and president of WildCat Conservation Legal Aid Society. Their mission is to protect and defend all native and non-native wildcats. Lisa is an active member of the DC Bar's Animal Law Committee and has organized and moderated two legal conferences: 'Trafficking, Trade, and Transport of Wildlife,' and 'Wildlife and the Law.' She presented a paper on the methodology of 'Animal Ethics Committee' for the International Conference on Environmental Enrichment, and for four years was volunteer staff at the National Zoological Park's, Cheetah Station.
Indonesia plans to sell endangered tigers as pets to the wealthy
(01/21/2010) Indonesia has a new plan to save the Critically Endangered Sumatran tiger, reports the AFP: sell captive-born tigers as pets. The proposed price is 100,000 US dollars for a pair of Sumatran tigers with the money going to conservation efforts, though it was unclear who would manage these funds.