Given the complexities of the global wood trade and the difficulty of deciphering a product's source of wood, the World Resources Institute (WRI), the Environmental Investigation Agency (EIA-US and the US Agency for International Development (USAID) have banded together to create a global initiative, the Forest Legality Alliance, to aid private corporations to reduce the trade in illegal wood. The alliance's formation comes after the US amended the Lacey Act in 2008 to ban the trade of illegal wood products in the US.
"Some companies are not aware of the need to ask questions about the wood they are buying or the consequences of letting illegal wood enter their supply chains," explains Craig Hanson, director of WRI's People and Ecosystems Program, in a press release. "The Alliance seeks to build confidence that imported wood and paper products are legal."
The EU and other countries appear to be quickly following the US's heels in working to stem the pervasive illegal trade in wood. Currently the EU is near approving a 'due diligence' regulation that would curb illegally sourced wood, while Australia is also mulling legislation to ban illegal wood.
| | |
| --- | --- |
| | Rainforest timber being loaded on a raft in the South American country of Suriname. Photo by: Rhett A. Butler. |
"From musical instruments to textbooks, legislation in the United States and abroad is fundamentally changing how wood and everything that is made from wood is traded and produced," said Sascha von Bismarck, executive director of EIA. "Suppliers unaware of these emerging policies could face financial repercussions in addition to reputational risk."
The Alliance will distribute information to businesses to help them avoid purchasing illegal wood. It will work with importers and supply chins to help them understand the new and emerging laws related to wood products. In addition, the international group is working to develop online resources to help companies conduct 'due care' under the law—which means the "degree of care which a reasonably prudent person would exercise under the same or similar circumstances"—and fill-out import declarations.
Other Alliance partners include the American Forest & Paper Association, the Hardwood Federation, IKEA, the International Wood Products Association, NewPage Corporation, the Retail Industry Leaders' Association, Staples Inc, and the World Business Council for Sustainable Development.
Illegal logging is linked to biodiversity loss, greenhouse gas emission, as well as indigenous and human rights. Often illegal logging occurs when areas are deforested for agriculture or livestock use: felled trees are sold for wood products abroad. In some countries even protected areas, such as National Parks, are logged illegally with the wood making their way abroad for consumer products.
Forests continue to fall worldwide at staggering rates: during the 2000s, 13 million hectares of forest were lost every year according to the FAO. While this was a decrease in forest loss from the 1990s, the FAO describes it as 'alarmingly high'. Four million hectares of primary or old-growth forests were also lost during the 2000s. To date, 13 percent of the world's forests are under some form of protection, while 30 percent are used primarily for production of goods.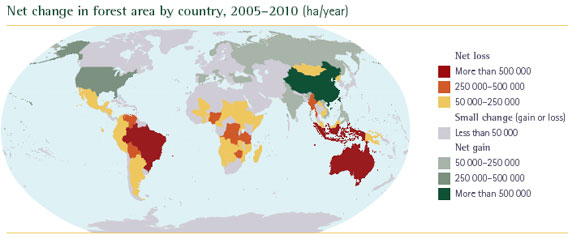 Net change in forest areas by country, 2005-2010 (hectares per year). Image courtesy of FAO.
Related articles
Cameroon agrees to cut illegal wood out of its supply chain
(05/10/2010) One of Africa's largest exporters of tropical hardwoods, Cameroon, has announced today a trade agreement with the European Union (EU) to rid all illegal wood from its supply chain to the EU and worldwide. Cameroon signed a legally-binding Voluntary Partnership Agreement (VPA) that will cover all wood products produced in Cameroon.
Madagascar passes decree banning rainforest timber trade
(04/27/2010) Madagascar's transitional government has finally signed a decree banning the logging and trade of precious hardwoods, a month after announcing the moratorium.
US gun, guitar, and furniture-manufactures must declare basic information about wood sources
(03/31/2010) In May of last year federal agents raided Gibson Guitar headquarters in Nashville, Tennessee after they received information that the guitar-giant was using illegally logged rosewood from Madagascar in the construction of their musical instruments. The scandal forced Gibson's CEO to take a leave of absence as a member of Rainforest Alliance.