In two years the EU will begin a ban on importing illegal timber products, reports the BBC. The ban will require companies to have proof that their products do not come from illegally logged sources.
The EU has been debating the issue for the past two years, but recently arrived at a provisional agreement. The deal will affect most timber products in 2012 including floors and furniture, but printed materials, such as books, will have until 2017 to comply.
The US has already moved forward with such a ban. Under an amendment of the Lacey Act in 2008, the US has made it illegal for companies to possess or sell illegal timber products.
Members of European Parliament (MEPs) will vote on the issue in July; it is expected to pass.
Related articles
Madagascar resumes shipments of illegally logged timber despite moratorium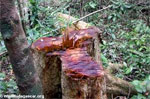 (06/10/2010) Albert Camille Vital, Madagascar's Prime Minister under the regime that seized power during a coup on the Indian Ocean island nation last year, approved this week's shipment of nearly $16 million worth of timber illegally logged from the country's rainforest parks, according to documents provided to mongabay.com.
Cameroon agrees to cut illegal wood out of its supply chain
(05/10/2010) One of Africa's largest exporters of tropical hardwoods, Cameroon, has announced today a trade agreement with the European Union (EU) to rid all illegal wood from its supply chain to the EU and worldwide. Cameroon signed a legally-binding Voluntary Partnership Agreement (VPA) that will cover all wood products produced in Cameroon.
US gun, guitar, and furniture-manufactures must declare basic information about wood sources
(03/31/2010) In May of last year federal agents raided Gibson Guitar headquarters in Nashville, Tennessee after they received information that the guitar-giant was using illegally logged rosewood from Madagascar in the construction of their musical instruments. The scandal forced Gibson's CEO to take a leave of absence as a member of Rainforest Alliance.