Does the creation of protected areas draw people to settle on their fringes, negatively impacting ecosystems and biodiversity? According to an opinion piece in Tropical Conservation Science the answer to this question is to date unknown.
According to a number of studies population has grown around many tropical protected areas, but researchers have yet to establish a direct pattern between reserve-creation and human migration. They speculate that protected areas could draw people due to perceived economic benefits from tourism or because locals see protected areas as rich in natural resources, which have been lost elsewhere.
Despite a number of attempts to answer these questions, Dr. Lucas Joppa, lead author of the opinion piece, says that "the global data available for human population counts are simply insufficient for the task." Human population is currently compiled in such a way that "rural populations cannot be separated from urban populations and populations near protected areas cannot be separated from those far from protected areas," write Joppa and his co-authors.
However, by combining case-studies and, remote-sensing techniques, such as employing satellite imagery of forest loss near parks, conservationists may be able to better answer the question and come up with an appropriate response. Other remote-sensing tools that could be valuable include surveying the frequency of fire, the amount of electrical light at night, and looking at urban areas—all indications of population size.
"This question has no one-size-fits-all answer," explains Dr. Joppa, "but by properly using available data we should be able to hone in on reserves around the world with significant human conflict."
CITATION: Joppa, L. N., Loarie, S. R. and Nelson, A. 2010. Measuring population growth around tropical protected areas: current issues and solutions. Tropical Conservation Science Vol. 3 (2):117-121.
Related articles
New protected areas in Brazil contribute to major drop in Amazon deforestation rate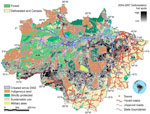 (06/01/2010) Protected areas in the Brazilian Amazon are proving highly effective in reducing forest loss in Earth's largest rainforest, reports a new study based on analysis of deforestation trends in and around indigenous territories, parks, military holdings, and sustainable use reserves. The research, published in the early edition of Proceedings of the National Academy of Sciences, finds that 37 percent of the recent decline in deforestation in the Brazilian Amazon can be attributed to newly established protected areas. Brazil designated some 709,000 square kilometers (274,000 sq mi) of Amazon forest — an area larger than the state of Texas — between 2002 and 2009 under its Amazon Protected Areas Program (ARPA). Meanwhile deforestation in the Brazilian Amazon fell by nearly three-quarters between 2004 and 2009.
NASA, Google Earth catch North Korea logging protected area
(05/18/2010) Employing satellite data from NASA and Google Earth, Guofan Shao, a professor of geo-eco-informatics at Purdue University, has established that North Korea is logging Mount Paekdu Biosphere Reserve. Since North Korea is off-limits to most researchers, Shao has turned to open-access satellite data to monitor deforestation on the UN designated Man and Biosphere region.
Protected areas vital for saving elephants, chimps, and gorillas in the Congo
(05/10/2010) In a landscape-wide study in the Congo, the Wildlife Conservation Society (WCS) found that core protected areas and strong anti-poaching efforts are necessary to maintain viable populations of forest elephants, western lowland gorillas, and chimpanzees—all of which are threatened with extinction.