Over the past ten years scientists have measured increasing ice loss along southern Greenland. Now a new study in Geophysical Research Letters shows that the ice loss has spread north with likely consequences for global sea level rise.
Collecting data from NASA's satellite Gravity and Recovery Climate Experiment, known as GRACE, and GPS measurements of the bedrock on the edges of the ice sheet, the Denmark Technical Institute's National Space Institute in Copenhagen was able to show that crustal uplift due to ice loss has gone up by 1.5 inches between October 2005 and August 2009 along the northwest coast, a change that study co-author John Wahr calls "very dramatic".
"This is a phenomenon that was undocumented before this study," added Wahr, a physics professor at the Colorado University-Boulder, which participated in the study. "Our speculation is that some of the big glaciers in this region are sliding downhill faster and dumping more ice in the ocean."
Already, ice loss in Greenland is contributing to global sea level rise. A study last year showed that between April 2002 and February 2009 the Greenland ice sheet lost 385 cubic miles of ice, adding approximately 0.5 millimeters of sea-level rise every year.
"These changes on the Greenland ice sheet are happening fast, and we are definitely losing more ice mass than we had anticipated," said Isabella Velicogna, lead author of the study last year. "We also are seeing this ice mass loss trend in Antarctica, a sign that warming temperatures really are having an effect on ice in Earth's cold regions."
The northern melting will likely add to sea level rise explains lead author, Shfaqat Abbas Khan: "If this activity in northwest Greenland continues and really accelerates some of the major glaciers in the area—like the Humboldt Glacier and the Peterman Glacier—Greenland's total ice loss could easily be increased by an additional 50 to 100 cubic kilometers (12 to 24 cubic miles) within a few years."
Citation: Khan, S. A., J. Wahr, M. Bevis, I. Velicogna, and E. Kendrick (2010), Spread of ice mass loss into northwest Greenland observed by GRACE and GPS, Geophys. Res. Lett., 37, L06501, doi:10.1029/2010GL042460.
Related articles
NASA: Arctic melt season lengthening
(02/03/2010) Newly released images from NASA and the National Snow and Ice Data Center show that the Arctic's melt season has lengthened significantly over the past few decades.
NASA: 2009 second warmest year on record
(01/24/2010) According to NASA's Goddard Institute for Space Studies (GISS), last year was tied for the second warmest year on record after 2005, the warmest year on record. If just looking at the southern hemisphere, however, 2009 proved the warmest yet recorded since record-taking began in 1880. Overall 2009 tied a total of five other years—four from the 2000s—for the second warmest on record. But, researchers say what is most important was that the past decade, from January 1st 2000 to December 31st 2009, proved the warmest on record.
Catastrophic sea level rise could occur with only two degrees Celsius warming
(12/17/2009) Allowing the climate to rise by just two degrees Celsius—the target most industrialized nations are currently discussing in Copenhagen—may still lead to a catastrophic sea level rise of six to nine meters, according to a new study in Nature. While this rise in sea levels would take hundreds of years to fully occur, inaction this century could lock the world into this fate.
Sea levels set to rise more than expected due to 'deeply surprising' Greenland melt
(12/14/2009) A new study by the Arctic Monitoring and Assessment Program estimates that the sea will rise by 0.5 to 1.5 meters by 2100, threatening coastal cities and flooding island nations. This is double the predicted rise estimated by the UN's Intergovernmental Panel on climate Change (IPCC) in 2007, which did not incorporate sea level rise due to the melting of Greenland and Antarctica's ice sheets.
Arctic lake undergoing unprecedented changes due to warming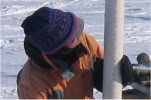 (10/19/2009) The Arctic should be growing cooler, but a new sediment core taken from an Arctic lake reveals that the lake's ecology and chemistry has been transformed by unnatural warming beginning in the 1950s. The sediment core proves that changes happening in the lake during the Twentieth Century are unprecedented over the past 200,000 years. Headed by University of Colorado scientist Yarrow Axelford, the study retrieved the sediment core from the bottom of a thirty foot deep lake on Baffin Island. Importantly the sediment core goes back 80,000 years further than any other core retrieved from the Greenland ice sheet, providing researchers with the longest timescale yet of changes in the Arctic climate.
Satellite lasers show melting of Greenland, Antarctic worse than expected
(09/23/2009) Resaerchers examining 43 million satellite measurements of Antarctica's thinning ice sheets and 7 million of Greenland's, show that the ice is melting faster than expected. Published in Nature the research is the most comprehensive picture to date of the melting glaciers, allowing scientists to better predict how sea levels may rise.
Sea levels set to rise as Arctic warming replaces millennia long natural cooling cycle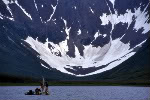 (09/03/2009) According to a new study published in Science the Arctic should be cooling, and in fact has been cooling for millennia. But beginning in 1900 Arctic summer temperatures began rising until the mid-1990s when the cooling trend was completely overcome. Researchers fear that this sudden up-tick in temperatures could lead to rising sea levels threatening coastal cities and islands. "Scientists have known for a while that the current period of warming was preceded by a long-term cooling trend," said lead author Darrell Kaufman of Northern Arizona University. "But our reconstruction quantifies the cooling with greater certainty than ever before."
Summer sea ice likely to disappear in the Arctic by 2015
(08/31/2009) If current melting trends continue, the Arctic Ocean is likely to be free of summer sea ice by 2015, according to research presented at a conference organized by the National Space Institute at Technical University of Denmark, the Danish Meteorological Institute and the Greenland Climate Center.
NASA reveals dramatic thinning of Arctic sea ice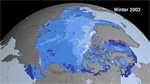 (07/07/2009) Arctic sea ice thinned dramatically between the winters of 2004 and 2008, with thin seasonal ice replacing thick older ice as the dominant type of sea ice for the first time on record, report NASA researchers. Scientists from NASA and the University of Washington used observations from NASA's Ice, Cloud and land Elevation Satellite (ICESat) to make the first Arctic Ocean basin-wide estimate of the thickness and volume of sea ice cover. The researchers found that overall Arctic sea ice thinned about 17.8 centimeters (7 inches) a year, for a total of 67 cm (2.2 feet) over the four winters from 2004 to 2008. The total area covered by thick older ice that survives one or more summers ("multi-year ice") shrank 42 percent or 1.54 million square kilometers (595,000 square miles), leaving thinner first-year ice ("seasonal ice") as the dominant type of ice in the region.