Google has taken a step towards boosting the deforestation monitoring capabilities the Google Earth Engine by contracting Massachusetts-based Clark Labs to develop an online version of its Land Change Modeler application.
Clark Labs' Land Change Modeler is a geographic information system (GIS) software package that enables users to estimate of historical deforestation rates and patterns, identify the drivers of deforestation, and project future deforestation scenarios and associated greenhouse gas emissions. The firm has been marketing the tool for use in projects under the proposed REDD program, a U.N.-backed climate change mitigation mechanism that aims to compensate developing countries for reducing emissions from deforestation and forest degradation.
According to a statement from Clark Labs, Google's philanthropic arm, Google.org, is looking to add Land Change Modeler functionalities to the Google Earth Engine, an online platform which leverages technologies developed by scientists to rapidly analyze and map vegetation, land use, and other environmental data. The engine, unveiled in December at climate talks in Copenhagen, initially launched with forest monitoring tools developed by Carnegie Institution for Science and IMAZON. These tools allow analysts to track changes in forest cover at extremely high resolution in near real-time in the Amazon. The project was coordinated and supported by the Gordon and Betty Moore Foundation.
"The objective of Earth Engine is to enable organizations such as Clark Labs to run their algorithms on-line, powered by Google's computational capacity, with easy access to massive earth observation data sets," said Dr. Amy Luers, Senior Environment Program Manager for Google.org.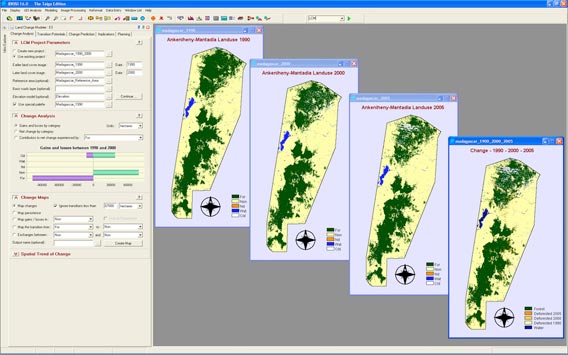 The first stage of a REDD project is the understanding of the historical trends in land use change. The Change Analysis tab in Land Change Modeler provides tools for the rapid assessment of change, allowing one to generate a series of evaluations of gains and losses, net change, persistence and specific transitions both in map and graphical form. This figure shows the historical pattern of change in the Ankeniheny-Mantadia Corridor in Madagascar. CLICK IMAGE TO ENLARGE.
Clark Labs says the Land Change Modeler is currently being used by "many governmental and non-governmental organizations" for REDD project development.
The Land Change Modeler is a software extension to ArcGIS, a suite of GIS software products generally used for viewing spatial data, creating maps, and performing spatial analysis.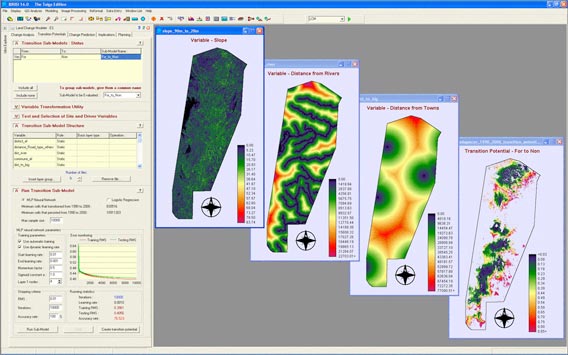 An important element for predicting future scenarios is understanding the underlying driving forces of change. The transition potential modeling facility in Land Change Modeler allows users to derive transition potential maps based on a set of driver variables, such as: slope, distance from roads, distance from markets, elevation, etc… These variables can be static or dynamic.CLICK IMAGE TO ENLARGE.
Biggest private funder of Amazon conservation teams with Google and scientists to develop earth monitoring platform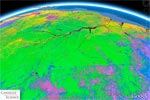 (12/18/2009) The Gordon and Betty Moore Foundation, the largest private funder of Amazon rainforest conservation, is playing an unheralded but integral role in the development of the Earth Engine platform, a system that combines the computing power of Google with advanced monitoring and analysis technologies developed by leading environmental scientists. The platform, which was officially unveiled at climate talks in in Copenhagen, promises to enable near real-time monitoring of the world's forests and carbon at high resolution at selected sites before COP-16 in Mexico.
Google's Earth Engine to help tropical countries monitor forests
(12/16/2009) A powerful forest monitoring application unveiled last week by Google will be made freely available to developing countries as a means to build the capacity to quality for compensation under REDD, a proposed climate change mitigation mechanism that would pay tropical countries for protecting forests, according to a senior Google engineer presenting at a side event at COP15 in Copenhagen.
Google Earth to monitor deforestation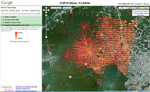 (12/10/2009) It what could be a critical development in helping tropical countries monitor deforestation, Google has unveiled a partnership with scientists using advanced remote sensing technology to rapidly analyze and map forest cover in extremely high resolution. The effort could help countries detect deforestation shortly after it occurs making it easier to prevent further forest clearing.
Ethnographic maps built using cutting-edge technology may help Amazon tribes win forest carbon payments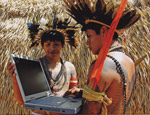 (11/29/2009) A new handbook lays out the methodology for cultural mapping, providing indigenous groups with a powerful tool for defending their land and culture, while enabling them to benefit from some 21st century advancements. Cultural mapping may also facilitate indigenous efforts to win recognition and compensation under a proposed scheme to mitigate climate change through forest conservation. The scheme—known as REDD for reducing emissions from deforestation and degradation—will be a central topic of discussion at next month's climate talks in Copenhagen, but concerns remain that it could fail to deliver benefits to forest dwellers.
Google partners with Amazon tribe
(10/29/2009) The story of an indigenous Amazon tribe that has embraced technology in its fight to protect its homeland and culture is now highlighted as a layer in Google Earth.
How satellites are used in conservation
(04/13/2009) In October 2008 scientists with the Royal Botanical Garden at Kew discovered a host of previously unknown species in a remote highland forest in Mozambique. The find was no accident: three years earlier, conservationist Julian Bayliss identified the site—Mount Mabu—using Google Earth, a tool that's rapidly becoming a critical part of conservation efforts around the world. As the discovery in Mozambique suggests, remote sensing is being used for a bewildering array of applications, from monitoring sea ice to detecting deforestation to tracking wildlife. The number of uses grows as the technology matures and becomes more widely available. Google Earth may represent a critical point, bringing the power of remote sensing to the masses and allowing anyone with an Internet connection to attach data to a geographic representation of Earth.
Development of Google Earth a watershed moment for the environment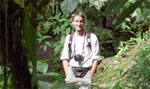 (03/31/2009) Satellites have long been used to detect and monitor environmental change, but capabilities have vastly improved since the early 1970s when Landsat images were first revealed to the public. Today Google Earth has democratized the availability of satellite imagery, putting high resolution images of the planet within reach of anyone with access to the Internet. In the process, Google Earth has emerged as potent tool for conservation, allowing scientists, activists, and even the general public to create compelling presentations that reach and engage the masses. One of the more prolific developers of Google Earth conservation applications is David Tryse. Neither a scientist nor a formal conservationist, Tryse's concern for the welfare of the planet led him develop a KML for the Zoological Society of London's EDGE of Existence program, an initiative to promote awareness of and generating conservation funding for 100 of the world's rarest species. The KML allows people to surf the planet to see photos of endangered species, information about their habitat, and the threats they face. Tryse has since developed a deforestation tracking application, a KML that highlights hydroelectric threats to Borneo's rivers, and oil spills and is working on a new tool that will make it even easier for people to create visualizations on Google Earth. Tryse believes the development of Google Earth is a watershed moment for conservation and the environmental movement.
Deforestation maps for Sumatra now available on Google Earth
(03/31/2009) Despite many years of research in conservation biology, precise maps of tropical deforestation that document the global spatial extent of tropical forests destruction are generally not available outside of the scientific community, says David Gaveau a researcher from Durrell Institute of Conservation and Ecology (DICE) points out. For nearly seven years, Gaveau has been documenting forest destruction on the entire island of Sumatra since early 1970s using satellite technology, and he has found the way to make his full-resolution maps and scientific results public using Google Earth.
Photos: Google Earth used to find new species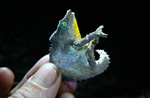 (12/22/2008) Scientists have used Google Earth to find a previously unknown trove of biological diversity in Mozambique, reports the Royal Botanic Gardens in Kew. Scouring satellite images via Google Earth for potential conservation sites at elevations of 1600 meters or more, Julian Bayliss a locally-based conservationist, in 2005 spotted a 7,000-hectare tract of forest on Mount Mabu. The scientifically unexplored forest had previously only been known to villagers. Subsequent expeditions in October and November this year turned up hundreds of species of plants and animals, including some that are new to science.