Environmentalists say that the International Commissions for the Conservation of Atlantic Tuna (ICCAT) did not do enough in their yearly meeting to protect the ocean's sharks.
Member countries of ICCAT agreed on a ban big eye thresher sharks. However, Mexico was granted an exemption, allowing it to catch 110 big eye threshers, which is classified as Vulnerable by the IUCN Red List.
"ICCAT's lack of action on sharks was […] disappointing," said Matt Rand, coordinator of the Shark Alliance and director of Global Shark Conservation for the Pew Environment Group. "ICCAT took only one small step forward for sharks, but we regret that no other steps were taken to protect many other vulnerable shark species whose populations have declined significantly in recent years."
| | |
| --- | --- |
| | Big eye thresher after being caught by longline. U.S. National Oceanic and Atmospheric Administration (NOAA). |
Rand added that "member countries represented at this meeting also missed a golden opportunity to mandate that all sharks caught in the Atlantic be landed with their fins attached."
It is estimated that up to 73 million sharks are caught every year for the shark fin trade. Often when sharks are caught for this trade their fins are sliced off and their bodies thrown back into the ocean. Fins are worth up to 300 US dollars per pound driving a trade that is both lucrative and, according to many scientists, entirely unsustainable.
"We regret that there is no regional fisheries management organization focusing on sharks," said Rand. "Sharks need to be managed sustainably just like any other commercial fishery. Allowing sharks or any other species to collapse from destructive fishing practices is no way to manage the ocean's resources."
A recent study by the IUCN found that 32 percent of open ocean sharks and rays are threatened with extinction, making this group of species even more threatened than amphibians, which scientists say are currently undergoing an extinction crisis.
Related articles
Over 30 percent of open ocean sharks and rays face extinction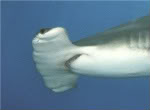 (06/25/2009) The first global study of open ocean (pelagic) sharks and rays found that 32 percent of the species are threatened with extinction largely due to overfishing and bycatch, making pelagic sharks and rays more threatened than birds (12 percent), mammals (20 percent), and even amphibians (31 percent), which are considered to be undergoing an extinction crisis. The situation worsens when only sharks taken in high-seas fisheries are considered: 52 percent of these species are threatened.
Sharks in trouble after nations fail to create sustainable management programs
(11/06/2008) Sharks are disappearing from the ocean at startling rates: currently one-in-five of these famous marine predators are threatened with extinction. According to a report from the Australian Government and TRAFFIC—an organization that monitors wildlife trade both legal and illegal—the collapse of shark populations is being caused largely by rising demand for shark fin in Asia. The report shows that legal fishing for sharks has become nearly as detrimental as illegal, since few fisheries have management strategies concerned with sustainability.
The long-ignored ocean emergency and what can be done to address it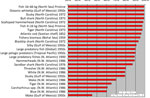 (08/18/2008) This year has been full of bad news regarding marine ecosystems: one-third of coral species threatened with extinction, dead-zones spread to 415 sites, half of U.S. reefs in fair or bad condition, increase in ocean acidification, tuna and shark populations collapsing, and only four percent of ocean considered pristine. Jeremy Jackson, director of the Scripps Center for Marine Biodiversity and Conservation at the University of California, San Diego, synthesizes such reports and others into a new paper, published in the journal Proceedings of the Naional Academy of Sciences, that boldly lays out the scope of the oceanic emergency and what urgently needs to be done.
Large shark populations fall 97% in the Mediterranean
(06/12/2008) Populations of some shark species in the Mediterranean have plunged by more than 97 percent over the past 200 years, report researchers writing in the journal conservation Biology. Several species are at risk of extinction.
Sharks increasingly endangered as finning, overfishing take toll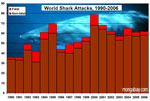 (02/23/2007) Scientists added several species of pelagic sharks to IUCN Red List of Threatened Species after research found them to be more endangered than previously thought. Three species of thresher sharks were listed as Vulnerable globally, while the shortfin mako was upgraded (or downgraded depending on one's perspective) from Near Threatened in 2000 to Vulnerable and the scalloped hammerhead shark was moved from Near Threatened to Endangered. The decisions are based on work by the IUCN SSC Shark Specialist Group (SSG).