In the ocean's depths strange things dwell: angler fish with a bioluminescent light above its head to attract prey, the gulper eel with an oversized mouth, the giant isopod which scurries on the ocean floor for food, and the vampire squid which has the ability to turn is bioluminescence on and off. Now scientists have just added to this list of oddities.
Researchers from Scripps Institution of Oceanography at UC San Diego have announced in Science the discovery of seven new species of deep sea worms, five of which drop orb-like parts of their body which cause a brilliant green display of bioluminescence. For this reason researchers have nicknamed them the 'green bombers'. The worms are not just new species, but a clade of animals entirely unknown to science until now.
| | |
| --- | --- |
| | Ventral view of Swima species 1 with three attached and two autotomized bombs. Image © 2004 Karen J. Osborn. |
The worms live at depths between 1,800 and 3,700 meters (5,900 and 12,140 feet) and like most species at this depth are not big, ranging from 18-93 millimeters (0.7 to 3.6 inches). They are mostly transparent, and move themselves around with fans of bristles.
The 'bombs' are fluid-filled spheres which burst into light when thrown from the animal, causing an intense glow for a few seconds. Once used, the worms are able to regenerate new bombs for later use. The researchers believe that the worms' ability to throw 'green bombs' off of its body may be used to defend itself from predators, such as a distraction, though no one knows for sure.
"We found a whole new group of fairly large, extraordinary animals that we never knew anything about before," said Osborn, a post-doctoral researcher in the Marine Biology Research Division at Scripps. "These are not rare animals. Often when we see them they number in the hundreds. What's unique is that their habitat is really hard to sample."
| | |
| --- | --- |
| | Ventral view of Swima species 3 showing three pairs of attached bombs. Image courtesy of Science/AAAS. |
At these depths, researchers employ a specially-designed remotely operated submersible vehicle down to sample such creatures.
"The depths between 1,000 and 4,000 meters (3,280 and 13,120 feet) form the biggest habitat on Earth and also the least explored," added Scripps Professor Greg Rouse, a coauthor of the paper and curator of Scripps Benthic Invertebrate Collection. "With fairly limited time on submersible vehicles, mainly off California, we've picked up seven new species. It goes to show that we have much more exploration ahead and who knows what else we'll discover?"
Scientists did not see the worms dropping their bombs in the wild, due to the lights of the submersible vehicle, but they were able to witness the light show when the animals were captured and brought aboard a ship.
The ancestors of these swimming worms live on the mud of the sea floor, like many other species of deep sea worm. Rouse hypothesizes that the bombs were once gills.
"The relatives have gills that appear to be in exactly the same places as the bombs," said Rouse. "The gills can fall off very easily so there's a similarity of being detachable, but for some reason the gills have transformed to become these glowing little detachable spheres."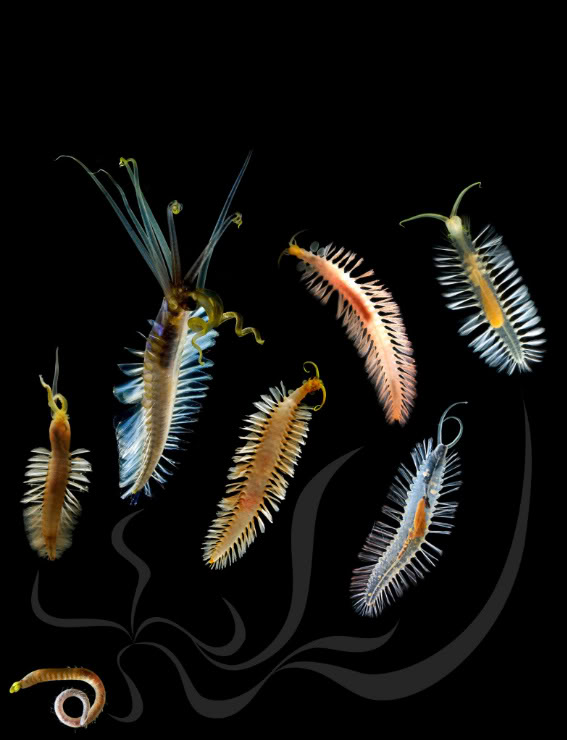 Six previously unknown swimming species of acrocirrid polycheate worms recently discovered in the deep Pacific Ocean. Hypothetical relationships are represented by the twisted evolutionary path leading to each species in this unrooted tree. A typical benthic acrocirrid is included for comparison to the swimming species. Image © 2009 Karen J. Osborn.
Related articles
Will jellyfish take over the world?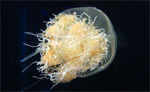 (06/16/2009) It could be a plot of a (bad) science-fiction film: a man-made disaster creates spawns of millions upon millions of jellyfish which rapidly take over the ocean. Humans, starving for mahi-mahi and Chilean seabass, turn to jellyfish, which becomes the new tuna (after the tuna fishery has collapsed, of course). Fish sticks become jelly-sticks, and fish-and-chips becomes jelly-and-chips. The sci-fi film could end with the ominous image of a jellyfish evolving terrestrial limbs and pulling itself onto land—readying itself for a new conquest.
Extremophiles discovered below Antarctic glacier are remnants of marine life
(04/16/2009) Living in isolation for millions of years, cut off from sunlight and oxygen, surviving by breathing iron beneath an Antarctic glacier—such are the conditions of newly-discovered microbes living under Taylor Glacier in Antarctica's desert-waste, the McMurdo Dry Valleys.
Ebay bidders to decide new shrimp's name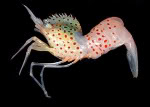 (03/24/2009) A new way to raise conservation funds has captured attention worldwide. The Australian Marine Conservation Society (AMCS) has auctioned the naming rights of a newly discovered species of shimp Ebay. "The shrimp is in the group or genus of shrimps known as Lebbeus, but is awaiting the addition of a unique species name," said Anna McCallum, a Melbourne scientist who discovered the new species in deep waters off the Southwest coast of Australia.