The first animal we saw in the Okavango was unmistakable. Although far away, we could easily make it out with its telltale trunk: an African elephant—the world's largest land animal—was striding peaceably through the delta's calm waters. We watched, entranced, from the mokoro, a small boat powered and steered by a local wielding a long pole to push the craft along.
We spent two nights camping in the Okavango Delta, and although my wife and I visited other places in southern Africa: Chobe National Park and Victoria Falls in Zimbabwae, it was the time spent in the delta that haunted me long after we left. The Okavango Delta, made famous by photo shoots in National Geographic and airtime on Planet Earth, is the world's largest inland delta. So large, in fact, that astronauts have taken photos of it from space.
| | |
| --- | --- |
| | African elephant in the Delta. Photo by: Tiffany Roufs. |
Expanding from 9,000 square kilometers to 16,000 during the flooding season, the Delta is fed by seasonal rainfall in the highlands of Angola. Nearly nine months after the rain falls it forms in the delta in Botswana where eventually the water is either evaporated into the air or swallowed up the Kalahari Desert. In the meantime, it provides life-giving water to some of Africa's most spectacular wildlife who, living in a dry world, gorge on this seasonal abundance.
WHY CAMPING
While one can visit the Delta in maximum luxury (think mixed drinks, swimming pools, lodges, and a large chunk of your savings), bush camping provides a much more economical and intimate way to see the Delta. Instead of driving in a 4X4, a local guide takes you on a number of hikes throughout the wilderness to see the animals (safely) on foot. In addition, the mokoro—swift and silent, low to the water—is an optimal way to view wildlife or just enjoy the unique scenery of the place.
| | |
| --- | --- |
| | Plains zebra Equus quagga stands alone in the Delta. Photo by: Tiffany Roufs. |
On our first hike we slowly topped a hill to see a herd of zebra grazing in the late-afternoon light. It was a view that only Africa can offer, but one made even more meaningful that we weren't looking at it through a car window, but rather nothing stood between us and the wildlife but air and light. Later, we watched as a group of wildebeest joined the zebras. While our presence might appear invasive, it is certainly less so than a car. In addition, the local guides are very respectful of the wildlife, keeping a courteous distance and demanding silence. Encountering the African elephant on foot is an experience one soon won't forget: a mixture of beauty, awe, wonder, and fear. Without even realizing it you're watching to see if this massive and incredibly intelligent animal might do something unexpected, something threatening. Of course, this is the guide's job, who knows elephant behavior far better than you, but you can't help but do the same: the elephant is just so big.
On our first night we watched as three males elephants fed under palm trees beneath the falling African sun. I say African, because there is a distinct flavor to the sun in that part of the world, whether it is rising or setting. Every day without fail the sunrises and sets were some of the most beautiful I'd ever seen: blinded by red and orange. It's because of the dust, we are told, but there seems to be some other reason behind it, something closer to poetry than science.
| | |
| --- | --- |
| | Sunset on the Delta. Photo by: Jeremy Hance. |
At night our group sat around and enjoyed a fire-cooked meal while drinking from boxed wine and eventually breaking into song. While we slept elephants would pass near our camp and we would discover their droppings the next morning.
While it sounds very romantic—and it was—this is not a place for 'finicky' travelers. There is no shower and no bathrooms (the guides dig a hole), food is very good but basic, however if a lack of such luxuries doesn't turn you off you then this is definitely the way to experience, rather than just see, the Delta.
WILDLIFE
The Okavango Delta is famous for having the animals people travel to Africa to see in abundance. By this I mean: elephants, giraffes, hippos, African buffalo, rhinos, zebras, the Nile crocodile, and a variety of antelopes, as well as the big predators: lions, leopards, and cheetah. However, one shouldn't expect to see all of these on a camping safari in the Delta. If your goal is to see as many of the 'famous' species of Africa as possible, I would suggest adding Kruger National Park in South Africa to your itinerary.
| | |
| --- | --- |
| | Little bee-eater Merops pusillus. Photo by: Jeremy Hance. |
The Okavango Delta has some unique species as well. The African Wild Dog, which is classified as Endangered by the IUCN, lives in one of its highest densities in the Delta. As well, the graceful Red Lechwe, is abundant in the Delta, but rare else-where, since it prefers the marshy swamp habitat. The Delta also has one of the world's largest population densities of African elephants, so if dream of watching elephants, this is a wonderful place.
The Delta is also paradise for birders. During the mid-day when it was too hot for large animals, I would sit by the water and watch the various species of birds. The open-billed stork was a ubiquitous visitor, searching the mud for mussels with its characteristic beak. Egrets, cranes, and hawks were prevalent. Some other bird highlights were white-faced ducks, the gray lourie, the lilac breasted roller (Botswana's national bird), and the little bee-eater.
FLYOVER
One of the best ways to see the Delta, or at least to get a different view of this vast watery landscape, is to take a flight over the Delta. Check with tour groups, but ours (Livingstone Trails) had the option of taking a 45-50 minute flight over the Delta for around 70 dollars US per person. If you're wondering whether you should opt for the flight, it is most definitely worth it.
| | |
| --- | --- |
| | A line of giraffes from the plane. Photo by: Jeremy Hance. |
Gliding around 500 feet above the ecosystem, you'll have a whole new view of the Delta: the endless waterways, the islands large and small, the constantly shifting depth of water. The flight takes off out of Maun, the Delta's major city. While the Delta remains vast and largely untouched, one can still see encroachments near Maun by grazing cattle, crops, and aquaculture.
Of course, a little ways into the flight what you're peering out the windows for is the large mammals that occupy the Delta. From this height it is relatively easy to spy wading elephants, antelope herds, submerged hippos, striding giraffes, and great masses of African buffalo. It's an experience that only becomes crystallized with the passage of time, since the ride is spent in giddiness: looking from one window to the next trying to see a bit of everything, to capture the whole landscape and all of its denizens in your mind. Days later, you'll suddenly think: I saw a line of giraffes wading from one island to another, and then you'll realize just how fortunate you are.
OTHER DESTINATIONS
Filling up the north western corner of Botswana, the Okavango Delta is close to many other incredible destinations in Africa. To the east is Chobe National Park with great wildlife viewing along the Chobe River. Further east is Victoria Falls, which lies both in Zimbabwe and Zambia. Whether or not Victoria Falls is the world's largest (this claim is constantly debated and depends on what one means by 'largest'). The falls is certainly one of the most beautiful. As you walk around it, it seems it will never stop. As well, Victoria Fall is still surrounded by pristine landscapes, unlike, say, Niagara Falls, whose surroundings have devolved into something resembling a shopping mall and a theme park.
| | |
| --- | --- |
| | A juvenile savannah baboon Papio cynocephalus. Photo by: Tiffany Roufs. |
To the south of the Okavanga Delta is the Central Kalahari Reserve, an arid landscape that is home to many animals and the San Bushmen who still hunt the grounds. South of this is South Africa; a day trip by vehicle will get you to Kruger National Park, one of the most renowned places for seeing wildlife in Africa.
To the West is Namibia and Etosha National Park, where one can see Africa's mammals wading not through water, but salt pans. Further on and the terrain becomes great sand dunes.
GEAR AND PREPARATIONS
| | |
| --- | --- |
| | Open-billed stork. Photo by: Jeremy Hance. |
Depending on the season—we were there in winter—it can become surprisingly cold at night. Bring at least one set of warmer clothes, but jeans and T-shirts are fine during the day. Insect repellent and sunscreen are a must; as well, one should see a doctor for shots and malaria pills. While a camera is an obvious must, a wildlife guide book and binoculars are also nice to have with. Camping gear should be brought in by your tour provide, but you shouldn't need to bring any food in. However, if you want wine or beer for sitting around the fire, most likely that's your responsibility. Remember, there is no refrigeration.
There are a number of safari groups that can book this trip into the Delta. My wife and I went with Livingstone Trails, a budget safari group. We would recommend them highly for anyone who is an easy-going traveler and, as I said earlier, not expecting luxury. They are a reliable and well-planned operator and have been around for over a decade. Our guide, a native of South Africa, was an amazing chef, extremely knowledgeable, and a lot of fun. Our group size was around a dozen: everyone was friendly, fun, and fascinating. At night we would all play cards or just chat about politics, our home countries, or travels. The friends we found on our trip made it truly memorable.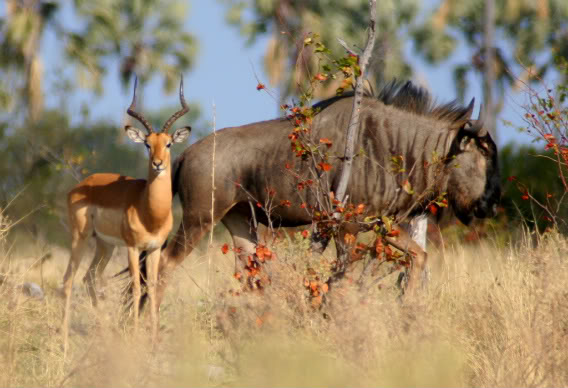 Male impala and a wildebeest in the Delta. Photo by: Tiffany Roufs.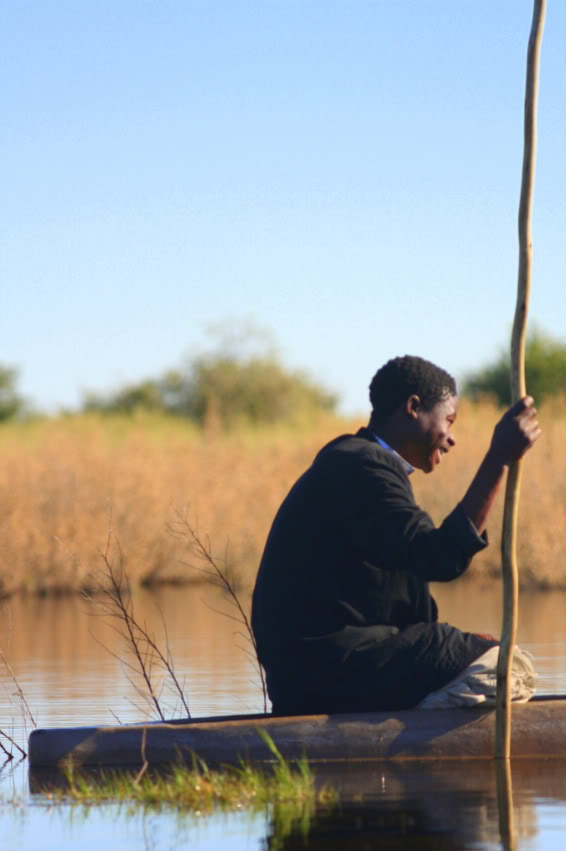 Young man 'poling' a mokoro. Photo by: Tiffany Roufs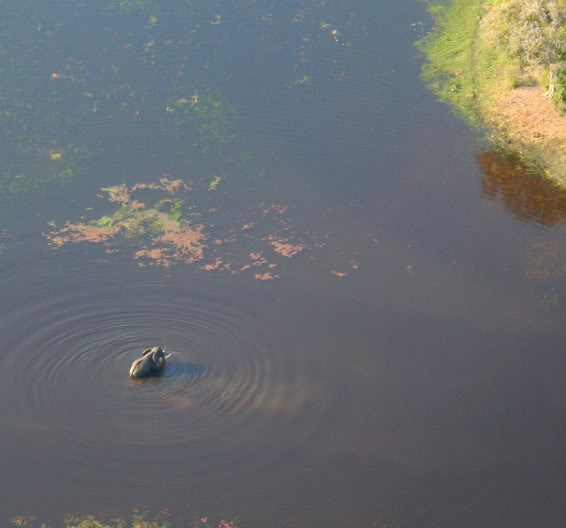 Elephant viewed wading from plane. Photo by: Tiffany Roufs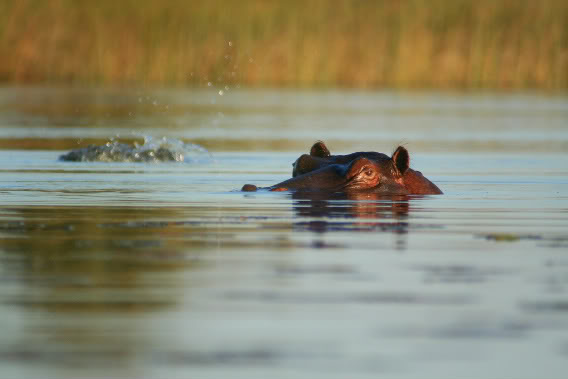 Hippos in the Delta. Photo by: Tiffany Roufs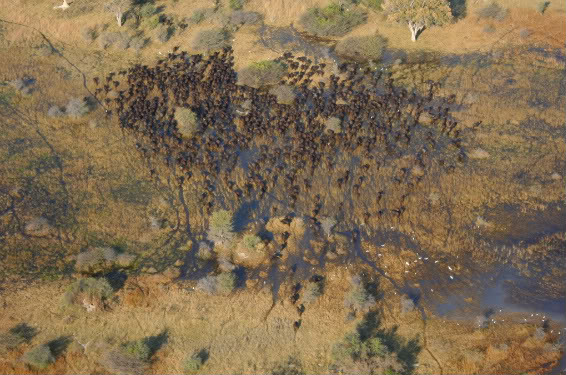 Herd of African buffalo viewed from plane. Photo by: Jeremy Hance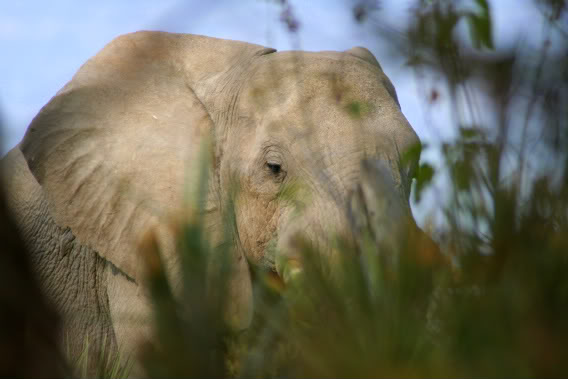 Viewing the African elephant on foot-and keeping a distance. Photo by: Tiffany Roufs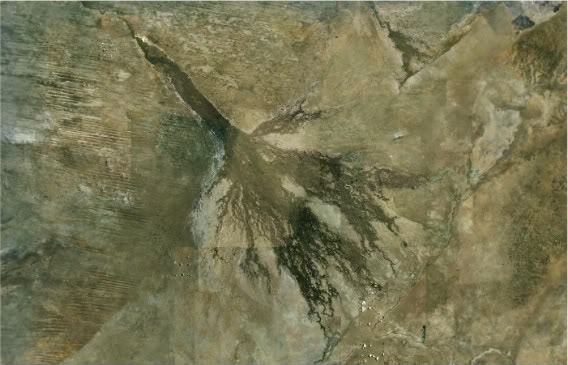 The Okavango Delta as viewed from Google Earth
Related articles
Climbing Africa's second highest mountain
(11/05/2007) Mount Kenya, Africa's second highest mountain, is said to be one of the continent's most beautiful hikes. Located less than three hours' drive from Nairobi, Mount Kenya is accessible and makes for a great add-on for fit travelers looking to do more than the standard safari in Kenya.
Pictures of Gabon: gorillas, rainforest and white sand beaches
(06/26/2006) Mongabay.com, a leading rainforest and environmental web site, today announced the availability of new photos from the Central African country of Gabon. Site founder Rhett A. Butler visited Loango National Park in Gabon in late May and early June.
When elephants attack. Surviving an elephant charge in the Congo rainforest of Gabon
(06/26/2006) The elephant charges. The ground trembles. Hearts racing, we are now sprinting through the forest dodging vegetation as the elephant plows right through it. The problem with being chased by an elephant, aside from their obvious size advantage, is they can run faster than you. While wild elephants can be dangerous animals under the right circumstances, other creatures are responsible for more deaths in Africa. Topping the list is the hippo, whose penchant for capsizing canoes that come too close results in the dumping of passengers who often can't swim. Buffalo, crocodiles, and lions are directly responsible for more deaths and injuries.
Down a river of blood into a remote canyon in Madagascar: Exploring the Manambolo River
(04/24/2005) Madagascar has been called the great red island and from space, astronauts have remarked the island looks like it is bleeding to death. Severe environmental degradation means Madagascar loses more topsoil per hectare than any country in the world. Being one of the poorest nations on Earth, the people of Madagascar can ill afford this loss. In 2004 I set off to see one of these rivers that is carrying away the lifeblood of the Malagasy; the Manambolo of Western Madagascar.