Panna National Park, one of India's tiger reserves, no longer supports tigers, reports BBC News.
State Minister of Forests Rajendra Shukla said a recent survey found the reserve no longer has any tigers. Three years ago it had 24.
BBC reports Panna is the second tiger reserve in India where the tiger population has fallen to zero. Sariska in Rajasthan was the first.
Camera trap shot of a tiger in India's Nagarahole National Park. Photo by U. Karanth/Wildlife Conservation Society.

Researchers used remote cameras and scat analysis to estimate tiger populations.
Experts say commercial poaching of tigers for traditional medicines is likely behind the declines.
India last year revised downward its estimated number of tigers from 3,500 to 1,400. Habitat loss and hunting have taken a heavy toll on the big cat species, reducing India's population from 40,000 a century ago.
Related articles
India has 1400 tigers — not 3500
(03/13/2008) A census of India's reserves found 1,411 tigers rather than the 3,508 estimated previously, according to the State Ministry of Environment and Forests.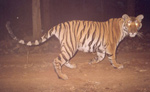 (11/08/2007) Over the past century the number of tigers in India has fallen from about 40,000 to less than 4,000 (and possibly as few as 1,500). Relentless poaching and clearing of habitat for agriculture have been the primary drivers of this decline, though demand for tiger skins and parts for "medicinal" purposes has become an increasingly important threat in recent years.
Tigers can recover given protection, adequate food supplies
(12/13/2006) A new study says that if tigers are protected and have sufficient access to abundant prey, their populations can quickly stabilize. The findings have implications for conservation of the world's largest cat species which is fast-disappearing due to poaching for the animal parts trade.