Mozambique has agreed to protect a tract of highland forest discovered by scientists using Google Earth, reports The Guardian.
The government of the Southern African country said it would bar logging of Mount Mabu forest after a series of scientific expeditions turned up a trove of undescribed species, including new species of butterflies, a viper, and a colorful chameleon as well as rare birds and plants.
"The three messages we conveyed were that there is rich biodiversity in Mozambique, that butterflies and botany can be as important as mammals, and that conservation policy should take into consideration areas such as these mountains or the coastal forests, that do not easily fit into the usual category of national park," Jonathan Timberlake of Kew Gardens told the The Guardian. Conservationists from Kew first identified the site using Google Earth and led the inventories of Mount Mabu.

Base Camp on Mount Mabu. Photo by Julian Bayliss


Pgymy Chamelion (Rhampholeon sp). Photo by Julian Bayliss
The site was first sighted by scientists when Kew's Julian Bayliss spotted the 7,000-hectare tract of forest on Mount Mabu using Google Earth in 2005. The forest has previously only been known to local villagers. Subsequent expeditions in October and November 2008 turned up a wealth of wildlife including pygmy chamelons, Swynnerton's robin, butterflies (including three new species), blue duiker antelope, samango monkeys, elephant shrews, a previously undiscovered species of snake (in the Gaboon viper family) and many plants, including a rare orchid. In all the team collected more than 500 plant specimens.
Related articles
How satellites are used in conservation
(04/13/2009) In October 2008 scientists with the Royal Botanical Garden at Kew discovered a host of previously unknown species in a remote highland forest in Mozambique. The find was no accident: three years earlier, conservationist Julian Bayliss identified the site—Mount Mabu—using Google Earth, a tool that's rapidly becoming a critical part of conservation efforts around the world. As the discovery in Mozambique suggests, remote sensing is being used for a bewildering array of applications, from monitoring sea ice to detecting deforestation to tracking wildlife. The number of uses grows as the technology matures and becomes more widely available. Google Earth may represent a critical point, bringing the power of remote sensing to the masses and allowing anyone with an Internet connection to attach data to a geographic representation of Earth.
Development of Google Earth a watershed moment for the environment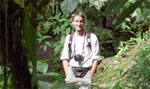 (03/31/2009) Satellites have long been used to detect and monitor environmental change, but capabilities have vastly improved since the early 1970s when Landsat images were first revealed to the public. Today Google Earth has democratized the availability of satellite imagery, putting high resolution images of the planet within reach of anyone with access to the Internet. In the process, Google Earth has emerged as potent tool for conservation, allowing scientists, activists, and even the general public to create compelling presentations that reach and engage the masses. One of the more prolific developers of Google Earth conservation applications is David Tryse. Neither a scientist nor a formal conservationist, Tryse's concern for the welfare of the planet led him develop a KML for the Zoological Society of London's EDGE of Existence program, an initiative to promote awareness of and generating conservation funding for 100 of the world's rarest species. The KML allows people to surf the planet to see photos of endangered species, information about their habitat, and the threats they face. Tryse has since developed a deforestation tracking application, a KML that highlights hydroelectric threats to Borneo's rivers, and oil spills and is working on a new tool that will make it even easier for people to create visualizations on Google Earth. Tryse believes the development of Google Earth is a watershed moment for conservation and the environmental movement.
Photos: Google Earth used to find new species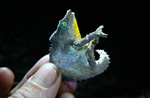 (12/22/2008) Scientists have used Google Earth to find a previously unknown trove of biological diversity in Mozambique, reports the Royal Botanic Gardens in Kew. Scouring satellite images via Google Earth for potential conservation sites at elevations of 1600 meters or more, Julian Bayliss a locally-based conservationist, in 2005 spotted a 7,000-hectare tract of forest on Mount Mabu. The scientifically unexplored forest had previously only been known to villagers. Subsequent expeditions in October and November this year turned up hundreds of species of plants and animals, including some that are new to science.