China Unveils Global Warming Initiative
China Unveils Global Warming Initiative
mongabay.com
June 5, 2007
China, soon to be the world's largest emitter of greenhouse gases, unveiled its first climate change initiative Tuesday.
According to state media, the National Climate Change Program plan calls for China to reduce energy use 20 percent by 2010, promote carbon sink technologies and other adaptive technologies, raise the efficiency of coal-fired power plants, and increase the amount of renewable energy it produces.


However the report was somewhat vague on how China plans to meet these goals. Its "key principles" for addressing global warming include "sustainable development and poverty alleviation" and "common but differentiated responsibilities," jargon for putting emissions reductions responsibilities on the shoulders of developed countries. Still, by presenting a plan on climate change, China has done more than the world's largest polluter, the United States. Observers believe that China is putting off more meaningful policy until the U.S. commits to action on climate change.
"Despite differences over how to cope with the threat of climate change, most countries are willing to address its challenges through cooperation and dialogue," states the 62-page report.


"China is a developing country. Although we do not have the obligation to cut emissions, it does not mean we do not want to shoulder our share of responsibilities," said Ma Kai, chairman of China's National Development and Reform Commission.


China is expected to pass the United States as the world's largest producer of carbon dioxide later this year, though the country's per capita emissions will still only be a small fraction of those of the U.S.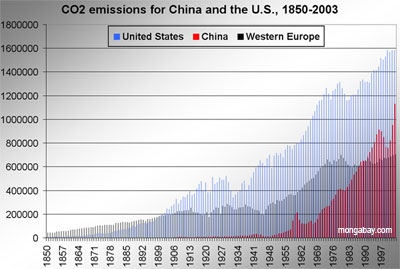 CO2 emissions for China, Europe, and the United States, 1850-2003


Related articles