New deforestation figures show Nigeria has worst rate of forest loss
Nigeria has the world's highest deforestation rate, Brazil loses the largest area of forest annually, and Congo consumes more bushmeat than any other tropical country. These are among the findings from mongabay.com's analysis of new deforestation figures from the United Nations.
Monday, the Food and Agriculture Organization of the United Nations (FAO) released its 2005 Global Forest Resources Assessment, a regular report on the status world's forest resources. Overall, FAO concludes that net deforestation rates have fallen since the 1990-2000 period, but some 13 million hectares of the world's forests are still lost each year, including 6 million hectares of primary forests. Primary forests — forests with no visible signs of past or present human activities — are considered the most biologically diverse ecosystems on the planet.
Industrial logging, clearing and forest conversion for agriculture, fuelwood collection by rural poor, and forest fires — often purposely set by people — are considered the leading causes of deforestation.
South America
South America — where large tracts of the Amazon rainforest are being cleared for cattle ranches and soybean plantations — suffered the largest net loss of forests between 2000 and 2005 of around 4.3 million hectares per year. Scientists are concerned that forest loss could escalate in the Amazon due to increasingly dry conditions. This year the Amazon suffered the most severe drought on record, leaving rivers dry and communities stranded. Tens of thousands of fires burned.
Africa

Clear-cutting of rainforest in Peru. Tropical deforestation is a major concern to ecologists. They warn that the loss of biodiversity has unknown consequences. Photo: Rhett A. Butler

Please note: mongabay.com features thousands of pages on deforestation. Good places to start include:
Africa suffered the second largest net loss in forests with 4.0 million hectares cleared annually. Nigeria and Sudan were the two largest losers of natural forest during the 2000-2005 period, largely due to subsistence activities. At 11.1%, Nigeria's annual deforestation rate of natural forest is the highest in the world and puts it on pace to lose virtually all of its primary forest within a few years. Malawi, currently in the midst of a severe drought and famine, has the world's fourth highest deforestation rate.
FAO figures also show Africa is more dependent on bushmeat — wild animals captured as food — than other tropical regions. Bushmeat availability has increased with the construction of logging roads in the rainforest and a number of well-known species including gorillas, chimpanzees, and monkeys are considered at highest risk. There is growing concern among health experts that bushmeat consumption may be linked to the outbreak of unusual tropical diseases including the Ebola virus and Marburg, which broke out earlier this year in Angola. Primates are known to be carriers of these diseases.
Central America, South Asia, and Southeast Asia lead deforestation rates
The regions with the highest tropical deforestation rate were Central America — which lost 1.3% or 285,000 hectares of its forests each year — and tropical Asia. Tropical Asia —

Worst deforestation rate of natural forests, 2000-2005
Credits: R. Butler
including the countries of Bangladesh, Bhutan, Brunei, Cambodia, East Timor, India, Indonesia, Laos, Malaysia, Maldives, Myanmar, Nepal, Pakistan, Philippines, Singapore, Sri Lanka, Thailand, and Vietnam — lost about 1% of its forests each year. According to FAO, Vietnam lost a staggering 51% of its primary forests between 2000 and 2005, while Cambodia lost 29% of its primary forests between 2000 and 2005 [Cambodia's figures were revised by the FAO after this article was published. Original data showed Cambodia's primary forest cover declining to 122,000 hectares in 2005 from 356,000 hectares in 2000. The new FAO data says Cambodia's current primary forest cover stands at 322,000 hectares]. Illegal logging, combined with rapid development, is blamed for much of Cambodia's forest loss.
Plantations offsetting natural forest
Due to a significant increase in plantation forests, forest cover has generally been expanding in North America, Europe and China while diminishing in the tropics. Plantations help offset the loss of natural forests but essentially result in an overall decline in global biodiversity as single species plantations replace their biologically richer natural counterparts.
The United States
The United States has the seventh largest annual loss of primary forests in the world, according to FAO. In the 2000-2005 period, the United States lost an average of 831 square miles (215,200 hectares, 2,152 square kilometers or 531,771 acres) of such lands which are sometimes termed "old-growth forests."

Highest deforestation of natural forests, 2000-2005. All countries. Credits: R. Butler
Overall, when plantations are added to the picture, the US gained a net 614 square miles (159,000 hectares) of forest per year. The FAO report suggests America's primary forests are losing ground to modified natural, seminatural, and plantation forests. Earlier this year, the government revoked President Clinton's 2001 "Roadless Area Conservation Rule" that protected 58.5 million acres of undeveloped national forest, in effect opening more than 90,000 square miles of forests to road construction, logging and industrial development.
UN figures contested
| | |
| --- | --- |
| Gold-mining operation the Peruvian Amazon. Scientists are concerned over the global impact of deforestation in the tropics. The loss of forests adds the greenhouse gas carbon dioxide to the atmosphere while affecting local rainfall. Photo: Rhett A. Butler | |
Some environmental groups have criticized the UN numbers as "misleading and inaccurate" saying that FAO is using industrial plantations to offset deforestation figures for natural forests while relying on flawed figures provided by governments that varying standards of forest monitoring. The London-based Rainforest Foundation notes that "the UN figure is based on a definition of forest as being an area with as little as 10% actual tree cover, which would therefore include areas that are actually savannah-like ecosystems and badly damaged forests." Further, says a press release from the organization, "areas of land that presently have no trees on them at all, but that are 'expected' to regenerate, are also counted as forests."
Despite the criticism, industry experts say that FAO has the best figures available across virtually all countries in the world. Mila Alvarez, who tracks forest trends for World Resources Institute and Global Forest Watch (globalforestwatch.org), told the New York Times "The F.A.O. is doing the best it can given what the governments are providing." Alvarez says the World Resources Institute and other organizations are developing a way to use satellite imagery to analyze forest changes and to verify government estimates.
More deforestation information:
Nigeria has worst deforestation rate, FAO revises figures
Breaking deforestation news at the deforestation blog
Please note: mongabay.com features thousands of pages on deforestation. Good places to start include:
Deforestation Charts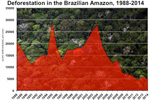 [ large medium small ]
Deforestation in the Brazlian Amazon, 1988-present
Causes of deforestation in the Brazilian Amazon, 2000-2005
Share of tropical deforestation, 2000-2005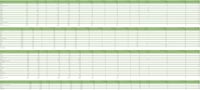 Deforestation rates by country, 1990-2005

Regional drivers of deforestation
Forest Tables
All area figures are in hectares.
Worst deforestation rate of primary forests, 2000-2005. All countries.

1
Nigeria
55.7%
2
Viet Nam
54.5%
3
Cambodia
29.4%
4
Sri Lanka
15.2%
5
Malawi
14.9%
6
Indonesia
12.9%
7
North Korea
9.3%
8
Nepal
9.1%
9
Panama
6.7%
10
Guatemala
6.4%
Highest average annual deforestation of primary forests, 2000-2005, by area. All countries

1
Brazil
-3,466,000
2
Indonesia
-1,447,800
3
Russian Federation
-532,200
4
Mexico
-395,000
5
Papua New Guinea
-250,200
6
Peru
-224,600
7
United States of America
-215,200
8
Bolivia
-135,200
9
Sudan
-117,807
10
Nigeria
-82,000
Highest average annual deforestation of primary forests, 2000-2005, by area. Tropical countries

1
Brazil
-3,466,000
2
Indonesia
-1,447,800
3
Mexico
-395,000
4
Papua New Guinea
-250,200
5
Peru
-224,600
6
Bolivia
-135,200
7
Sudan
-117,807
8
Nigeria
-82,000
9
Cambodia
-66,800
10
Colombia
-56,160
11
Panama
-43,200
12
Malawi
-39,600
13
Guatemala
-26,834
14
Viet Nam
-20,400
15
Democratic People's Republic of Korea
-17,400
16
French Guiana
-12,000
17
Senegal
-11,000
18
Nepal
-7,000
19
Madagascar
-6,800
20
Sri Lanka
-6,000
Most primary forest cover, 2005. All countries

1
Brazil
415,890
2
Russian Federation
255,470
3
Canada
165,424
4
United States of America
104,182
5
Peru
61,065
6
Colombia
53,062
7
Indonesia
48,702
8
Mexico
32,850
9
Bolivia
29,360
10
Papua New Guinea
25,211
Most primary forest cover, 2005. Tropical countries

1
Brazil
415,890
2
Peru
61,065
3
Colombia
53,062
4
Indonesia
48,702
5
Mexico
32,850
6
Bolivia
29,360
7
Papua New Guinea
25,211
8
Suriname
14,214
9
Sudan
13,509
10
Madagascar
10,347
11
Guyana
9,314
12
French Guiana
7,701
13
Congo
7,464
14
Thailand
6,451
15
Ecuador
4,794
Most "tropical rainforest", 2005. These rankings are estimates.

1
Brazil
2
Congo, Dem Rep
3
Peru
4
Indonesia
5
Colombia
6
Papua New Guinea
7
Venezuela
8
Bolivia
9
Mexico
10
Suriname
11
Guyana
12
Madagascar
13
French Guiana
14
Congo
15
Ecuador
16
Thailand
17
Malaysia
18
Panama
19
Guatemala
20
Nicaragua
21
Honduras
22
Laos
23
Philippines
24
Côte d'Ivoire
25
Belize
Most number of native tree species, 2005. All countries

1
Brazil
7,880
2
Colombia
5,000
3
Madagascar
5,000
4
Belize
4,000
5
Philippines
3,000
6
Bolivia
2,700
7
Malaysia
2,650
8
Zambia
2,621
9
Peru
2,500
10
China
2,500
11
Guinea-Bissau
2,243
12
Australia
2,100
13
Singapore
2,013
14
Brunei Darussalam
2,000
15
Myanmar
2,000
16
Zimbabwe
1,747
17
Mali
1,739
18
Lao People's Democratic Republic
1,457
19
Togo
1,451
20
Venezuela (Bolivarian Republic of)
1,360
The Democratic Republic of Congo should be on this list, but FAO does not have figures for this war-torn country.
Highest total forest cover as a percentage of total land cover, 2005. All countries

1
Suriname
94.7
2
French Guiana
91.8
3
Micronesia (Federated States of)
90.6
4
American Samoa
89.4
5
Seychelles
88.9
6
Palau
87.6
7
Gabon
84.5
8
Pitcairn
83.3
9
Turks and Caicos Islands
80
10
Solomon Islands
77.6
11
Guyana
76.7
12
Finland
73.9
13
Guinea-Bissau
73.7
14
Belize
72.5
15
Northern Mariana Islands
72.4
16
Anguilla
71.4
17
Lao People's Democratic Republic
69.9
18
Japan
68.2
19
Bhutan
68
20
Sweden
66.9
Includes plantations, non-natural and degraded forests
Highest total forest cover as a percentage of total land cover, 2005. All tropical countries.

1
Suriname
94.7
2
French Guiana
91.8
3
Micronesia (Federated States of)
90.6
4
American Samoa
89.4
5
Seychelles
88.9
6
Palau
87.6
7
Gabon
84.5
8
Solomon Islands
77.6
9
Guyana
76.7
10
Guinea-Bissau
73.7
11
Belize
72.5
12
Northern Mariana Islands
72.4
13
Anguilla
71.4
14
Lao People's Democratic Republic
69.9
15
Bhutan
68
16
Cook Islands
66.5
17
Congo
65.8
18
Papua New Guinea
65
19
Malaysia
63.6
20
Dominica
61.3
Includes plantations, non-natural and degraded forests
Highest total forest cover as a percentage of total land cover, 2005. All tropical countries excluding small islands

1
Suriname
94.7
2
French Guiana
91.8
3
Seychelles
88.9
4
Gabon
84.5
5
Guyana
76.7
6
Guinea-Bissau
73.7
7
Belize
72.5
8
Lao People's Democratic Republic
69.9
9
Bhutan
68
10
Congo
65.8
11
Papua New Guinea
65
12
Malaysia
63.6
13
Cambodia
59.2
14
Democratic Republic of the Congo
58.9
15
Colombia
58.5
16
Equatorial Guinea
58.2
17
Panama
57.7
18
Brazil
57.2
19
Zambia
57.1
20
Bolivia
54.2
Includes plantations, non-natural and degraded forests
Total forest cover, 2005. All countries

1
Russian Federation
808,790,000
2
Brazil
477,698,000
3
Canada
310,134,000
4
United States of America
303,089,000
5
China
197,290,000
6
Australia
163,678,000
7
Democratic Republic of the Congo
133,610,000
8
Indonesia
88,495,000
9
Peru
68,742,000
10
India
67,701,000
11
Sudan
67,546,000
12
Mexico
64,238,000
13
Colombia
60,728,000
14
Angola
59,104,000
15
Bolivia
58,740,000
16
Venezuela (Bolivarian Republic of)
47,713,000
17
Zambia
42,452,000
18
United Republic of Tanzania
35,257,000
19
Argentina
33,021,000
20
Myanmar
32,222,000
Includes plantations, non-natural and degraded forests
Total forest cover, 2005. Tropical countries

1
Brazil
477,698,000
2
Democratic Republic of the Congo
133,610,000
3
Indonesia
88,495,000
4
Peru
68,742,000
5
India
67,701,000
6
Sudan
67,546,000
7
Mexico
64,238,000
8
Colombia
60,728,000
9
Angola
59,104,000
10
Bolivia
58,740,000
11
Venezuela (Bolivarian Republic of)
47,713,000
12
Zambia
42,452,000
13
United Republic of Tanzania
35,257,000
14
Myanmar
32,222,000
15
Papua New Guinea
29,437,000
16
Central African Republic
22,755,000
17
Congo
22,471,000
18
Gabon
21,775,000
19
Cameroon
21,245,000
20
Malaysia
20,890,000
Includes plantations, non-natural and degraded forests
More deforestation data
Afghanistan |
Albania |
Algeria |
American Samoa |
Andorra |
Angola |
Anguilla |
Antigua and Barbuda |
Argentina |
Armenia |
Aruba |
Australia |
Austria |
Azerbaijan |
Bahamas |
Bahrain |
Bangladesh |
Barbados |
Belarus |
Belgium |
Belize |
Benin |
Bermuda |
Bhutan |
Bolivia |
Bosnia and Herzegovina |
Botswana |
Brazil |
British Indian Ocean Territory |
British Virgin Islands |
Brunei Darussalam |
Bulgaria |
Burkina Faso |
Burundi |
Cambodia |
Cameroon |
Canada |
Cape Verde |
Cayman Islands |
Central African Republic |
Chad |
Channel Islands |
Chile |
China |
Colombia |
Comoros |
Congo |
Cook Islands |
Costa Rica |
Côte d'Ivoire |
Croatia |
Cuba |
Cyprus |
Czech Republic |
Democratic Republic of the Congo |
Denmark |
Djibouti |
Dominica |
Dominican Republic |
Ecuador |
Egypt |
El Salvador |
Equatorial Guinea |
Eritrea |
Estonia |
Ethiopia |
Faeroe Islands |
Falkland Islands |
Fiji |
Finland |
France |
French Guiana |
French Polynesia |
Gabon |
Gambia |
Georgia |
Germany |
Ghana |
Gibraltar |
Greece |
Greenland |
Grenada |
Guadeloupe |
Guam |
Guatemala |
Guinea |
Guinea-Bissau |
Guyana |
Haiti |
Holy See |
Honduras |
Hungary |
Iceland |
India |
Indonesia |
Iran |
Iraq |
Ireland |
Isle of Man |
Israel |
Italy |
Jamaica |
Japan |
Jordan |
Kazakhstan |
Kenya |
Kiribati |
Kuwait |
Kyrgyzstan |
Laos |
Latvia |
Lebanon |
Lesotho |
Liberia |
Libya |
Liechtenstein |
Lithuania |
Luxembourg |
Macedonia |
Madagascar |
Malawi |
Malaysia |
Maldives |
Mali |
Malta |
Marshall Islands |
Martinique |
Mauritania |
Mauritius |
Mayotte |
Mexico |
Micronesia |
Moldova |
Monaco |
Mongolia |
Montserrat |
Morocco |
Mozambique |
Myanmar |
Namibia |
Nauru |
Nepal |
Netherlands |
Netherlands Antilles |
New Caledonia |
New Zealand |
Nicaragua |
Niger |
Nigeria |
Niue |
Northern Mariana Islands |
Norway |
Oman |
Pakistan |
Palau |
Palestine |
Panama |
Papua New Guinea |
Paraguay |
Peru |
Philippines |
Pitcairn |
Poland |
Portugal |
Puerto Rico |
Qatar |
Réunion |
Romania |
Russian Federation |
Rwanda |
Saint Helena |
Saint Kitts and Nevis |
Saint Lucia |
Saint Pierre and Miquelon |
Saint Vincent and the Grenadines |
Samoa |
San Marino |
Sao Tome and Principe |
Saudi Arabia |
Senegal |
Serbia and Montenegro |
Seychelles |
Sierra Leone |
Singapore |
Slovakia |
Slovenia |
Solomon Islands |
Somalia |
South Africa |
South Georgia and the South Sandwich Islands |
South Korea |
Spain |
Sri Lanka |
Sudan |
Suriname |
Swaziland |
Sweden |
Switzerland |
Syrian Arab Republic |
Tajikistan |
Tanzania |
Thailand |
Timor-Leste |
Togo |
Tokelau |
Tonga |
Trinidad and Tobago |
Tunisia |
Turkey |
Turkmenistan |
Turks and Caicos Islands |
Tuvalu |
Uganda |
Ukraine |
United Arab Emirates |
United Kingdom |
United States |
United States Virgin Islands |
Uruguay |
Uzbekistan |
Vanuatu |
Venezuela |
Viet Nam |
Wallis and Futuna Islands |
Western Sahara |
Yemen |
Zambia |
Zimbabwe