News articles on southeast asia

---
Mongabay.com news articles on southeast asia in blog format. Updated regularly.






First Resources the latest palm oil giant to announce zero-deforestation commitment
(07/03/2015) Palm oil giant First Resources has committed to eliminate deforestation and rights abuses from its supply chain, making it the first palm producer operating primarily at the grower level to do so. The policy is the latest in a wave of sustainability commitments from corporations that produce, trade and use palm oil. To realize its new commitment, First Resources will have to resolve numerous land disputes its operations are involved in with local communities in Indonesia.
Indonesian tycoon bears responsibility for devastating mud volcano, contends new research

(07/01/2015) A mud volcano responsible for displacing more than 40,000 people in Indonesia's East Java province was caused by an oil and gas company owned by one of the country's richest tycoons, and not by an earthquake as company executives and some scientists have claimed, according to new research out of Austraila's Adelaide University that aspires to put to matter to rest.
'Criminalization' of local people in Indonesian province rife amid oil palm, coal booms
(07/01/2015) A coalition of local NGOs in Indonesia's East Kalimantan province is campaigning for an end to the criminalization of residents who oppose plantation and mining projects on their land. The issue was a theme in the government's recently concluded national inquiry into land conflicts affecting indigenous peoples, and last week President Joko Widodo promised to secure the release of indigenous citizens who had been criminalized.
'Sea change' in clothing industry means more protections for forests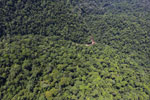 (06/30/2015) Sateri has become the latest major viscose producer to adopt a new wood- and pulp-sourcing policy aimed at removing deforestation from its supply chain. The company, the world's third-largest viscose producer, joins Aditya Birla and Lenzing, the two biggest, in making commitments to stop buying wood pulp from natural or endangered forests.
After two decades, Indonesia publishes plan for tackling invasive species
(06/29/2015) Twenty years after ratifying a legally binding UN convention which obligates parties to deal with invasive alien species, considered to be main direct drivers of biodiversity loss across the globe, Indonesia has drawn up a national strategic plan on the matter. The plan outlines steps to mitigate invasive species through policy, institution-building, information management, research and education, capacity-building and public awareness.
NGOs, activists fret new role for Indonesia's spy agency
(06/29/2015) A mysterious new partnership between Indonesia's spy agency and Investment Coordinating Board (BKPM) to boost foreign investment has civil society wary of deepening agrarian conflict in the post-authoritarian country. While little is known about the specifics of the new arrangement, activists point to Indonesia's long history of repression by state security forces to warn that intelligence reports on local sentiment could be manipulated to stymie community opposition to development projects.
Illegal forest clearing spotted in Aceh's biggest peat swamp
(06/26/2015) Encroachers have been clearing forest at three locations in Aceh's biggest peat swamp since February, the Rawa Singkil Wildlife Reserve, analysis of Landsat satellite imagery by environmental group Greenomics-Indonesia shows. The area is home to the densest population of critically endangered Sumatran orangutans in the Leuser Ecosystem.
Indonesian president pledges to accelerate long-delayed indigenous rights law
(06/26/2015) Indonesian President Joko Widodo reiterated his commitments yesterday to a number of indigenous rights issues at a meeting in Jakarta with the Indigenous Peoples Alliance of the Archipelago (AMAN). He promised to make passing a long-delayed law on indigenous peoples rights a priority; acknowledged the importance of setting up a task force for indigenous issues; agreed to the release, in principle, of indigenous citizens who have been "criminalized," or unfairly prosecuted by the law; and pledged to encourage economic development based on indigenous models as a counterweight to big business.
Video: camera traps highlight wildlife diversity of 'forgotten' park

(06/25/2015) Things appeared to be on the upswing in Cambodia's vast Virachey National Park in the early 2000s. Conservation groups were surveying the area and the World Bank had committed $5 million in funds. But then the Cambodia government handed out a mining exploration permit covering 90 percent of the park.
Status change to come for Indonesia's partial logging moratorium?
(06/25/2015) Indonesia's Environment and Forestry Ministry might upgrade the partial logging moratorium from a presidential instruction to a government regulation, or PP, later this year, a ministry official said this week. The change would take place after the ministry completes its semiannual revision of the moratorium map for the ninth time in November, according to The Jakarta Post.
Filipino fishermen operating illegally in Indonesia's Sangihe Islands

(06/25/2015) Indonesia's crackdown on illegal, unreported and unregulated (IUU) fishing has so far focused on foreign boats weighing more than 30 gross tons that enter Indonesian waters. But the Indonesian maritime affairs and fisheries minister recently expressed her dismay that in Sangihe, a group of islands directly adjacent to the Philippines, Filipino fishermen are allowed to operate with impunity.
Indigenous Indonesians file land claim against IndoMet coal project
(06/24/2015) A few months before BHP Billiton's Haju mine is set to begin operations in Indonesia's Central Kalimantan province, residents of nearby Maruwei village have filed a claim for 1,000 hectares of land in the area under a new land rights scheme for indigenous peoples. The scheme, called Dayak Misik and introduced by the provincial government last year, allocates 10 hectares to each village for communal use and five hectares to each household.
Indonesia to revive controversial sugarcane plan in Aru?
(06/23/2015) The Indonesian agriculture minister's recent comments that the Aru archipelago in the country's eastern waters will be one of three sites for a major new sugarcane initiative has sparked an outcry among civil society groups, as a similar controversial plan was shelved only last year after activists waged a long battle against it.
Controversy emerges over alleged deforestation policy breach by APRIL supplier
(06/23/2015) Less than three weeks after APRIL unveiled a sustainability policy that is supposed to protect natural forests, an environmental group is alleging that one of the Indonesian forestry giant's subsidiaries is already breaching the commitment. But APRIL refuted the claim and says it continues to stand by the policy.
Bengkulu governor orders review of mining permits
(06/23/2015) The governor of Indonesia's Bengkulu province reiterated his commitment to bringing mining in the province under control, as environmentalists urge his administration to crack down on rampant illegality in the sector and the threat it poses to protected areas.
Can we save the Sumatran rhino? Indonesia holds out hope
(06/19/2015) 'One percent of the world's population,' veterinarian Zulfi Arsan says as he nods towards Bina, a 714-kilogram, 30-year-old female Sumatran rhinoceros leisurely crunching branches whole. A gentle and easygoing rhino, pink-hued Bina doesn't seem to mind the two-legged hominids snapping pictures and awing at her every move at the Sumatran Rhino Sanctuary.
'Trying to follow the money': Opacity rules in Southeast Asia's land rush, finds study
(06/15/2015) As the rush for land in Southeast Asia continues at breakneck speed, often bringing with it social and environmental destruction, a new study by a major environmental research group explores how well investors really know where their money is going, and the possibilities and limits of existing data in achieving greater accountability.
Forest governance index shows Indonesia has long way to go
(06/13/2015) Weak spatial planning and law enforcement, land tenure problems and a lack of transparency in licensing are some of the issues highlighted in an annual report on forest governance the Indonesian Environment and Forestry Ministry presented to the president last week. The Forest Governance Index 2014, as it was packaged, gave Indonesia score of 35.97 on a scale of one to 100.
Palm oil giant announces deforestation freeze amid NGO campaign
(06/12/2015) Palm oil giant Astra Agro Lestari has announced an immediate moratorium on land clearing, less than a month after the launch of an environmental campaign targeting one of its sister companies, the Mandarin Oriental hotel chain. The prohibition applies to Astra Agro's own plantations as well as to those of its suppliers. Astra Agro characterized the freeze as a major step toward bringing its operations into line with the standards of the Indonesia Palm Oil Pledge, a high-profile, joint sustainability commitment signed by palm giants Wilmar, Cargill, Golden Agri-Resources, Asian Agri and Musim Mas as well as the Indonesian Chamber of Commerce.
Oil palm company accused of violating RSPO, IPOP standards in Indonesia
(06/11/2015) The reputation of oil palm business group Sawit Sumbermas Sarana, a holding of one of Indonesia's richest men, has in recent days taken hits on multiple fronts, with a pair of NGOs separately accusing the firm of violating various sustainability commitments it is party to. The criticism highlights holes in both the Indonesia Palm Oil Pledge (IPOP), a high-profile sustainability pact to which palm giants Wilmar, Golden Agri-Resources, Musim Mas, Asian Agri and Cargill are signatories, and the Roundtable on Sustainable Palm Oil (RSPO).
In Sumatra, an oasis in a sea of oil palm
(06/08/2015) Sumatra is estimated to have lost 85 percent of its forests in the past half century, primarily due to widespread conversion for oil palm and pulp plantations. In the village of Tangkahan, however, residents have managed to preserve their forests and create one of Indonesia's ecotourism hotspots.
Coordinated protests hit Socfin plantations in four countries
(06/05/2015) French NGO ReAct is coordinating protest actions against the plantation operations of Socfin, a Belgian company with origins in the Belgian Congo. Yesterday, protesters gathered in Paris outside the headquarters of Bolloré, another conglomerate which holds a 39 percent stake in Socfin. Other demonstrations have been staged in three African countries and Cambodia in recent weeks.
In Aceh, an illegal logger reformed
(06/05/2015) Mukhtar used to be an illegal logger. Now he coordinates community forest rangers in Indonesia's Aceh province. His job involves preventing dangerous human-elephant encounters and helping communities protect themselves from environmental offenders - like Mukhtar once was.
Student becomes first researcher to hold an Annamite striped rabbit
(06/03/2015) Almost nothing is known about the Annamite striped rabbit. First described in 1999, this beautifully-colored rabbit is found in Annamite Mountains of Vietnam and Laos, but—rarely seen and little-studied—it's life history is a complete mystery. But Sarah Woodfin, a student at the University of East Anglia, got lucky when undertaking a three month research trip on the species. Really lucky.
Pulp giant APRIL updates sustainability policy with Greenpeace's tentative approval
(06/03/2015) Indonesia's second-largest pulp and paper producer has announced a new sustainability policy it hopes will win it the good graces of NGOs like Greenpeace, which has campaigned with some success for a boycott of the company due to its destructive environmental practices. Unlike the previous policy, the new one protects carbon-rich peatlands and forests of high-carbon stock.
Director-generals inaugurated as merger of Indonesian Environment, Forestry Ministries continues
(06/02/2015) Indonesia's newly merged Environment and Forestry Ministry completed a major step in its restructuring last week with the inauguration of 13 director-generals, with important implications for President Joko "Jokowi" Widodo's agendas on climate change, land reform and more. Notable appointments include Climate Change Oversight Director-General Nur Masripatin, Environmental and Forestry Spatial Planning Director-General San Afri Awang and Social Forestry and Environmental Partnerships Director-General Hadi Daryanto.
First-of-its-kind mapping technique sheds new light on tropical forests
(05/29/2015) Scientists at the Woods Hole Research Center in Massachusetts have developed vegetation height maps for the entire tropics at very fine spatial scales. These first-of its-kind high resolution maps can help researchers estimate forest cover, monitor biodiversity and wildlife habitats, and manage and monitor timber.
GAR, Wilmar punish palm oil supplier for clearing rainforest in New Guinea
(05/28/2015) Palm oil trader Golden Agri-Resources announced today that it would suspend purchases of crude palm oil from plantation developer Austindo Nusantara Jaya Agri, which was outed in an NGO report last week for the third time in the past year for clearing forest in Indonesia's West Papua province, in violation of Golden Agri's no-deforestation commitment. Wilmar has also frozen its dealings with the company, though Asian Agri and Musim Mas, which also buy from it, have given no indication they will do the same.
Palm oil activist murdered in Jakarta
(05/23/2015) An Indonesian activist who opposed unbridled oil palm expansion was stabbed to death by a group of men before dawn this morning outside a nightclub in South Jakarta. Whether the attack was related to his activism or the spontaneous result of a barroom brawl is not yet clear. But Indonesian media are reporting that one of the assailants shouted that he was a soldier as he brandished the knife that killed Jopi Peranginangin, the 39-year-old head of campaigns for Sawit Watch, which strives for social and ecological justice in the palm oil industry.
Timber 'mass graves' uncovered as Malaysian authorities pursue illegal loggers

(05/21/2015) A crackdown on illegal logging in Peninsular Malaysia's largest continuous forest complex has uncovered three timber 'mass graves' – burial sites where valuable logs have been stashed beneath tons of earth to hide evidence. The loggers apparently made haste in fleeing the hilly terrain where they left the timber. A joint operation by Malaysia's antigraft agency and Forestry Department found parts of logs sticking out of the ground and the red earth still unsettled, indications their quarry had hurriedly concealed the felled trees.
Indonesia sinks 41 foreign vessels in a single day to counter illegal fishing
(05/21/2015) The Indonesian Maritime Affairs and Fisheries Ministry redefined fireworks yesterday. In coordination with the national navy, it blew up 41 illegal foreign fishing vessels to commemorate National Resurgence Day, the birthday of the country's first native political party. The mass sinking brings to 60 the number of boats new administration of President Joko "Jokowi" Widodo has scuttled on charges of illegal, underreported and unregulated (IUU) fishing.
Sumatran tiger found dead in a pig trap
(05/20/2015) Authorities in the Indonesian province of West Sumatra buried the rotting carcass of a critically endangered female tiger that died after being ensnared by a pig trap on a rubber plantation earlier this month. The creature, a mother who was probably teaching her young to hunt, was found covered in wounds, its neck entangled in wire.
Golden Agri takes another hit as sustainability guru suspends its membership
(05/20/2015) The charity that Indonesia's Golden Agri-Resources has enlisted to devise and implement its zero-deforestation and community-engagement commitments suspended its cooperation with the palm oil giant yesterday, following breaches of the policies they had designed together. A few hours later, Golden Agri announced the resignation of its chief sustainability officer.
Price trends a reliable, cheap indicator of wildlife declines, finds study
(05/15/2015) Market prices can provide an equally reliable indicator of wildlife declines as field data for a thirtieth of the price, according to a new study analyzing Sumatra's pet bird trade. The researchers found that species that were increasing in price but decreasing in trade volume were likely to have been identified by the ornithologists they surveyed beforehand as undergoing population declines.
Indonesia's partial forest-clearing moratorium extended, but activists wanted more
(05/14/2015) Indonesian President Joko "Jokowi" Widodo extended the country's partial forest clearing moratorium yesterday on the day of its expiration, leaving largely intact a policy civil society groups had demanded be strengthened. The environment and forestry minister said the government greatly appreciated the calls from organizations like Greenpeace, Walhi, Kemitraan, Sawit Watch, World Resources Institute and others, and would address the proposed changes.
Non-bank financiers ready to help Indonesian fishermen
(05/13/2015) The Indonesian Financial Services Authority has organized dozens of non-bank financial institutions to support the country's maritime and fisheries sector, a key priority for President Joko "Jokowi" Widodo. Smaller operators in the sector have struggled to adapt to a new ban on trawlers and seine nets, and one of the government's goals is to make credit for environmentally friendly fishing gear more widely available, as industry groups have requested.
Wilmar, Musim Mas supplier caught clearing elephant habitat for palm oil in Aceh
(05/12/2015) A new report provides evidence that a supplier of palm oil giants Wilmar and Musim Mas is bulldozing valuable forests in Indonesia's Leuser Ecosystem in violation of the companies' zero-deforestation policies as well as the Indonesia Palm Oil Pledge (IPOP), a high-profile, joint sustainability pact that also includes Golden Agri-Resources, Asian Agri, Musim Mas and the Indonesian Chamber of Commerce and Industry (Kadin).
Twitter campaign prompts Indonesians to free captive cockatoos in droves
(05/11/2015) Days after police at a port in Indonesia's second-largest city arrested a passenger with 24 rare birds stuffed in plastic water bottles, a public outcry has prompted the government to set up shelters to accommodate people who wish to return more of the creatures, which have up to now been highly sought after by collectors and breeders.
Golden Agri's wings clipped by RSPO in West Kalimantan
(05/08/2015) The Roundtable on Sustainable Palm Oil has prohibited Golden Agri-Resources, one of its most prominent members, from "acquiring or developing any new areas" pending the resolution of a formal complaint against the palm oil giant in Indonesia's West Kalimantan province. The decision is a stern directive from an organization that has been criticized for failing to take action against companies that flout its standards.
Bribery a matter of course for illegal Thai fishing ships in Indonesia
(05/06/2015) A convoy of blue Thai fishing boats slowly entered the mouth of the Kapuas River near Pontianak, the capital of Indonesia's West Kalimantan province, escorted by an Indonesian warship. The boats were directed to moor at the local Navy base, about 62 nautical miles from the site of their capture. The crew were transferred to the warship. There they sat on the deck. A naval personnel pointed to a fisherman in a rumpled blue shirt. His name was Sam Phong, 28. He could speak a bit of Indonesian, though not fluently. Still, his speech shed a bit of light on why he had so diligently been fishing illegally in Indonesian waters.
Aru, Mentawai peoples hit the big screen in Oslo

(05/06/2015) A pair of documentaries about small-island indigenous peoples in Indonesia were screened in Oslo on Tuesday as part of a global roadshow leading up to the UN Climate Change Conference to be held in Paris in December. The shorts, "Oil Palm Free Islands" and "The Warden of Jagarian Forest," are part of the If Not Us Than Who series, an initiative of UK-based Handcrafted Films.
West Papua 'oil palm atlas' portrays industry's explosion in region
(05/06/2015) There's a saying in the Indonesian palm oil industry: Sumatra is yesterday, Kalimantan is today, and Papua is tomorrow. Tomorrow might well have arrived. A new report sheds light on the industry's rapid expansion in Indonesia's Papua and West Papua provinces – and on the companies behind the plantation drive. The result is a portrayal of a frontier region's early encounters with a crop that has come to dominate the Sumatran and Bornean landscapes – a portrait made that much starker by the central government's foreign media blackout in the territory.
30 illegal orangutan pets seized in West Kalimantan
(05/05/2015) Thirty orangutans being kept as household pets in Indonesia's West Kalimantan province have been seized and placed in a rehabilitation center, where they are learning to fend for themselves so they can be released into their natural habitats, local conservation authorities report.
Riau forum asks Jokowi to help business save forests

(05/04/2015) A sustainable-business forum in Indonesia's Riau province urged the government to support companies' zero-deforestation commitments, which remain hampered by policies that prevent firms from preserving forests in their concessions. Under the current legal regime, if a plantation company decides to set aside land for conservation, the government reserves the right to take it back and give it to a firm that will develop it.
94 trafficked pangolins released into Sumatran wilds after massive bust
(05/04/2015) Following a major seizure of illegal wildlife goods in North Sumatra, the Indonesian authorities released 94 critically endangered pangolins into the wild last week, including a newborn whose mother died shortly after the authorities caught up with the traffickers. Five tons of pangolin meat were burned in the wake of the bust.
Ongoing overkill: loss of big herbivores leading to 'empty landscapes'
(05/01/2015) Ten thousand years from now, human historians—or alien ones—may view the current wave of biodiversity loss and extinctions as concurrent with the Pleistocene extinction. At that time, peaking around 11,000 years ago, many scientists argue that human hunters killed off the majority of the world's big species. According to a paper today in history may be repeating itself.
Indonesia to zone its seas in bid to become 'global maritime axis'
(04/30/2015) The Indonesian government is preparing a spatial plan for its marine territory, the beginning of a blueprint to transform the archipelagic country into a "global maritime axis" in line with new President Joko "Jokowi" Widodo's platform. Mapping the nation's seas will support the alignment different programs and the integration of various marine sources of economic growth.
Help on the way for 'green investment' in Indonesia
(04/29/2015) The Indonesian government plans to expand the list of incentives for "green investment," cabinet members said at a summit in Jakarta on Monday. On the table are tax breaks for imports of equipment that reduces pollution; and longer permits and favorable interest rates for companies with environmentally friendly policies.
Leuser Park authorities still trying to move thousands of squatters
(04/28/2015) The Indonesian government will take another stab at relocating thousands of squatters from Mount Leuser National Park, most of whom were dispaced by the decades-long insurgency in Aceh province and whose presence has fueled deforestation in the protected area.
Two more Sumatran elephants found dead in Aceh
(04/27/2015) A pair of critically endangered Sumatran elephants were found dead this month in Indonesia's Aceh province, just the latest casualties for a species that has been brought into increasing conflict with humans amid the country's oil palm boom. One was shot through the head by a poacher. The other was injured by a snare trap and perished shortly thereafter.
Jokowi must strengthen Indonesia's forest moratorium, not just extend it: activists
(04/25/2015) Less than a month before the expiry of a moratorium on new licenses for land-based exploitation in primary forests and on peat, environmentalists are calling for the Indonesian president to not only prolong the policy but strengthen it too, hampered as they say it has been by chaotic implementation, weak enforcement, standards that don't go far enough and, some suggest, a lack of political will to see it through.
Conservation in Myanmar: a cause for optimism?
(04/24/2015) Fifty years of relative political and economic isolation have yielded slow economic growth and contributed to the conservation of many of Myanmar's native species. However, the dissolution of Myanmar's military junta in 2011 marked the beginning of a new age of increasing political and economic liberalization and international engagement. Many experts fear that possible rapid development fueled by international investment, improved infrastructure and expanded transport networks, pose a grave risk to Myanmar's biodiversity and forests.
Thailand, Indonesia join forces against illegal fishing amid EU ultimatum

(04/24/2015) Amid EU threats to blacklist Thai seafood if the industry fails to clean up its act by October, the Southeast Asian country and its neighbor Indonesia agreed on Thursday to form a joint task force to combat illegal fishing, which remains in the spotlight in the wake of an Associated Press investigation into slavery aboard Thai-run ships in Indonesian waters.
Officials: Sumatran rhino is extinct in the wild in Sabah
(04/23/2015) There are no Sumatran rhinos left in the wild in the Malaysian state of Sabah, confirmed Masidi Manjun, the Tourism, Culture and Envi­ronment Minister, over the weekend. In 2008, conservationists estimated there were around 50 rhinos in the state. Five years later, it dropped that estimate to just ten. Now, it's admitted the awful truth: the wild rhino is very likely gone.
In Indonesia, making REDD+ about carbon won't help biodiversity: study
(04/23/2015) Areas important for carbon correlate poorly with areas important for biodiversity in the country, a reality future REDD+ planning must take into account, a new study contends. The research was meant to address claims that REDD+ offers huge opportunities for biodiversity conservation.
Farmers fall short in legal challenge to Java cement plant
(04/20/2015) A grassroots movement to halt construction of a cement factory and mine in Indonesia's Rembang regency suffered a major setback last week when a Central Java court rejected a lawsuit against a permit held by state-owned Semen Indonesia, the country's largest cement producer.
Indonesia's public water movement consolidates after two of its biggest wins
(04/17/2015) With the tide of privatized water in Indonesia as close to turning since the dictator Suharto was president, an entire spectrum of stakeholders is scrambling to chart a path forward on the heels of two landmark – and unexpected – court decisions. First, the Constitutional Court struck down the main governing law on water resources. Then a Jakarta court annulled the city's contract with private operators Palyja and Aetra, which have run the city's piped network since 1998 amid continual allegations of corruption and mismanagement.
Americans join in protesting reclamation of Bali's Benoa Bay
(04/14/2015) Americans and Indonesians demonstrated in Washington D.C. last week in protest of a massive land reclamation project in Bali's Benoa Bay, to which opposition, activists say, is coming from increasingly international circles. Meanwhile, the governor of East Java rejected a proposal to dredge sea sand for the project off the coast of his province.
Kaiduan dam in Borneo meets fierce opposition
(04/06/2015) Activists are calling on the government of Sabah, Malaysia, to reconsider the proposed Kaiduan dam, saying it has not considered other solutions to Sabah's looming water crisis and has failed to consult with the indigenous people who will be displaced if the project proceeds.
Aceh's purge of illegal oil palm at 3,000 hectares and counting
(04/06/2015) A joint effort to eradicate illegal oil palm in an area of Indonesia's Aceh province that was devastated by flash flooding in 2006 has passed the 3,000-hectare mark. The plantations lie within the protected Leuser Ecosystem, the last place on earth where the Sumatran rhino, elephant, tiger and orangutan coexist in the wild.
Blockade at Wilmar mill could erupt into full-blown strike
(04/03/2015) Local people blocked the road to a Wilmar palm oil mill in Indonesia's West Kalimantan province, demanding the release of nine day laborers who were arrested during an earlier protest over delayed wages. Trucks carrying fresh fruit bunches from nearby plantations were unable to deliver their cargo.
Reservations about Indonesian 'land reform' as details unclear
(04/02/2015) Indonesian civil society groups and experts welcome President Joko "Jokowi" Widodo's campaign promise to redistribute nine million hectares of land to farmers – in principle. But they remain wary of what the program, whose details have yet to be made clear, might look like in practice. These reservations were expressed at a discussion on the plan held in Jakarta on April 1.
Illegal deforestation driven by EU appetite for beef, palm oil, soy, say new reports
(04/01/2015) A new report finds that the European Union is driving international trade in commodities grown on land cleared outside of the law. In 2012 alone, the report says, the EU imported $6.5 billion worth of illegally sourced beef, leather, palm oil and soy, which amounts to nearly one-fourth of all global trade and some 2.4 million hectares (59.3 million acres) of forest illegally cleared.
Pollution from East Asia affecting air quality in Borneo's rainforests
(04/01/2015) A study published in the journal Atmospheric Chemistry and Physics finds that industrial activities in East Asia are polluting the air in the rainforests of Borneo and that, once there, the pollutants could be traveling into the upper atmosphere and impacting Earth's ozone layer.
Chinese-backed smelter plan causes concern among Sulawesi fishermen
(03/31/2015) As a pair of Chinese-owned miners companies proceed with plans to construct nickel smelters in Indonesia's Central Sulawesi province, in line with a national edict to increase in-country mineral processing capacity, locals fear the factories will only intensify environmental degradation from the same firms' mining operations and harm fishing communities that rely on the area.
Locals revolt against gold miner in Sulawesi
(03/30/2015) Residents of Indonesia's Buyat Bay and a national legal aid institute are preparing a case against a gold miner they say began operating in secret without locals' consent. They also accuse the company, owned by a prominent politician, of failing to acquire the proper licenses, clearing forest in a protected area and damaging the environment.
Aceh unveils protected area in beleaguered Tripa peat swamp
(03/27/2015) As Indonesia's Supreme Court prepares to rule on an appeal from oil palm developer Kallista Alam, ordered to pay Rp366 billion in fines and reparations for cut-and-burning forest in the Tripa peat swamp region, the Aceh government has established a protected zone in the company's former concession, the culmination of a months-long program to rehabilitate the area.
Study finds roads in Southeast Asia may be devastating forests, wildlife
(03/20/2015) Habitat loss and illegal hunting are leading drivers behind mammal population decline and extinction in the tropical forests of Southeast Asia. But what's driving these drivers? Road infrastructure, according to research. Researchers conducted the first-ever comprehensive study examining the impacts of road infrastructure on mammal populations in Southeast Asia; their findings were recently published in PLOS One.
Conservationists catch-and-release record-smashing freshwater fish
(03/17/2015) Conservationists and scientists have managed to catch-and-release what could be the world's biggest freshwater fish ever for an upcoming episode of Ocean Mysteries. Naturalist and host of the show, Jeff Corwin—along with wildlife veterinarian, Nantarika Chansue, and the tourist fishing group, fishsiam.com—managed to reel in a giant freshwater stingray.
UN report warns of grave consequences if mangroves not protected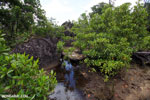 (03/11/2015) According to the United Nations Environment Program (UNEP), global destruction of mangrove forests impacts biodiversity, food security, and the lives and livelihoods of some of the most marginalized communities in the world. Mangroves, which are forests of salt-tolerant trees and shrubs that lie along coastlines in the tropics and subtropics, are also invaluable carbon sinks. And we're not doing nearly enough to protect them, says a recent report.
New bird species confirmed in Sulawesi 15 years after first sighting
(03/06/2015) Although it's a hotspot of avian biodiversity, the Indonesian island of Sulawesi has been "poorly studied ornithologically," according to a study published in the scientific journal PloS one. Case in point: the subject of the study, a new species of flycatcher first observed in 1997 but not formally described by scientists until November 2014.
Indonesian fisheries ministry imposes new limits on gear and fish harvests
(03/04/2015) The Indonesian fisheries ministry has introduced two divisive pieces of legislation aimed at increasing the sustainability of Indonesia's depleted ocean fisheries. Permen KP 1/2015 imposes size limits on wild-caught lobsters and crab, and forbids catching egg-bearing crustaceans. Permen KP 2/2015 bans trawl and seine fisheries. Fishermen last Thursday demonstrated outside the Ministry to protest the damage this will cause to their livelihoods.
Reports slam Malaysian timber companies, urge reforms in forest management
(02/27/2015) Two international NGOs have called out Malaysia in recent months over the country's widespread illegal logging. Malaysia has been accused of not doing enough to protect its diminishing forests and thwart the illicit timber trade, particularly in Sarawak, the site of the country's worst deforestation. Lax oversight, endemic corruption and limited transparency have allowed for Malaysia's forests to be plundered by both the government and the private sector.
Jokowi's environmental commitments in Indonesia
(02/26/2015) Last fall Indonesia elected its first president with no ties to the established political order or the military. Joko Widodo's election was widely heralded by reformers who hoped the politician's capable management in his stints as mayor of the town of Solo and metropolis of Jakarta could transform Indonesia's chronically underperforming bureaucracy, potentially ushering in a new era of improved human rights, better environmental stewardship, reduced corruption, and healthier economic growth.
Reports blame illegal logging for felling Sarawak forest
(02/25/2015) A recent report by the international affairs think tank Chatham House has highlighted Malaysia's lack of progress in dealing with illegal logging, blaming corruption and a lack of transparency on the country's sluggish approach to environmental policy reform.
Cambodia deports activist leader...then suspends controversial dam

(02/25/2015) On Monday, Cambodia deported well-known environmental activist, Alex Gonzalez-Davidson, back to his native Spain. Co-founder of the Cambodian NGO, Mother Nature, Gonzalez-Davidson played a vital role in blocking efforts to build the Cheay Areng Dam. But a day after deporting the activist, Cambodia's Prime Minister, Hun Sen, said the country would postpone the dam until 2018.
42 pangolins rescued...then sold to restaurants

(02/17/2015) On February 1st, local police seized 42 live Sunda pangolins from poachers and handed them over to forest rangers in Vietnam's northern province of Bac Ninh. While the poachers were slapped with a fine, the rangers turned around and sold the live pangolins to local restaurants for a reported $56 a kilo, netting a total of $11,300 for the Critically Endangered mammals.
Sabah shocked by banteng poaching

(02/16/2015) Malaysia's Daily Express recently published graphic photos of poachers in the Malaysian state of Sabah posing proudly with a number of illegally slaughtered large animals, including the incredibly rare and cryptic banteng. Wild, forest cattle, banteng are scattered across parts of Southeast Asia, but Borneo is home to a distinct subspecies: Bos javanicus lowi.
Forestry giant's zero deforestation commitment put to test
(02/05/2015) An independent audit of the world's largest pulp and paper producer found that the company had achieved a wide range of results in meeting promises to end deforestation and resolve conflicts with forest communities. In 2013 Asia Pulp and Paper (APP) announced its Forest Conservation Policy (FCP), which included a pledge to end deforestation among its suppliers, improve communication and conflict resolution with forest communities, protecting peatlands, and sourcing fiber only from responsible suppliers.
Video: clouded leopards and elephants grace drowned forest in Thailand

(01/21/2015) Camera trap video from Khlong Saeng Wildlife Sanctuary in southern Thailand has revealed an impressive array of wildlife, including scent-marking clouded leopards and a whole herd of Asian elephant. The camera traps were set by HabitatID, an organization devoted to using remote camera traps to prove to government officials that wildlife still flourishes in forgotten places.
Indonesia's moratorium not enough to achieve emissions reduction target
(01/20/2015) When Indonesia's former president Susilo Bambang Yudhoyono declared a moratorium in May 2012 on the issuance of new permits for logging in primary forests and on peat lands, it was widely hailed as an important, albeit far too limited, step in clamping down on the country's levels of deforestation.
High deforestation rates in Malaysian states hit by flooding
(01/19/2015) Five states hard hit by flooding last month in Malaysia had high rates of forest loss in recent years, bolstering assertions that environmental degradation may have worsened the disaster. According to satellite data from researchers led by the University of Maryland's Matt Hansen and displayed on Global Forest Watch, the states of Johor, Kelantan, Pahang, Perak, and Terengganu each lost more than 10 percent of their forest cover between 2001 and 2012. Loss was greatest in areas with dense tree cover.
Mother and cub: researchers photograph rare cat with cub in Sumatra
(01/13/2015) Researchers working in Kerinci Seblat National Park have captured a remarkable image of a mother Asian golden cat (Catopuma temminckii) carrying her young in her mouth. The image was taken in mid-2014 as reported by Mongabay Indonesia by the Sumatran Tiger Research Team.
New bat species has fangs you won't believe
(01/08/2015) What big teeth you have, my dear! The better to eat insects with—and make one's own ecological niche. Scientists have uncovered a new bat with stupendous canines in the rainforests of Lao PDR and Vietnam, aptly naming it Hypsugo dolichodon, or the long-toothed pipistrelle.
Featured video: new documentary highlights 'Sumatra Burning'

(01/05/2015) A new half-hour documentary investigate the impact of the palm oil industry in Indonesia, including burning forests and peatlands as well as haze spreading across Indonesian borders. Entitled Sumatra Burning, the documentary explores palm oil production on the island of Sumatra, which is experiencing some of the highest deforestation rates on the planet.
Monkey sleep, monkey do: how primates choose their trees
(12/31/2014) Primates don't monkey around when deciding where to spend the night, but primatologists have had a poor grasp on what drives certain monkeys toward specific trees. Now, two extensive studies of Indonesian primates suggest that factors in selecting trees each evening are site-specific and different for each species—and that some overnight spots result in conflicts between monkeys and humans.




Page 1 | Page 2 | Page 3 | Page 4 | Page 5 | Page 6 | Page 7 | Page 8 | Page 9