News articles on hydroelectric power

---
Mongabay.com news articles on hydroelectric power in blog format. Updated regularly.






Damming Dissent: Community leaders behind bars in Guatemala after opposing hydro projects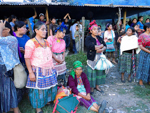 (07/02/2015) The Guatemalan government has granted concessions for several hydroelectric dams in the department of Huehuetenango without consulting the local Mayan population or obtaining their consent, activists charge. Communities resisting the dam projects have been experiencing a multi-pronged crackdown, including arrests and at least three murders.
Turkish government bears down on rural resistance to mining and hydro projects
(06/22/2015) Over the past two decades, industry has encroached rapidly on Turkey's Black Sea region. Home to just 10 percent of Turkey's population of 75 million, it contains some of the country's most beautiful and biodiverse natural areas. As the threats to these places multiply, so too has the local resistance. Villagers face police force, legal hurdles, and more subtle means of suppression in their fight to protect the environment.
Tapajós and other Amazon dams not sustainable development say reports
(06/11/2015) Plans to build hydroelectric dams globally -- especially in the Amazon and other tropical locales -- are often touted as 'sustainable development.' However, according to a trio of new reports, these large infrastructure projects will do enormous harm to rainforest ecosystems and indigenous peoples, while also emitting far more greenhouse gases than the U.N. and other organizations officially estimate, with potentially disastrous results.
Cajamarca: Let them Eat Gold
(06/03/2015) Mega-dam projects on the main stem of the Marañón River would drown Peru's Breadbasket. The Marañón River is one of the mighty Amazon's most important tributaries. It runs through a region of northern Peru where two of South America's most important bioregions merge: the mountainous highlands of the Andes joining the dense tropical rainforest of the Amazon. It is one of the most biologically rich, rapidly changing and threatened areas of the world.
'Green' hydropower dam fuels charges of gross human rights violations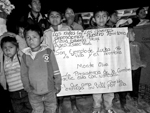 (05/27/2015) A hydropower project planned on Guatemala's Icbolay River has resulted in major human rights abuses, advocacy groups are charging. The 24-megawatt Santa Rita dam is backed by the World Bank and several European banks, as well as the Guatemalan government. In spite of the alleged abuses, the dam's owner has been granted approval to earn carbon offset credits for the electricity the dam would generate that could be traded under the European Union's Emission Trading System.
Mining and Energy Contracts under Investigation as Corruption Scandals Rock Guatemala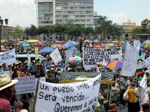 (05/22/2015) The Guatemalan cabinet ministers for the environment, the interior, and energy and mines stepped down May 21 amid corruption scandals and massive protests. Investigations into alleged irregularities in mining, energy, and other environmental project contracts and permits have been thrust back into the spotlight. Mining and energy projects in the country have faced intense community resistance, which has often become the target of crackdowns by state and corporate security forces.
Peru eyes the Amazon for one of world's most powerful dams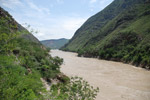 (05/18/2015) Peru is proposing a huge hydroelectric dam in the Amazon that, if built, will be one of the most powerful on Earth, do significant harm to the environment, and flood the homes of thousands of people. The proposed mega-dam would be constructed at the Pongo de Manseriche, a spectacular gorge on the free flowing Marañón River, the main source of the Amazon River.
Brazilian firm's mega-dam plans in Peru spark major social conflict
(05/11/2015) 'I don't want to sell my land because I've lived here since I was 17,' declared 82 year old María Araujo Silva. 'This was where my children were born. I want to die here. That's why I'm not in agreement. I'm not in agreement with the dam.' Araujo Silva is outraged at plans by Peru's government and Brazilian company Odebrecht to build a hydroelectric dam just downriver from her village, Huarac, on the Marañón River.
Giant Amazonian catfish threatened by dams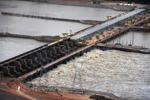 (05/01/2015) Giant catfish are among the most important commercial fishes in the Amazon Basin. A new study suggests that their sensitive life cycle may be interrupted by dams in their last remaining refuge on the Madeira River.
Peru's mega-dam projects threaten Amazon River source and ecosystem collapse
(04/28/2015) Peru is planning a series of huge hydroelectric dams on the 1,700-kilometer (1,056-mile) Marañón River, which begins in the Peruvian Andes and is the main source of the Amazon River. Critics say the mega-dam projects could destroy the currently free-flowing Marañón, resulting in what Peruvian engineer Jose Serra Vega calls its 'biological death'.
Cambodia deports activist leader...then suspends controversial dam

(02/25/2015) On Monday, Cambodia deported well-known environmental activist, Alex Gonzalez-Davidson, back to his native Spain. Co-founder of the Cambodian NGO, Mother Nature, Gonzalez-Davidson played a vital role in blocking efforts to build the Cheay Areng Dam. But a day after deporting the activist, Cambodia's Prime Minister, Hun Sen, said the country would postpone the dam until 2018.
Are small-scale hydro projects always greener?
(02/23/2015) Rising energy demand and global efforts to mitigate climate change have made renewable energy projects increasingly attractive. One widely known and well-developed source of renewable energy is hydroelectricity. However, past environmental campaigns against large dams have resulted in policy changes in some parts of the world, leading to an increasing number of small hydropower projects.
Dams or indigenous land: the battle over the Munduruku frontier
(02/20/2015) The Munduruku indigenous tribe have begun to mark out the limits of their land, in an action that could halt the giant São Luiz do Tapajós hydroelectric dam, the apple of the Brazilian government's eye. Although sacred, this land will be flooded if the dam goes ahead. 'We are not leaving,' says the village chief.
Exclusive: Funai confirms that land threatened by dam projects belongs to indigenous tribe
(02/19/2015) The Brazilian government opposes granting traditional land to the Munduruku people since it would jeopardize seven proposed hydroelectric dams on the Tapajós River. For this reason, a year-old report by Funai that supports the Munduruku claim has not been officially published, but a copy of this report was obtained by the Brazilian publication Publica.
New bat species has fangs you won't believe
(01/08/2015) What big teeth you have, my dear! The better to eat insects with—and make one's own ecological niche. Scientists have uncovered a new bat with stupendous canines in the rainforests of Lao PDR and Vietnam, aptly naming it Hypsugo dolichodon, or the long-toothed pipistrelle.
How a frog with a strange name is helping improve conservation in Brazil
(12/23/2014) Protecting the biodiversity of the Amazon basin is an immense undertaking, and to its credit the Brazilian government has a set procedure for doing so. However, there are gaps in the process that may prevent the authorities from fully protecting the species that call this place home. To investigate this, a recent study uses as an example the brilliant-thighed frog, a species that is found across the Amazon Basin—including the area surrounding the soon-to-be dammed Xingu River.
Brazilian tribes demarcate territory in bid to block dams
(11/06/2014) Indigenous communities in Brazil have taken the unusual step of demarcating their own land — without the approval of the Brazilian government — in a bid to block two dams they say threaten their territory and traditional livelihoods, report International Rivers and Amazon Watch, advocacy groups that are fighting the projects. Last week the Munduruku people annexed the 178,000-hectare Sawré Muybu territory after authorities failed to recognize their claims.
2 prize-winning journalists will report on Amazon, 2 new prizes announced
(08/01/2014) Mongabay.org's Special Reporting Initiative (SRI) program has recently awarded two different reporting prizes to journalists to tackle these vital and complicated issues in-depth. The non-profit has also launched a call for applications to two new SRIs: The social and environmental impacts of foreign development finance in the Amazon and Food spoilage and waste in Sub-Saharan Africa.
Dams be damned: study finds large dams are too expensive
(05/19/2014) Hydroelectric power, supplied mostly from dams, provides approximately 20 percent of the world's electricity, an amount of energy equivalent to 3.6 billion barrels of oil. However, a recent study by researchers at Oxford University has found that large dams cost so much money and take so long to build that they may not be economically viable.
Controversial Amazon dams may have exacerbated biblical flooding
(03/16/2014) Environmentalists and scientists raised howls of protest when the Santo Antônio and Jirau Dams were proposed for the Western Amazon in Brazil, claiming among other issues that the dams would raise water levels on the Madeira River, potentially leading to catastrophic flooding. It turns out they may have been right: last week a federal Brazilian court ordered a new environmental impact study on the dams given suspicion that they have worsened recent flooding in Brazil and across the border in Bolivia.
Africa to build world's largest dam, but who will benefit?
(12/17/2013) The Congo River traverses the continent of Africa, ending its journey in the Democratic Republic of Congo (DRC) where it spills 1.5 million cubic feet per second into the Atlantic Ocean. Now, plans are underway to harness this tremendous force of water in what promises to be the world's largest hydropower scheme, The Grand Inga.
Murum dam blockaders may be suffering human rights violations warns NGOs

(11/12/2013) A coalition of nearly 30 organizations has sent a letter to top authorities in Sarawak and Malaysia warning them of possible human right violations against a group of indigenous Penan who are blocking roads to the construction site for Murum Dam. Over 100 indigenous people have been blocking a road for over a month as they demand more compensation and land after being forced to move from their traditional lands to make way for the 900 megawatt dam.
Indigenous groups expel workers, blockade another dam in Sarawak
(11/05/2013) Hundreds of tribal people in Sarawak have started blockading a second big hydroelectric dam project being built by a government, which critics accuse of nepotism and corruption. Late last month around 200 native Kenyah, Kayan and Penan people chased away workers and set up a blockade on a road leading to the site of the proposed 1200 megawatt Baram dam.
Belo Monte dam suspended

(10/29/2013) Construction on Belo Monte, Brazil's largest dam, was again halted by a federal court due to concerns over its license, reports Amazon Watch, an NGO that is mobilizing opposition to the project.
Has Brazil turned against its progressive environmental policies?
(09/30/2013) Last year, Brazil rolled back crucial parts of its landmark Forestry Code, potentially opening vast tracts of forest for destruction; it is also moving ahead on a number of Amazon dams, including the infamous Belo Monte, despite international condemnation and conflict with indigenous people. Meanwhile, a new law under consideration proposes allowing large-scale mining in protected areas. Given this a new paper in mongabay.com's open access journal Tropical Conservation Science argues that Brazil has thrown off its once admired mantle of environmental legislation, imperiling hundreds of thousands of species in the most biodiverse country on Earth.
'Ecological Armageddon': mammals vanish entirely from forest fragments after 25 years
(09/26/2013) As tropical forests worldwide are increasingly cut into smaller and smaller fragments, mammal extinctions may not be far behind, according to a new study in Science. Tracking native smalls mammals in Chiew Larn Reservoir, Thailand for over 25 years, scientists found a stunning and rapid decline in mammal populations, until most forests were almost completely emptied of native mammals.
Iraq gets its first national park: just call it Eden

(08/19/2013) Late last month, the Iraqi Council of Ministers approved the nation's first national park: the Mesopotamian marshes, which some scholars believe were the site of the historical Garden of Eden. The establishment of the park is a major milestone for a nation still plagued by violence with the park itself linked to the ravages of the Saddam Hussein regime.
China to build $17B worth of dams in Indonesian Borneo

(06/09/2013) Two Chinese companies — China Power Investment Corporation and Anhui Conch Cement — will invest $17 billion in dams in North Kalimantan, Indonesia's newest province located on the island of Borneo, reports the Jakarta Globe.
Indonesia's Jatigede Dam Marred by Land Compensation Problems

(06/07/2013) As Indonesia's controversial Jatigede dam project moves closer to completion, West Java residents whose homes are set to be flooded for the planned 4,973-hectare reservoir brought their complaints to Jakarta, demanding that the country's president step in to resolve land compensation issues.
Indigenous groups protest hydropower congress as controversy hits meeting in Malaysia
(05/22/2013) The opening of the International Hydropower Association (IHA) World Congress in the Malaysian state of Sarawak was marred today by indigenous protests and controversy after a local indigenous leader was barred from attending a pre-conference workshop. Over 300 people from local indigenous people protested the ongoing construction of around a dozen mega-dams in the state that threaten to flood traditional lands, force villages to move, and upend lives in the state. The Sarawak hydropower plans are some of the most controversial in the world—making the choice of Kuching, Sarawak for the IHA meeting an arguably ironic one—with critics contending that the dams are have been mired in political corruption, including kickbacks and bribes. IHA brings together dam builders, banks, and various related organizations worldwide every two years.
Biosphere conservation: monumental action is critical to avert global environmental crisis
(05/20/2013) Human-caused changes to our biosphere—the global total of the world's ecosystems—are now so great and alarmingly rapid that human lives and societies undoubtedly face epic challenges in the near future as our biosphere deteriorates, planetary boundaries are reached, and tipping points exceeded. We may survive, we may painfully adapt, but it is a fair bet that grave hardship, loss, and sacrifice lay ahead. The nature and extent of impacts among human populations hinges on how successfully we respond to the biosphere crisis with extraordinary leadership, balanced solutions applied at global scales, and unprecedented cooperation—or not.
Rainforest tribe urges Norwegian king to recall energy executive
(05/13/2013) In an unusual bid to stop a series of dams that will flood their rainforest home, a group of tribesmen in Borneo are urging King Harald V of Norway to call one of his subjects home. The subject is Torstein Dale Sjøtveit, a Norwegian citizen who is the CEO of Sarawak Energy, a Malaysian firm that is building several dams in the state of Sarawak. The hydroelectric projects are controversial because they require the forced displacement of indigenous communities and will flood large tracts of rainforest.
Deforestation will undercut effectiveness of rainforest dams
(05/13/2013) Deforestation may significantly decrease the hydroelectric potential of tropical rainforest regions, warns a new study published in Proceedings of the National Academy of Science. The study, used climate, hydrological, and land use models to forecast the impact of potential forest loss on hydropower generation on the Xingu River, a major tributary of the Amazon where the world's third largest dam — Belo Monte — is currently under construction.
Tribesmen launch 'occupy' protest at dam site in the Amazon rainforest

(05/03/2013) On Thursday roughly 200 indigenous people launched an occupation of a key construction site for the controversial Belo Monte dam in the Brazilian Amazon. The protestors, who represent communities that will be affected by the massive dam, are demanding immediate suspension of all work on hydroelectric projects on the Xingu, Tapajós and Teles Pires rivers until they are properly consulted, according to a coalition of environmental groups opposing the projects.
The river of plenty: uncovering the secrets of the amazing Mekong
(04/23/2013) Home to giant catfish and stingrays, feeding over 60 million people, and with the largest abundance of freshwater fish in the world, the Mekong River, and its numerous tributaries, brings food, culture, and life to much of Southeast Asia. Despite this, little is known about the biodiversity and ecosystems of the Mekong, which is second only to the Amazon in terms of freshwater biodiversity. Meanwhile, the river is facing an existential crisis in the form of 77 proposed dams, while population growth, pollution, and development further imperil this understudied, but vast, ecosystem.
Judge halts military-backed dam assessment in Brazil's Amazon

(04/17/2013) A federal court in Brazil has suspended the use of military and police personnel during technical research on the controversial São Luíz do Tapajós Dam in the Brazilian Amazon. The military and police were brought in to stamp down protests from indigenous people living along the Tapajós River, but the judge decreed that impacted indigenous groups must give free, prior, and informed consent (FPIC) before any furter studies can be done on the proposed dam. However, the decision is expected to be appealed.
Yangtze porpoise down to 1,000 animals as world's most degraded river may soon claim another extinction
(04/16/2013) A survey late last year found that the Yangtze finless porpoise (Neophocaena asiaeorientalis asiaeorientalis) population has been cut in half in just six years. During a 44-day survey, experts estimated 1,000 river porpoises inhabited the river and adjoining lakes, down from around 2,000 in 2006. The ecology of China's Yangtze River has been decimated the Three Gorges Dam, ship traffic, pollution, electrofishing, and overfishing, making it arguably the world's most degraded major river. These environmental tolls have already led to the likely extinction of the Yangtze river dolphin (Lipotes vexillifer), or baiji, and possibly the Chinese paddlefish (Psephurus gladius), which is one of the world's longest freshwater fish.
Iraqi who is bringing back the Garden of Eden wins top environment award
(04/16/2013) The vast Mesoptomian marshes in southern Iraq were said to be the site of the original Garden of Eden. On their fringes have risen and fallen 12,000 years of Sumerian, Assyrian, Chaldean, Persian and Arab civilizations. Organized farming is thought to have begun here, as did the first cities and writing. In legend, Gilgamesh fell asleep on the water side and let slip from his fingers the plant of eternal youth. Abraham was said to have been born here and explorers like Sir Wilfred Thesiger made their name here.
Indigenous group: Brazil using military to force Amazon dams
(04/08/2013) An Amazonian community has threatened to "go to war" with the Brazilian government after what they say is a military incursion into their land by dam builders. The Munduruku indigenous group in Para state say they have been betrayed by the authorities, who are pushing ahead with plans to build a cascade of hydropower plants on the Tapajós river without their permission.
Proposed coal plant threatens Critically Endangered Philippine cockatoo
(04/02/2013) One kilometer off the Philippine island of Palawan lies the Rasa Island Wildlife Sanctuary; here forest grows unimpeded from a coral island surrounded by mangroves and coral reefs. Although tiny, over a hundred bird species have been recorded on the island along with a major population of large flying foxes, while in the waters below swim at least 130 species of coral fish, three types of marine turtles, and that curious-looking marine mammal, dugongs. Most importantly, perhaps, the island is home to the world's largest population of Philippine cockatoos (Cacatua haematuropygia), currently listed as Critically Endangered. But, although uninhabited by people, Rasa Island may soon be altered irrevocably by human impacts.
Indigenous protester killed by masked assailants in Panama over UN-condemned dam
(03/25/2013) A Ngäbe indigenous Panamanian, Onesimo Rodriguez, opposing the Barro Blanco hydroelectric dam project was killed last Friday evening by four masked men. His body was then thrown into a nearby stream where it was discovered the following day. Onesimo Rodriguez was attacked with a companion in Las Nubes, after they had attended a demonstration in Cerro Punta, Bugaba, against the dam. His companion, whose identity is being withheld for security reasons, received serious injuries but managed to escape and is having his injuries tended to by the local indigenous community.
Tribe rejects payment from electricity company behind destructive Amazon dam

(03/14/2013) Leaders of more than two dozen Kayapó indigenous communities have rejected a $9 million offer from Brazilian state energy company Eletrobras to fund development projects in their region due to the the firm's involvement in the construction of the Belo Monte dam, reports Amazon Watch, an activist group fighting the hydroelectric project.
Investors beware: global land grabbing ends in 'financial damage' and human rights violations
(02/07/2013) Investing in companies that flout local community rights in developing countries often leads to severe economic losses, according to a new report from the Rights and Resources Initiative (RRI). A rising trend in "land grabbing" from Africa to South America by corporations and even foreign governments results in social instability, which can lead to large-scale protests, violence, and even murder, delaying and sometimes derailing projects. Such instability poses massive risk to any investor, not to mention supporting corporate entities that are accused of ignoring human rights.
Fish unable to pass through dams in U.S. presents 'cautionary tale' for developing world

(01/17/2013) Dams create a largely impenetrable barrier for fish even when the dams were installed with specially-built passages, according to a new study in Conservation Letters. The scientists found that migrating fish largely failed to use the passages in the U.S., resulting in far fewer moving through the state-of-the-art hydroelectric dams than had been promised. The researchers say that their findings are a "cautionary tale" for developing nations.
Malaysian candidate pledges to drop controversial dam in Sarawak if elected

(01/14/2013) Malaysia's current opposition leader, Anwar Ibrahim, has pledged to cancel the controversial Baram Dam in Sarawak if upcoming general elections sweep him into the office of Prime Minister. Ibrahim made the announcement while visiting the state of Sarawak, located on the island of Borneo, over the weekend, according to the indigenous rights NGO, Bruno Manser Fund.
China plans over 300 dam projects worldwide

(12/10/2012) A new report by the NGO, International Rivers, takes an in-depth look at the role China is playing in building mega-dams worldwide. According to the report, Chinese companies are involved in 308 hydroelectric projects across 70 nations. While dams are often billed as "green energy," they can have massive ecological impacts on rivers, raise local conflict, and even expel significant levels of greenhouse gases when built in the tropics.
Dams are rapidly damning the Amazon

(12/08/2012) Dam-builders seeking to unlock the hydroelectric potential of the Amazon are putting the world's mightiest river and rainforest at risk, suggests a new assessment that charts the rapid expansion of dams in the region.
Brazilian bank approves $10.8 billion loan for controversial Amazon rainforest dam

(11/30/2012) Brazil's National Development Bank (BNDES) on Monday announced it has approved a $10.8 billion (22.5 billion Brazilian reais) loan to the consortium that is building the controversial Belo Monte dam in the state of Par´ in the heart of the Amazon rainforest, reports International Rivers, a group that is campaigning against the dam. The loan in the largest in the bank's 60-year history, according to the group.
Penan suspend dam blockade, give government one month to respond to demands

(11/15/2012) Members of the Penan tribe have suspended their month long blockade of the Murum dam in the Malaysian state of Sarawak, reports Survival International. However, according to the indigenous group the fight is not over: the departing Penan said the Sarawak government had one month to respond to demands for sufficient compensation for the dam's impact or face another blockade. Over 300 Penan people participated in the blockade, which stopped traffic leading to the construction site.
Controversial dam gets approval in Laos

(11/07/2012) Laos has given approval to the hugely-controversial $3.5 billion Xayaburi Dam on the Mekong River, reports the BBC. The massive dam, which would provide 95 percent of its energy production to Thailand, has been criticized for anticipated impacts on the river's fish populations, on which many locals depend.
New rare frog discovered in Sri Lanka, but left wholly unprotected
(11/05/2012) Sri Lanka, an island country lying off the southeast coast of India, has long been noted for its vast array of biodiversity. Islands in general are renowned for their weird and wonderful creatures, including high percentages of endemic species—and Sri Lanka, where scientists recently discovered a new frog species, is no exception.
Artificial 'misting system' allows vanished toad to be released back into the wild
(11/01/2012) In 1996 scientists discovered a new species of dwarf toad: the Kihansi spray toad (Nectophrynoides asperginis). Although surviving on only two hectares near the Kihansi Gorge in Tanzania, the toads proved populous: around 17,000 individuals crowded the smallest known habitat of any vertebrate, living happily off the moist micro-habitat created by spray from adjacent waterfalls. Eight years later and the Kihansi spray toad was gone. Disease combined with the construction of a hydroelectric dam ended the toads' limited, but fecund, reign.
Indigenous groups re-occupy Belo Monte dam in the Amazon

(10/09/2012) Construction on Brazil's megadam, Belo Monte, has been halted again as around 150 demonstrators, most of them from nearby indigenous tribes, have occupied the main construction site at Pimental. Over a hundred indigenous people joined local fishermen who had been protesting the dam for 24 days straight. Indigenous people and local fishermen say the dam will devastate the Xingu River, upending their way of life.
Indigenous blockade expands against massive dam in Sarawak
(10/08/2012) Indigenous people have expanded their blockade against the Murum dam in the Malaysian state of Sarawak, taking over an additional road to prevent construction materials from reaching the dam site. Beginning on September 26th with 200 Penan people, the blockade has boomed to well over 300. Groups now occupy not just the main route to the dam site, but an alternative route that the dam's contractor, the China-located Three Gorges Project Corporation, had begun to use.
World Bank agrees to fund project related to controversial Gibe III dam

(09/27/2012) Originally refusing to provide funding to Ethiopia's controversial Gibe III hydroelectric dam, the World Bank has now announced plans to fund the power lines that will carry generated electricity away from it. In their official statement they report that the lines will "connect Ethiopia's electrical grid with Kenya's, create power-sharing between the two countries, reduce energy costs, promote sustainable and renewable power generation [and] better protect the region's environment...eventually benefiting 212 million people in five countries."
Tiger and cubs filmed near proposed dam in Thailand

(09/04/2012) A tigress and two cubs have been filmed by remote camera trap in a forest under threat by a $400 million dam in Thailand. To be built on the Mae Wong River, the dam imperils two Thai protected areas, Mae Wong National Park and Huay Kha Khaeng Wildlife Sanctuary, according to the World Wide Fund for Nature (WWF)
Brazil's controversial Belo Monte back on track after court decision overruled

(08/29/2012) Brazil's Supreme Court on Tuesday ordered work on the controversial Belo Monte dam in the Amazon to resume, overturning a lower court order that suspended the project less than two weeks ago. Construction activities by the Norte Energia, the consortium building the dam, resumed immediately, according to the Associated Press.
Mekong dam spree could create regional food crisis
(08/27/2012) Fish are a hugely important protein source for many people around the world. This is no more evident than along the lower Mekong River delta where an estimated 48 million people depend directly on the river for food and livelihoods. But now a new study in Global Environmental Change cautions that 11 planned hydroelectric dams in the region could cut vital fish populations by 16 percent while putting more strain on water and land resources.
Construction of controversial Belo Monte dam stopped

(08/24/2012) Belo Monte dam developer Norte Energia, S.A. has stopped all work on the Belo Monte dam after receiving formal notification of the decision last week by the Brazilian Federal Appeals Court to suspend the project, reports International Rivers. Norte Energia said it would take 'all available measures to reverse the decision.'
Chinook salmon return to Olympic National Park after dam demolished

(08/21/2012) In March of this year the Elwha Dam, which had stood for 99 years, was demolished in the U.S. state of Washington. Five months later, Chinook salmon (Oncorhynchus tshawytscha) made their way down 70 miles of long-blocked off habitat and entered Olympic National Park.
Recommendations to save India's Western Ghats creates political stir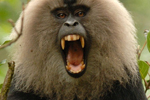 (08/20/2012) A massive expert panel report on the conservation of the Western Ghats has caused a political stir in India. The report, headed by noted ecologist Madhav Gadgil, recommends that the government phase out mining projects, cancel damaging hydroelectric projects, and move toward organic agriculture in ecologically-sensitive sections of the Ghats. The report, which was leaked after the government refused to release it, has yet to be implemented. Recently dubbed a UNESCO World Heritage Site, the Western Ghats is one of India's largest wildernesses and home to thousands of species, many found no-where else.
New bird discovered in Colombia imperiled by hydroelectric project

(08/19/2012) In a little-known dry forest in Colombia, scientists have discovered a new species of bird: the Antioquia wren (Thryophilus sernai). First seen in 2010, scientists photographed the new wren and recorded its vocalizations, from which they determined that the wren was brand new to science, according to a new paper in Auk.
Belo Monte mega-dam halted again by high Brazilian court, appeal likely but difficult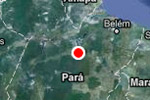 (08/15/2012) A high federal court in Brazil has ruled that work on the Belo Monte dam in the Brazilian Amazon be immediately suspended. Finding that the government failed to properly consult indigenous people on the dam, the ruling is the latest in innumerable twists and turns regarding the massive dam, which was first conceived in the 1970s, and has been widely criticized for its impact on tribal groups in the region and the Amazon environment. In addition the Regional Federal Tribunal (TRF1) found that Brazil's Environmental Impact Assessment was flawed since it was conducted after work on the dam had already begun.
Indigenous tribes hold 3 engineers hostage over Belo Monte dam

(07/26/2012) Three engineers are being held hostage by the Juruna and Arara indigenous tribes as tensions rise over the on-going construction of the Belo Monte dam in Brazil, reports the Indigenous rights NGO Amazon Watch. The company building the dam, Norte Energia, has confirmed that three of its employees were being held against their will. Tribal groups in the region say the massive dam will upend their way of life, and that construction is already making travel along the Xingu river difficult.
Indigenous tribes end occupation of Belo Monte

(07/12/2012) After occupying the construction site of the massive Belo Monte dam for 21 days, some 300 indigenous people have left and gone home. The representatives from nine Amazonian tribes abandoned their occupation after two days of meeting with the dam's builder, the Norte Energia consortium.
Indigenous leaders demand suspension of Belo Monte dam

(07/10/2012) Indigenous leaders from six Amazon tribes have asked the Brazilian government to immediately suspend the installation license for the controversial Belo Monte dam, reports Amazon Watch, an activist group that is campaigning against the project.
Indigenous tribes occupy Belo Monte dam for over 10 days

(07/03/2012) As of Tuesday, the occupation of Belo Monte dam by indigenous tribes entered its 13th day. Indigenous people, who have fought the planned Brazilian dam for decades, argue that the massive hydroelectric project on the Xingu River will devastate their way of life. According to a statement from the tribes, 17 indigenous villages from 13 ethnic groups are now represented at the occupation, which has successfully scuttled some work on the dam.
Dams are 'centerpiece of greenwashing' in the Amazon

(06/25/2012) Brazil's ambitious plans to build 30 dams in the Amazon basin could trump the country's efforts to protect the world's largest rainforest, said a leading Amazon scientist speaking at the annual meeting of the Association for Tropical Biology and Conservation (ATBC) in Bonito, Brazil.
Sarawak tribe calls on German company to walk away from controversial dam

(06/19/2012) Indigenous people from the Malaysian state of Sarawak have sent a letter to the German company, Fichtner GmbH & Co. KG, demanding that the consulting group halt all activities related to the hugely-controversial Baram dam, reports the NGO Bruno Manser Fund. Critics of the dam and it parent project known as the Sarawak Corridor of Renewable Energy (SCORE) initiative, say the hydroelectric dam will displace 20,000 people and flood 40,000 hectares of primary rainforest.
Protesters dig canal through Belo Monte dam in Brazil (Photos)

(06/16/2012) In an symbolic protest of the giant Belo Monte Dam, Friday morning some 300 locals dug a channel in an earthen dam that blocks a portion of the Xingu River and serves as the first step of the controversial hydroelectric project, reports Amazon Watch.
Tropical dams are a false solution to climate change

(05/27/2012) Tropical dams emit considerably more greenhouse gas emissions than their temperate counterparts yet are being treated as a solution to climate change, warns a report published in Nature Climate Change.
Charting a new environmental course in China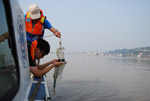 (05/21/2012) Founded in 1951, The Nature Conservancy (TNC) works in more than 30 countries and has projects in all 50 of the United States. The Conservancy has over one million members, and has protected more than 119 million acres of wild-lands and 5,000 miles of rivers worldwide. TNC has taken an active interest in China, the world's most populated nation, and in many important ways, a critical center of global development. The following is an interview with multiple directors of The Nature Conservancy's China Program.
Exploring Asia's lost world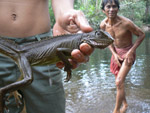 (05/03/2012) Abandoned by NGOs and the World Bank, carved out for rubber plantations and mining by the Cambodian government, spiraling into a chaos of poaching and illegal logging, and full of endangered species and never-explored places, Virachey National Park may be the world's greatest park that has been written off by the international community. But a new book by explorer and PhD student, Greg McCann, hopes to change that. Entitled Called Away by a Mountain Spirit: Journey to the Green Corridor, the book highlights expeditions by McCann into parts of Virachey that have rarely been seen by outsiders and have never been explored scientifically, including rare grasslands that once housed herds of Asian elephants, guar, and Sambar deer, before poachers drove them into hiding, and faraway mountains with rumors of tigers and mainland Javan rhinos.
Over 30 Yangtze porpoises found dead in China as population nears extinction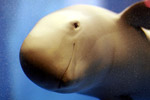 (05/01/2012) Six years after the Yangtze river dolphin (Lipotes vexillifer), or baiji, was declared "functionally extinct" by scientists, another marine mammal appears on the edge of extinction in China's hugely degraded Yangtze River. In less than two months, 32 Yangtze finless porpoises (Neophocaena asiaeorientalis asiaeorientalis), a subspecies of the finless porpoise, have been dead found in Dongting and Poyang Lakes in the Yangtze, reports the World Wide Fund for Nature (WWF).
Will mega-dams destroy the Amazon?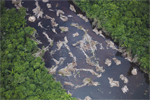 (04/18/2012) More than 150 new dams planned across the Amazon basin could significantly disrupt the ecological connectivity of the Amazon River to the Andes with substantial impacts for fish populations, nutrient cycling, and the health of Earth's largest rainforest, warns a comprehensive study published in the journal PLoS ONE. Scouring public data and submitting information requests to governments, researchers Matt Finer of Save America's Forests and Clinton Jenkins of North Carolina State University documented plans for new dams in Bolivia, Brazil, Colombia, Ecuador, and Peru.
Pictures: Destruction of the Amazon's Xingu River begins for Belo Monte Dam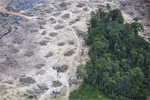 (04/18/2012) The Xingu River will never be the same. Construction of Belo Monte Dam has begun in the Brazilian Amazon, as shown by these photos taken by Greenpeace, some of the first images of the hugely controversial project. Indigenous groups have opposed the dam vigorously for decades, fearing that it will upend their way of life. Environmentalists warn that the impacts of the dam—deforestation, methane emissions, and an irreparable changes to the Xingu River's ecosystem—far outweigh any benefits. The dam, which would be the world's third largest, is expected to displace 16,000 people according to the government, though some NGOs put the number at 40,000. The dam will flood over 40,000 hectares of pristine rainforest, an area nearly seven times the size of Manhattan.
Judge suspends Brazilian dam that would flood sacred waterfalls

(04/02/2012) A federal judge has suspended the construction of a 1,820 megawatt dam on the Teles Pires River in the Amazon. The judge found that indigenous communities were not properly consulted about the dam, which would flood a sacred site, known as the Seven Waterfalls, as well as imperil the livelihoods of indigenous fishermen.
Turkey's rich biodiversity at risk
(03/28/2012) Turkey: the splendor of the Hagia Sophia, the ruins of Ephesus, and the bizarre caves of the Cappadocia. For foreign travelers, Turkey is a nation of cultural, religious, and historic wonders: a place where cultures have met, clashed, and co-created. However, Turkey has another wealth that is far less known: biodiversity. Of the globe's 34 biodiversity hotspots, Turkey is almost entirely covered by three: the Caucasus, the Irano-Anatolian, and the Mediterranean. Despite its wild wealth, conservation is not a priority in Turkey and recent papers in Science and Biological Conservation warn that the current development plans in the country, which rarely take the environment into account, are imperiling its species and ecosystems.




Page 1 | Page 2