News articles on Climate Modeling

---
Mongabay.com news articles on Climate Modeling in blog format. Updated regularly.






Global warming could shift tropical rainfall

(10/21/2013) Ongoing burning of fossil fuels could flip which portion of the tropics receive more rainfall: the southern hemisphere or the northern. Currently, the northern hemisphere tropics is the wetter of the two, but why this is has long baffled scientists. Now, new research in Nature Geoscience has discovered that rainfall in the tropics is in part driven by massive ocean currents that travel back-and-forth between the Arctic and Antarctic, a process known as ocean overturning circulation.
Which ecosystems are most vulnerable to climate change?

(09/16/2013) New research highlights the world's most (and least) vulnerable ecosystems to climate change. The study, published in Nature Climate Change, is the first to combine anticipated climatic impacts with how degraded the ecosystem is due to human impacts, creating what scientists hope is a more accurate list of vulnerable regions. The most endangered regions include southern and southeast Asia, western and central Europe, eastern South America, and southern Australia.
Natural cooling cycle in Pacific may have slowed global warming...for now

(09/12/2013) Cooling waters in the tropical Pacific Ocean appear to be a major factor in dampening global warming in recent years, scientists said on Wednesday. Their work is a big step forward in helping to solve the greatest puzzle of current climate change research – why global average surface temperatures, while still on an upward trend, have risen more slowly in the past 10 to fifteen years than previously.
Bad feedback: ocean acidification to worsen global warming

(08/28/2013) As if ocean acidification and climate change weren't troubling enough (both of which are caused by still-rising carbon emissions), new research published in Nature finds that ocean acidification will eventually exacerbate global warming, further raising the Earth's temperature.
Climate could warm more rapidly than any time in the last 65 million years
(08/01/2013) According to a new review of 27 climate models, scientists say the global climate is likely to experience a warmth as great as any in the last 65 million years, only much, much faster. According to the study published today in Science, the Earth's land temperature will rise by 4 degrees Celsius (7.2 degrees Fahrenheit) from pre-industrial levels by 2100 if we continue on our current emissions trajectory.
Amazon fire risk on the rise, says NASA

(06/09/2013) The Amazon rainforest is facing a higher risk of fires this dry season, warns a fire prediction system developed by researchers using NASA and NOAA data.
By 2050 much of the Arctic could be green
(04/01/2013) Warming about twice as fast as the rest of the world, the Arctic is already undergoing massive upheavals from climate change: summer sea ice is thinning and vanishing, land based ice sheets are melting, and sea levels are rising. Now a new study in Nature Climate Change predicts that vegetation cover in the Arctic could expand by over 50 percent by 2050. Although increased vegetation would sequester additional carbon, this would be more-than-offset by the loss of the albedo effect, whereby sunlight bounces off white (snow and ice covered) parts of the Earth.
Scientists find the 'missing heat' of global warming 700 meters below the sea
(03/28/2013) Critics of climate change often claim that warming has stopped since the late 1990s. While this is categorically false (the last decade was the warmest on record and 2005 and 2010 are generally considered tied for the warmest year), scientists do admit that warming hasn't occurred over land as rapidly as predicted in the last ten years, especially given continually rising greenhouse gas emissions. But a recent study in Geophysical Research Letters has found this so-called missing heat: 700 meters below the surface of the ocean.
Human activity driving unprecedented temperature shift

(03/08/2013) Average global temperatures are now higher than any point during the past 4,000 years despite being in the midst of what should be a cooling interval, reports a new study published in the journal Science.
Rise in 1.5 degrees Celsius likely to spark massive greenhouse gas release from permafrost
(02/25/2013) While nations around the world have committed to keeping temperatures from rising 2 degrees Celsius (3.6 degrees Fahrenheit) above the pre-industrial era, new research published in Science suggests that the global climate could hit a tipping point at just 1.5 degrees Celsius (2.5 degrees Fahrenheit). Studying cave stalactites and stalagmites in Siberia, scientists found that at about 1.5 degrees Celsius the Siberian permafrost melts, potentially releasing a greenhouse gas bomb of 1,000 giga-tonnes, according to some experts.
Borneo's forests face dire future from global warming

(07/18/2012) Already wracked by extensive deforestation and forest degradation, the future looks grim for Borneo's tropical rainforests, reports a new study published in the Journal of Geophysical Research-Biogeosciences.
Climate change increased the probability of Texas drought, African famine, and other extreme weather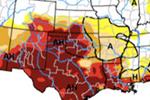 (07/11/2012) Climate change is here and its increasing the chances for crazy weather, according to scientists. A prestigious group of climatologists have released a landmark report that makes the dramatic point that climate change is impacting our weather systems—and in turn our food crops, our economies, and even our lives—here-and-now. The new report in the American Meteorological Society is first of what is intended to be an annual offering that will attempt to tease out the connections between climate change and individual extreme weather events, such as heatwaves, droughts and floods.
Pre-industrial deforestation still warming atmosphere

(07/03/2012) Fossil fuels were not burned in massive quantities prior to the Industrial Revolution, but humans were still pumping carbon into the atmosphere due to land use change, especially deforestation. In fact, a new study in Environmental Research Letters finds that deforestation prior to 1850 is still heating up our atmosphere today.
As Colorado and New Mexico burn, scientists say prepare for more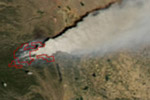 (06/12/2012) A massive wildlife in Colorado still burns after it has killed one person and damaged or destroyed over a hundred structures. The fire, the third largest in Colorado's history, has burned 39,500 acres (16,000 hectares) to date. Meanwhile in central New Mexico, another wildfire has damaged or destroyed 35 structures and burned 34,500 acres (14,000 hectares). This comes just weeks after New Mexico's largest wildfire ever—still going—burned up over 247,000 acres (100,000 hectares) of the Gila Forest. Weeks of heroic efforts by thousands of firefighters have contained this megafire by only 37 percent to date. Now, a new scientific study in Ecospshere has found that North America and Europe must prepare for even more fires as global temperatures continue to rise from climate change.
"Strong evidence" linking extreme heatwaves, floods, and droughts to climate change

(03/28/2012) As North America recovers from what noted meteorologist Jeff Masters has called "the most incredible spring heatwave in U.S. and Canadian recorded history," a new paper argues that climate change is playing an important role in a world that appears increasingly pummeled by extreme weather. Published in Nature Climate Change, the paper surveys recent studies of climate change and extreme weather and finds "strong evidence" of a link between a warming world and the frequency and intensity of droughts, floods, and heatwaves—such as the one that turned winter into summer in the U.S.
New meteorological theory argues that the world's forests are rainmakers
(02/01/2012) New, radical theories in science often take time to be accepted, especially those that directly challenge longstanding ideas, contemporary policy or cultural norms. The fact that the Earth revolves around the sun, and not vice-versa, took centuries to gain widespread scientific and public acceptance. While Darwin's theory of evolution was quickly grasped by biologists, portions of the public today, especially in places like the U.S., still disbelieve. Currently, the near total consensus by climatologists that human activities are warming the Earth continues to be challenged by outsiders. Whether or not the biotic pump theory will one day fall into this grouping remains to be seen. First published in 2007 by two Russian physicists, Victor Gorshkov and Anastassia Makarieva, the still little-known biotic pump theory postulates that forests are the driving force behind precipitation over land masses.
Current emission pledges will raise temperature 3.5 degrees Celsius

(12/06/2011) New research announced at the 17th UN Climate Summit in Durban, South Africa finds that under current pledges for reducing emissions the global temperature will rise by 3.5 degrees Celsius (6.3 degrees Fahrenheit) from historic levels, reports the AFP. This is nearly double world nations' pledge to keep warming below 2 degrees Celsius (3.6 degrees Fahrenheit). The report flies in the face of recent arguments by the U.S. and others at Durban that current pledges are adequate through 2020.
At least 74 percent of current warming caused by us

(12/05/2011) A new methodology to tease out how much current climate change is linked to human activities has added to the consensus that behind global warming is us. The study, published in Nature Geoscience found that humans have caused at least three-quarters (74 percent) of current warming, while also determining that warming has actually been slowed down by atmospheric aerosols, including some pollutants, which reflect sunlight back into space.
Yellowstone burning: big fires to hit world's first national park annually by 2050

(07/25/2011) An icon of conservation and wilderness worldwide, Yellowstone National Park could see its ecosystem flip due to increased big fires from climate change warn experts in a new study in the Proceedings of the National Academy of Science (PNAS). A sudden increase in large fires—defined as over 200 hectares (500 acres)—by mid-century could shift the Yellowstone ecosystem from largely mature conifer forests to younger forests with open shrub and grasslands.
Climate change and deforestation pose risk to Amazon rainforest
(05/20/2011) Deforestation and climate change will likely decimate much of the Amazon rainforest, says a new study by Brazil's National Institute for Space Research (INPE) and the UK's Met Office Hadley Centre. Climate change and widespread deforestation is expected to cause warmer and drier conditions overall, reducing the resistance of the rainforest ecosystem to natural and human-caused stressors while increasing the frequency of extreme rainfall events and droughts by the end of this century. While climate models show that higher temperatures resulting from global climate change will threaten the resilience of the Amazon, current deforestation is an immediate concern to the rainforest ecosystem and is likely driving regional changes in climate.
Are US floods, fires linked to climate change?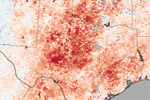 (04/28/2011) The short answer to the question of whether or not on-going floods in the US Midwest and fires in Texas are linked to a warming Earth is: maybe. The long answer, however, is that while it is difficult—some argue impossible—for scientists to link a single extreme weather event to climate change, climate models have long shown that extreme weather events will both intensify and become more frequent as the world continues to heat up. In other words, the probability of such extreme events increases along with global average temperature.
Birnam Wood in the 21st Century: northern forest invading Arctic tundra as world warms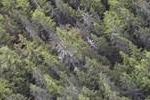 (03/07/2011) In Shakespeare's play Macbeth the forest of Birnam Wood fulfills a seemingly impossible prophecy by moving to surround the murderous king (the marching trees are helped, of course, by an army of axe-wielding camouflaged Scots). The Arctic tundra may soon feel much like the doomed Macbeth with an army of trees (and invading species) closing in. In a recent study, researchers found that climate change is likely to push the northern forests of the boreal into the Arctic tundra—a trend that is already being confirmed in Alaska.
Monitoring deforestation: an interview with Brazilian space researcher Gilberto Camara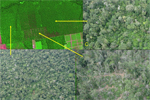 (02/08/2011) Perhaps unsurprisingly, the world's best deforestation tracking system is found in the country with the most rainforest: Brazil. Following international outcry over immense forest loss in the 1980s, Brazil in the 1990s set in motion a plan to develop a satellite-based system for tracking changes in forest cover. In 2003 Brazil made the system available to the world via its web site, providing transparency on an issue that was until then seen as a badge of shame by some. Since then Brazil has become recognized as the standard-bearer for deforestation tracking and reporting—no other country offers the kind of data Brazil provides. Space engineer Gilberto Camara has overseen much of INPE's earth sensing work and during his watch, INPE has released several new exciting capabilities.
Unprecedented tundra fire likely linked to climate change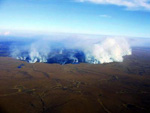 (11/23/2010) A thousand square kilometers of the Alaskan tundra burned in September 2007, a single fire that doubled the area burned in the region since 1950. However, a new study in the Journal of Geophysical Research finds that the fire was even more unprecedented than imagined: sediment cores found that it was the most destructive fire in the area for at least 5,000 years and maybe longer. "If such fires occur every 200 years or every 500 years, it's a natural event," University of Illinois plant biology professor Feng Sheng Hu explains in a press release. "But another possibility is that these are truly unprecedented events caused by, say, greenhouse warming."
Space tourism will worsen climate change

(10/24/2010) Have $200,000 to spend on a seat into space? You may want to re-think the expenditure given a new study in Geophysical Research Letters that shows space tourism will likely aggravate global climate change. Using sophisticated modeling, the researchers found that the biggest impact of a rise in space tourism on global temperatures won't be due to carbon emissions, but black carbon, often in the form of soot.
Decline in fog threatens California's iconic redwood ecosystems

(02/15/2010) A surprising new study finds that during the past century the frequency of fog along California's coast has declined by approximately three hours a day. Published in the Proceedings of the National Academy of Sciences the researchers are concerned that this decrease in fog threatens California's giant redwoods and the unique ecosystem they inhabit.
On World Wetland's Day bad news for America's iconic ducks

(02/02/2010) World Wetland Day 2010 brings with it new research on America's prairie wetlands and bad news for the country's waterfowl. A new study in BioScience finds that America's prairies are greatly susceptible to climate change: a warmer and drier prairie will desiccate wetlands needed by ducks and other waterfowl for food, shelter, and breeding.
Catastrophic sea level rise could occur with only two degrees Celsius warming

(12/17/2009) Allowing the climate to rise by just two degrees Celsius—the target most industrialized nations are currently discussing in Copenhagen—may still lead to a catastrophic sea level rise of six to nine meters, according to a new study in Nature. While this rise in sea levels would take hundreds of years to fully occur, inaction this century could lock the world into this fate.
Global warming will increase likelihood of civil war in Africa by 55 percent

(11/23/2009) There have been many warnings by policymakers that rising temperatures in Africa could lead to civil conflict, however a new study in Proceedings of the National Academy of Sciences is the first to uncover empirical evidence for these warnings and quantify them. The results—that higher temperatures increased the likelihood of civil war in sub-Saharan Africa by over 50 percent—took aback even the researchers.
Oceans' ability to sequester carbon diminishing

(11/18/2009) A new study—the first of its kind—has completed an annual accounting of the oceans' intake of carbon over the past 250 years, and the news is troubling. According to the study, published in Nature, the oceans' ability to sequester carbon is struggling to keep-up with mankind's ever-growing emissions. Since 2000 researchers estimate that while every year the oceans continue to sequester more anthropogenic carbon emission, the overall proportion of carbon taken in by the oceans is declining.
Global warming threatens desert life

(11/09/2009) There have been numerous studies showing how climate change is impacting a variety of environments—from the Arctic to coral reefs to alpine—but how could a warmer world damage deserts, already the world's warmest and driest environments?
Goodbye, snows of Kilimanjaro
(11/02/2009) The most recent survey among the ice fields atop Mount Kilimanjaro found that the ice atop Africa's most famous mountain could be gone in twenty years—and maybe even sooner. Published in the Proceedings of the National Academy of Science the study was conducted by a team of researchers who first measured the glaciers in 2000. They discovered that between 1912 and 2007, 85 percent of the ice that covered Mount Kilimanjaro vanished. When using 2000 as baseline the mountain has lost 26 percent of its ice.
Will tropical trees survive climate change?, an interview with Kenneth J. Feeley

(09/24/2009) One of the most pressing issues in the conservation today is how climate change will affect tropical ecosystems. The short answer is: we don't know. Because of this, more and more scientists are looking at the probable impacts of a warmer world on the Earth's most vibrant and biodiverse ecosystems. Kenneth J. Feeley, tropical ecologist and new professor at Florida International University and the Center for Tropical Plant Conservation at the Fairchild Tropical Botanic Garden, is conducting groundbreaking research in the tropical forests of Peru on the migration of tree species due to climate change.
Sea levels set to rise as Arctic warming replaces millennia long natural cooling cycle
(09/03/2009) According to a new study published in Science the Arctic should be cooling, and in fact has been cooling for millennia. But beginning in 1900 Arctic summer temperatures began rising until the mid-1990s when the cooling trend was completely overcome. Researchers fear that this sudden up-tick in temperatures could lead to rising sea levels threatening coastal cities and islands. "Scientists have known for a while that the current period of warming was preceded by a long-term cooling trend," said lead author Darrell Kaufman of Northern Arizona University. "But our reconstruction quantifies the cooling with greater certainty than ever before."
Amazon could lose 60% of forest without triggering catastrophic die-off, claims new study
(06/16/2009) Brazil's setting aside of more than 500,000 square miles (1.25 million square kilometers) of rainforest in protected areas over the past decade may effectively buffer the Amazon from the effects of climate change, preventing Earth's largest rainforest from tipping towards arid savanna in the face of ongoing deforestation and rising temperatures, argues a new paper published in Proceedings of the National Academy of Sciences.
Global warming estimates double in severity according to new MIT modeling

(05/20/2009) Employing the MIT Integrated Global System Model, scientists have found that global warming could be more than twice as severe as previous estimates six years ago. The MIT Integrated Global Systems Model, which uses computer simulations to analyze the relationship between climatic changes and the global economy, found during 400 runs of the model that there is a 90 percent probability that temperatures will have risen 3.5 to 7.4 degrees Celsius by the end of the century.
Cutting greenhouse gases now would save world from worst global warming scenarios
(04/14/2009) If nations worked together to produce large cuts in greenhouse gases, the world would be saved from global warming's worst-case-scenarios, according to a new study from the National Center for Atmospheric Research (NCAR). The study found that, although temperatures are set to rise this century, cutting greenhouse gases by 70 percent the globe could avoid the most dangerous aspects of climate change, including a drastic rise in sea level, melting of the Arctic sea ice, and large-scale changes in precipitation. In addition such cuts would eventually allow the climate to stabilize by the end of the century rather than a continuous rise in temperatures.
Trees in trouble: massive die-offs predicted with global warming

(04/13/2009) An experimental study of pinon pines at Biosphere 2 in Arizona shows that an increase in temperature makes the species more susceptible to die-off during drought. When temperatures were increased by 4 degrees Celsius (7.2 degrees Fahrenheit), the piñon pines died 28 percent faster than trees which experienced drought-conditions at current temperatures, according to a new study published in Proceedings of the National Academy of Sciences (PNAS).
Revolutionary new theory overturns modern meteorology with claim that forests move rain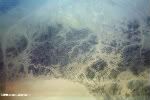 (04/01/2009) Two Russian scientists, Victor Gorshkov and Anastassia Makarieva of the St. Petersburg Nuclear Physics, have published a revolutionary theory that turns modern meteorology on its head, positing that forests—and their capacity for condensation—are actually the main driver of winds rather than temperature. While this model has widespread implications for numerous sciences, none of them are larger than the importance of conserving forests, which are shown to be crucial to 'pumping' precipitation from one place to another. The theory explains, among other mysteries, why deforestation around coastal regions tends to lead to drying in the interior.
Amazonian region likely to become savannah due to burning, deforestation

(03/31/2009) A new analysis shows that the heavily-deforested Amazonian region of Mato Grosso is particularly susceptible to 'savannization' due to repeated burning that has likely depleted the region's soils of precious nutrients. According to the study, published in the Journal of Geophyscial Research, savannization, or the process of tropical ecosystems shifting to savannah, is likely in northern Mato Grosso even if no further deforestation occurs.
Rise in sea levels due to global warming could imperil New York City

(03/16/2009) A new study shows that sea levels along the United States' northeastern coast will rise nearly twice as fast during this century than previous predictions. By 2100 the waters around New York city could rise as much as 18 inches, leaving Manhattan particularly vulnerable to flooding from hurricanes and winter storm surges.
Global warming to strengthen Arctic storms

(02/05/2009) Arctic storms could worsen due to climate change, putting fisheries, oil and gas exploration, and sea lanes at risk, warn researchers writing in the journal Climate Dynamics.
Monstrous prehistoric snake provides glimpse of warmer tropical forests

(02/04/2009) On Wednesday scientists announced the discovery of the world's largest snake, a prehistoric beast which preyed on giant turtles and crocodile-like reptiles in South America after the demise of the dinosaurs. As amazing as the discovery is, its greatest importance may be the clues it provides conservationists about the future of tropical forests under various global warming scenarios.
Climate change to hurt Brazil's farm exports by 2020

(08/11/2008) Climate change could have a significant impact on thye value of Brazil's agricultural exports according to a study presented Monday at an agribusiness conference in Sao Paulo, reports the Financial Times.
Global warming increases "extreme" rain storms

(08/07/2008) Global warming is increasing the incidence of heavy rainfall at a rate greater than predicted by current climate models have predicted, reports a new study published in the journal Science. The findings suggest that storm damage from precipitation could worsen as greenhouse gas concentrations continue to rise.
Past greenhouse warming events offer clues on future climate change

(02/16/2008) If carbon dioxide emissions from the burning of fossil fuels continue on a "business-as-usual" trajectory, humans will have added about 5 trillion metric tons of carbon to the atmosphere by the year 2400. A similarly massive release of carbon accompanied an extreme period of global warming 55 million years ago known as the Paleocene-Eocene Thermal Maximum (PETM).
North Atlantic warming is natural, not due to climate change

(01/03/2008) While overall temperature in the North Atlantic Ocean has risen over the past fifty years, it has not been consistent across all areas with subpolar regions cooling as subtropical and tropical waters warmed, reports a new study published in the journal Science.
Melting of Greenland ice sheet could alter warming trend

(12/06/2007) A massive release from freshwater from the glacial Lake Agassiz 8,200 years ago triggered dramatic cooling in the North Atlantic region, report researchers writing in Science. The sudden and intense cooling, which ended the stable climate that had characterized the Holocene warm period, could have future implications for the melting of Greenland's ice sheet.
Food prices to rise due to energy demand, economic trends

(12/03/2007) Income growth, climate change, high energy prices, globalization, and urbanization are converging to drive food prices higher, threatening livelihoods and nutrition of poor people in developing countries, says a new report from the International Food Policy Research Institute (IFPRI).
Climate risks to global agriculture are underestimated

(12/03/2007) Vulnerability of global agricultural to climate change may be underestimated by experts, warns a trio of papers published in week's issue of the Proceedings of the National Academy of Sciences (PNAS). The research says that "progressive changes predicted to stem from 1- to 5-degree C temperature rises in coming decades fail to account for seasonal extremes of heat, drought or rain, multiplier effects of spreading diseases or weeds, and other ecological upsets," according to a statement from Columbia University's Earth Institute.
Climate sensitivity to rising CO2 levels still uncertain

(10/25/2007) Climate sensitivity to increasing concentrations of greenhouse gases is still largely uncertain and researchers will likely not be able to further refine their estimates on future climate scenarios, say two University of Washington scientists writing in this week's issue of the journal Science.
Climate change will impact U.S. economy

(10/16/2007) Climate change will have a significant economic impact on the United States, reports a new study published by researchers from the University of Maryland. The report, The U.S. Economic Impacts of Climate Change and the Costs of Inaction, aggregates and analyzes previous economic research in order to develop a better estimate of the costs of climate change.
Global warming will slow, then accelerate reports ground-breaking model

(08/09/2007) Global warming will slow during the next few years but then accelerate with at least half of the years after 2009 warmer than 1998, the warmest year on record, reports a new study that is the first to incorporate information about the actual state of the ocean and the atmosphere, rather than the approximate ones most models use. The research, published by a team of scientists from the Hadley Center in the United Kingdom, appears in the current issue of the journal Science.
U.S. could offset 20% of emissions through reforestation of marginal lands

(05/03/2007) Reforesting marginal agricultural land could significantly slow the increase of carbon in the atmosphere reports a new study based on NASA data, though it would be no magic bullet in fighting global warming since temperate forests have been shown to increase regional temperatures by absorbing more sunlight. Still, reforestation has the potential to offer other ancillary benefits including watershed services and erosion control.
Ethanol may be greener but have higher health cost

(04/18/2007) Widespread burning of ethanol as fuel may increase the number of respiratory-related deaths and hospitalizations relative to gasoline, according to a new study by Stanford University atmospheric scientist Mark Z. Jacobson. The report comes as mounting environmental concerns cloud the benefits of using ethanol as a green alternative to fossil fuels.
Could global deforestation fight climate change?
(04/09/2007) While many climate change mitigation schemes rely on reforestation schemes to sequester carbon dioxide from the atmosphere, those located in temperate regions may actually be warming the planet, worsening global change, reports a new study published in the April 9-13 online edition of the Proceedings of the National Academy of Sciences. Surprisingly, the research suggests that global-scale deforestation would produce a net cooling effect, but that forest preservation efforts and reforestation in the tropics is more effective in cooling the planet.
Climate report warns of drought, rising sea levels, species extinction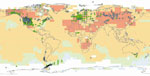 (04/05/2007) Global warming is likely to have wide-ranging impacts on the world's ecosystems, water availablity, and sea levels warned the U.N. Intergovernmental Panel on Climate Change (IPCC) in its latest installment. It said that mitigation and adaption strategies are the best way to reduce and prepare for the coming changes.











Water forecasts in Western U.S. have not improved in 40 years

(02/16/2007) Water supply predictions for the western United States are no better now than they were in the 1960s -- something that should be of particular concern as the effects of climate change become increasingly apparent -- say researchers from the University of Washington (UW).





Antarctic temperatures are not rising

(02/15/2007) Temperatures in Antarctica are not rising as predicted by many climate models, according to research presented at the annual meeting of the American Association for the Advancement of Science in San Francisco. David Bromwich, researcher with the Byrd Polar Research Center at Ohio State University, reports that his work has found no increase in precipitation over Antarctica in the last 50 years. Most climate models predict that precipitation and temperature will increase over Antarctica as the planet warms.





Temperature record for Midwest shows impact of global warming

(01/29/2007) Researchers have developed a new method to create a temperature record for the Great Plains region of the United States. The model, based on analysis of ancient soils, could help predict the impact of global warming on American agricultural production.







Sea levels may rise higher than predicted due to global warming

(12/15/2006) Global warming could cause sea levels to rise by four-and-a-half feet (140 cm) according to new projections published in Friday's issue of the jounral Science. Stefan Rahmstorf, a scietist at the Potsdam Institute for Climate Impact Research in Potsdam, Germany, uses air temperature measurements and past sea level changes rather than computer models to calculate that ocean levels could rise by 50-140 cm by 2100, well above the 9-88 cm projected by the United Nations Framework Convention on Climate Change. A 140 cm rise in sea levels could swamp low-lying cities like New York and Venice while causing catastrophic flooding in Bengladesh and South Pacific island nations.





UN says man's global warming impact lower than thought

(12/10/2006) When it is released in 2007, the UN Intergovernmental Panel on Climate Change (IPCC) will report that man's impact on global climate is less than previously believed according to a story published in the Sunday edition of the UK-based Telegraph. The Telegraph says that the report will reduce its estimate of man's role in global warming by 25 percent. However, the IPCC will still project global temperatures to climb by 4.5 C druing the next century and rising sea levels, albiet by half the amount -- 17 inches instead of 34 inches by 2100 -- projected by the IPCC's 2001 report. It will also note that atmospheric carbon dioxide levels have continued to climb over the past five years but that the overall human effect on global warming since the industrial revolution has been dampened by cooling caused by particulate matter and aerosol sprays, which accumulate in the upper atmosphere and reflect heat from the sun.





Global warming-fueled storms could devastate coral reefs

(11/23/2006) Australia's Great Barrier Reef and other coral ecosystems could suffer from increasingly powerful storms brought about by global warming according to computer models published by a team of Australian scientists in the journal Nature.





Atmospheric levels of key greenhouse gas stabilize, could begin to decline

(11/20/2006) Atmospheric levels of methane, a potent greenhouse gas have leveled off for the past seven years according to scientists at the University of California, Irvine. Human sources of methane, which is twenty times more potent than carbon dioxide as a greenhouse gas, include production of oil and natural gas, mining, sewage and decomposition of garbage, changes in land use and deforestation, and livestock. About one-third of methane emissions come from oceans, wetlands, wildfires, and termites.





Global warming could put New York City at hurricane, flood risk

(10/25/2006) NASA researchers are investigating the potential impact of climate change on New York City using computer models to simulate future climates and sea level rise. Their studies, to date, forecast a 15 to 19 inch-increase in sea levels by the 2050s that could put the city at higher risk of flooding during storm surges.





Climate change to cause more extreme weather

(10/19/2006) Climate change will cause extreme weather to be a more common occurrence according to new computer modeling by researchers from the National Center for Atmospheric Research (NCAR), Texas Tech University, and Australia's Bureau of Meteorology Research Centre.





Most of world's forests could be gone by 2100

(08/15/2006) New research claims that more than half the world's largest forests will be lost if global temperatures rise by an average of 3 degrees or more by the end of the century.The study, published in the current Proceedings of the National Academy of Sciences, says that a warmer climate also increases the risk of extreme floods, forest fires and droughts.





Snow in Antarctic not falling to counter sea level rise

(08/10/2006) The most precise record of Antarctic snowfall ever generated shows there has been no real increase in precipitation over the southernmost continent in the past half-century, even though most computer models assessing global climate change call for an increase in Antarctic precipitation as atmospheric temperatures rise.





Sun, not carbon dioxide, primary driver of ice ages says new theory

(07/24/2006) A new theory says that carbon dioxide is only a secondary driver of ice ages. In a paper published online in the journal Climate of the Past, William Ruddiman, an environmental scientist with the University of Virginia, argues that "carbon dioxide is a driver of ice sheets only at the relatively small 23,000-year cycle, but not at the much larger ice-volume cycles at 41,000 years and approximately 100,000 years" according to a news release from the university.





War of words over new climate change report, 'hockey stick' model

(07/16/2006) Paleoclimatologist Michael Mann criticized a report challenging the familiar 'hockey stick' temperature record of the past thousand years. The report, commissioned by Texas Representative Joe Barton, chairman of the House Energy Committee, and championed in an op-ed piece appearing in last Friday's issue of The Wall Street Journal said that there is no evidence that the 1990s were the warmest decade in a millennium or that 1998 was the warmest year in the last 1,000.





Alps could lose 80% of glacier cover by 2100

(07/10/2006) The European Alps could lose 80 percent of their glacier cover by the year 2100, if summer air temperatures increase by three degrees Celsius according to a study published in Geophysical Research Letters, a journal of the American Geophysical Union. The research, based on modeling experiments by Swiss scientists, found that should in summer temperature rise more than three degree Celsius, only the largest glaciers and those on the highest mountain peaks could survive into next century.





Future crop yields lower than expected under higher carbon dioxide levels

(06/29/2006) Open-air field trials involving five major food crops grown under carbon-dioxide levels projected for the future are yielding signifcantly less than those raised in earlier enclosed test conditions. Scientists at the University of Illinois at Urbana-Champaign warn that global food supplies could be at risk without changes in production strategies.





Warming could cause rain forests to release more carbon dioxide

(06/20/2006) Extra amounts of key nutrients in tropical rain forest soils cause them to release more carbon dioxide into the atmosphere, according to research conducted by scientists at the University of Colorado (CU) - Boulder. Results of the research, conducted by Cory Cleveland and CU scientist Alan Townsend, are published this week in the journal Proceedings of the National Academy of Sciences.





Extreme global warming likely by end of century

(05/24/2006) Climate models predicting a 5.6 degrees Celsius increase in Earth's temperature by the end of the century may have underestimated the increase by as much as 2.3C according to researchers at the University of California at Berkeley.





Global warming may be worse than predicted

(05/22/2006) Climate change estimates for the next century may have substantially underestimated the potential magnitude of global warming says a new study from a team of European scientists. The paper, published in the May 26 issue of Geophysical Research Letters, says that warming may be 15-to-78 percent higher than estimates that do not consider the feedback mechanism involving carbon dioxide and Earth's temperature.





Birthplace of hurricanes heating up say NOAA scientists

(05/03/2006) The region of the tropical Atlantic where many hurricanes originate has warmed by several tenths of a degree Celsius over the 20th century, and new climate model simulations suggest that human activity, such as increasing greenhouse gas emissions into the atmosphere, may contribute significantly to this warming. This new finding is one of several conclusions reported in a study by scientists at the NOAA Geophysical Fluid Dynamics Laboratory in Princeton, N.J., published today in the Journal of Climate.





Global warming to be more moderate than some expect

(04/19/2006) A new study published in Nature says that climate change will be more moderate than some recent projections. Nevertheless, says lead author Gabriele C. Hegerl of Duke University, we can expect significant changes in the future. The study looked to refine climate sensitivity, or the change in global mean surface temperature in response to a doubling of atmospheric carbon dioxide levels.





Plants may absorb less carbon dioxide than initially believed

(04/12/2006) The world's land plants will probably not be able to absorb as great a share of the rising atmospheric carbon dioxide as some models have predicted, according to a new study led by Peter B. Reich, professor in the department of forest resources at the University of Minnesota. The work showed that limitations on the availability of nitrogen, a necessary nutrient, will likely translate to limitations on the ability of plants to absorb extra carbon dioxide.





Pollution from smog linked to climate warming in the Arctic

(03/15/2006) In a global assessment of the impact of ozone on climate warming, scientists at the NASA Goddard Institute for Space Studies evaluated how ozone in the lowest part of the atmosphere changed surface temperatures over the past 100 years. Using the best available estimates of global emissions of the various gases that produce tropospheric ozone, the GISS computer model study reveals how much this single air pollutant and greenhouse gas has contributed to warming in specific regions of the world.





Tree plantations for carbon sequestration may cause environmental problems

(12/22/2005) Growing tree plantations to remove carbon dioxide from the atmosphere to mitigate global warming -- so called "carbon sequestration" -- could trigger environmental changes that outweigh some of the benefits, a multi-institutional team led by Duke University suggested in a new report. Those effects include water and nutrient depletion and increased soil salinity and acidity, said the researchers.









Temperate forests may worsen global warming, tropical forests fight higher temperatures

(12/05/2005) Growing a forest might sound like a good idea to combat global warming, since trees draw carbon dioxide from the air and release cool water from their leaves. But they also absorb sunlight, warming the air in the process. According to a new study from the Carnegie Institution's Department of Global Ecology and Lawrence Livermore National Laboratory, planting forests at certain latitudes could make the Earth warmer.





Soil moisture, root depth influence climate models

(12/05/2005) By soaking up moisture with their roots and later releasing it from their leaves, plants play an active role in regulating the climate. In fact, in vegetated ecosystems, plants are the primary channels that connect the soil to the atmosphere, with plant roots controlling the below-ground dynamics.





Atmospheric carbon dioxide levels closely correlated with global temperatures

(11/28/2005) Studying ice cores from Antarctica, scientists of the Alfred Wegener Institute for Polar and Marine Research extended the record of historic concentrations of carbon dioxide, methane and nitrous oxide in the atmosphere by 250,000 years. The team found a close correlation between atmospheric carbon dioxide levels and global temperatures. Over the past 650,000 years, low greenhouse gas concentrations have been associated with cooler conditions. The current concentration of atmospheric carbon dioxide, at 380 parts-per-million, is the highest level recorded over the past 650,000 years.





Average temperatures climbing faster than thought in North America

(11/27/2005) Tree rings and borehole drill samples have added to the evidence that average temperatures in North America have risen steadily in the past 150 years according to a new study by researchers at Oregon State University and the University of Utah. In their paper published in Journal of Geophysical Research, scientists found that average temperatures in the Northern Hemisphere increased about 1.5 degrees since the beginning of the industrial revolution when atmospheric carbon dioxide concentrations began to increase sharply.




Page 1 | Page 2