Chocolate company collaborates with NGO to conserve Madagascar's iconic wildlife while helping bolster the prospects of a long-overlooked reserve

Madécasse produces chocolate bars from cocoa grown and processed in Madagascar. Photo courtesy of Christi Turner.
Madécasse (pronounced "mah-DAY-kas"), which brands itself as an eco-conscious and socially responsible company known for its bean-to-bar-in-Madagascar chocolate,, has teamed with the Lemur Conservation Foundation to benefit the country's wildlife. During the month of March, the chocolate company is donating 25 percent of their online profits, when the coupon code LCF2015 is used, directly to the Lemur Conservation Foundation. The money raised is going towards a project that will help spark research, conservation and tourist opportunities in northeastern Madagascar's Anjanaharibe-Sud Special Reserve. As an added incentive, the code also counts as a 10 percent discount on the entire order.
| | |
| --- | --- |
| | Ring-tailed lemurs (Lemur catta) at the Lemur Conservation Foundation's reserve in Myakka City, Florida. In addition to in-situ conservation work done in Madagascar, the Lemur Conservation Foundation houses 48 free-ranging lemurs to study in an ex-situ environment. Photo courtesy of Caitlin Kenney. |
Located in the mountains of northeastern Madagascar, Anjanaharibe-Sud Special Reserve hosts a remarkable amount of biodiversity, boasting 74 species of birds, 93 species of amphibians and reptiles, and 180 ant species. "The flora is equally magnificent with an astounding 211 fern species and the ancient takhtajania shrub (Takhtajania perrieri), known only from a single specimen found in 1909 but re-discovered in the reserve in 1997 after numerous failed expeditions," Dr. Alison Grand of the Lemur Conservation Foundation told mongabay.com.
Because of Madagascar's isolation, many of the island's species are found nowhere else, relics of a long-ago past that is gone from other parts of the world. "[The takhtajania] may be one of the first flowering plants to have evolved and may have been growing since the time of the dinosaurs in Madagascar," said Dr. Erik Patel of the Duke Lemur Center and a Scientific Advisory Committee Member for the Lemur Conservation Foundation.
Among the reserve's wildlife are two species of critically endangered lemurs. The all-black, elusive, and very loud, indri (Indri indri) and the extremely rare silky sifaka (Propithecus candidus) make Anjanaharibe-Sud Special Reserve unique and are the collaboration's two icons for reaching and educating potential chocolate buyers.

In indri (Indri indri) at Camp Indri. The indri found in Anjanaharibe-Sud Special Reserve have much darker fur than the indri found further south. A lack of previous study of these groups underlines the need for more research within the reserve. Photo courtesy of Eric Mathieu.
"As much as 40 percent of the remaining silky sifaka population might remain [in Anjanaharibe-Sud Special Reserve]," Patel told mongabay.com. "With less than 3,000 individuals remaining, this reserve is critical to the survival of the silky sifaka."
This is particularly alarming because, along with most of eastern Madagascar's rainforest, the reserve and its 11 lemur species are threatened by habitat loss due to the need to accommodate a rapidly growing population. The World Bank estimates the island's population will more than double by 2050, and conservationists fear that subsequent development such as slash-and-burn agriculture and gemstone mining may threaten this critical area unless the reserve is given more attention. Currently, there are only five park rangers monitoring the reserve's nearly 70,000 acres.
| | |
| --- | --- |
| | One of the rarest animals in the word, the silky sifaka. Anjanaharibe-Sud Special Reserve may house as much as 40 percent of the world's remaining silky sifaka population. Photo courtesy of Erik Patel. |
Another area that has conservationists concerned for the reserve is the lack of support it receives from the government and outside sources. "It is not a national park, and therefore has received far less funding from the Government of Madagascar," Patel said. "Unlike many other large biodiversity hotspots in Madagascar, this reserve has no outside international partner or donor." The reserve was nominated as a UNESCO World Heritage Site in 2008 for its ecological significance, although the honor has yet to be inaugurated.
Despite its biodiversity and unique plants and animals, the reserve only hosts around a dozen tourists each year. In an effort to increase tourism and research opportunities, the Lemur Conservation Foundation will be using the money raised during the Madécasse promotion to develop Camp Indri – the reserve's only authorized tourist site. Other than a recently constructed toilet, no infrastructure currently exists in Camp Indri. Conservationists believe this lack of infrastructure is the main reason for the reserve's shortage of tourists and researchers.
"As described in the IUCN's Lemur Action Plan, it is well known that an influx of research and tourism can contribute greatly towards the conservation of protected areas in Madagascar," Patel said. "Researchers and tourists provide training, jobs, and often form long-term collaborations with local communities which can lead to improvements in education, health, and more."

The Lemur Conservation Foundation's Curator of Primates and Conservation, Dr. Alison Grand, standing in front of Camp Indri's first building – the toilet. Photo courtesy of Dr. Alison Grand.
According to area conservationists, an important step for the continued success of the reserve is gaining support from the park staff and community members. Local partners have already noticed how tourists and researchers at the nearby Marojejy National Park, which receives few visitors relative to other Malagasy national parks, have greatly benefitted from its surrounding communities. "Already having the support of the local park staff, leaders, and community members, greatly increases the probability of success," Grand said. "Although it will be important to continue working closely with local partners in project development and managing expectations."
Researchers with the Lemur Conservation Foundation believe Anjanaharibe-Sud Special Reserve has huge untapped visitor potential.
"Personally, in the 15 years that I have worked in Madagascar (each and every year), I have never seen another site which has so much unrealized tourist and research potential," Patel noted.

A silky sifaka at Marojejy National Park. Photo by Christi Turner.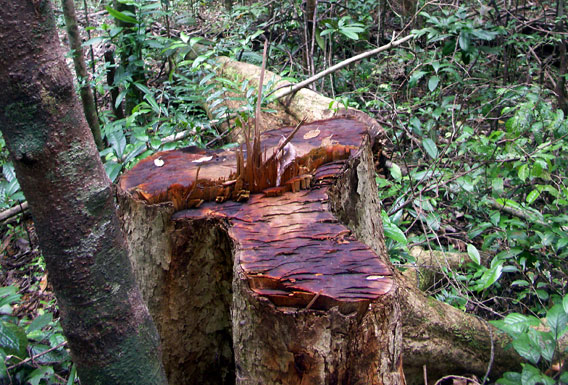 Excessive illegal rosewood logging – a threat that Anjanaharibe-Sud Special Reserve has largely avoided – caused Marojeji to temporarily close in 2009. Photo taken in Marojejy National Park by Rhett A. Butler.
With the realization that building basic infrastructure would attract visitors to Anjanaharibe-Sud Special Reserve, thus helping in the conservation of vital lemur habitat, Patel and Grand decided to team up with Madécasse to accomplish something neither of them could do alone.
"For us, the partnership makes sense first and foremost because we have a common interest in educating people about Madagascar in general," co-founder of Madécasse, Tim McCollum, told mongabay.com. "We prioritize environmental health in the way we farm cocoa and produce chocolate; this partnership goes a step further."
Both sides of the collaboration are confident that this is just the start of a long relationship between Madécasse's ethical cocoa farming and the Lemur Conservation Foundation's in-situ ecosystem conservation. With the end of the month fast approaching, Madécasse is still a few hundred dollars short of their $1,000 goal. Nevertheless, as Madécasse's Christi Turner added, "Those of us who've lived and worked in Madagascar know that every dollar goes a long way."

Cocoa beans drying. By completing the entire bean-to-bar process — which includes everything from harvesting the cocoa pods to putting the bars into their packages — in Madagascar, Madécasse says they are able to have a more positive social and environmental impact. Photo courtesy of Christi Turner.