Crisis-racked nation gets help, hope from European benefactor
In one of the many major announcements that have come out of the UN Climate Summit in New York this week, Norway says it will pay Liberia to stop cutting down its forests. According to the terms of the deal, Norway's payment will come on the form of development aid for the war-torn, impoverished, and now Ebola-ridden West African nation.
The announcement comes amid fears that mounting crises in Liberia will fuel deforestation by people desperate for cash.

The Diana monkey is a Vulnerable primate species found only in the Upper Guinean forests in and around Liberia. Photo by Trisha Shears.
Since the end of a civil war in 2003, Liberia has experienced a dramatic uptick in logging. According to data from the forest monitoring site Global Forest Watch (GFW), Liberia lost nearly 500,000 hectares of forest between 2001 and 2012—or 4.4 percent of its forest cover. Deforestation was set to continue to rise when President Ellen Johnson Sirleaf disbursed licenses giving timber companies permission to cut down 58 percent of the country's remaining primary forest. However, those licenses were revoked in the wake of international criticism.
Liberia is home to a significant proportion – approximately 43 percent – of the Upper Guinean forest, a region listed by Conservation International as a biodiversity hotspot due to its many endemic species found nowhere else and its high level of threat of human-caused degradation. Liberia's forests provide valuable habitat for common chimpanzees (Pan troglodytes, Endangered), elephants (Loxodonta africana, Vulnerable), and nimba otter shrews (Micropotamogale lamottei, Endangered), among many other species.
In addition to saving wildlife habitat, Norwegian officials hope the pledge will act as an investment in Liberia's economy and help mitigate global warming.
"We hope Liberia will be able to cut emissions and reduce poverty at the same time," Jens Frolich Holte, a political adviser to the Norwegian government, told the BBC.


Libera is covered in logging and palm oil concessions, with nearly 500,000 hectares of tree cover lost between 2001 and 2012. Of this, the country lost about a third of its scant remaining intact forest. But with Norway's pledge, there may be hope for the rest. Map courtesy of Global Forest Watch. Click to enlarge.
Under the agreement, Liberia will not issue new logging concessions until those that currently exist undergo independent review. The country must also gazette 30 percent of its forests as protected areas by 2020.
In accordance with recent findings that forests tend to be more effectively managed and protected by local communities, Norway plans on directly paying Liberian communities to help promote forest conservation.
Liberian conservationists laud the move. "This partnership holds promise not only for the forest and climate; but for forest communities that have been marginalized for generations," Silas Siakor, a Liberian environmental campaigner and Goldman Environmental Prize laureate, told the BBC.
However, others question the feasibility of completely halting logging in Liberia. The country's entrenched and widespread political corruption and lax enforcement–not to mention its current focus on stemming the onslaught of Ebola–may prove to be large hurdles for the Norwegian initiative. Still, there is cautious hope for a brighter future for Liberia through conservation.
"There is the potential for this to go wrong, both Norway and Liberia will have to make sure that this deal does not get affected by corruption, but I am cautiously confident it can be done," Patrick Alley, the director of the campaign group Global Witness told the BBC.
"It's really good news, it's transformational for Liberia when all the news coming out of there is bad – I think this will be a real boost."
Related articles
Don't eat or touch bat bushmeat amid worsening Ebola outbreak, UN warns
(07/29/2014) The world's worst Ebola outbreak was likely begun by a hunter shooting a fruit bat for their dinner or the market, according to the UN. The outbreak has killed over 660 people in six months to date, and recently spread via plane to Nigeria. The disease is particularly deadly with a mortality rate of around 90 percent.
Invasion of the oil palm: western Africa's native son returns, threatening great apes
(07/28/2014) As palm oil producers increasingly look to Africa's tropical forests as suitable candidates for their next plantations, primate scientists are sounding the alarm about the destruction of ape habitat that can go hand in hand with oil palm expansion. A recent study sought to take those warnings a step further by quantifying the overlap in suitable oil palm land with current ape habitat.
Deutsche Bank dumps controversial palm oil company
(05/27/2014) Deutsche Bank has sold its stake in Bumitama, an Indonesian palm company that has been embroiled in controversy over alleged destruction of rainforests and peatlands in Borneo, reports Friends of the Earth Europe.
Over 9,000 primates killed for single bushmeat market in West Africa every year
(03/24/2014) Over the past 25 years, West Africa's primates have been put at risk due to an escalating bushmeat trade compounded with forest loss from expanding human populations. In fact, many endemic primates in the Upper Guinea forests of Liberia and Ivory Coast have been pushed to the verge of extinction. To better understand what's happening, a recent study in mongabay.com's open-access journal Tropical Conservation Science investigated the bushmeat exchange between these neighboring countries.
Rainforest news review for 2013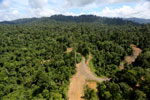 (12/26/2013) 2013 was full of major developments in efforts to understand and protect the world's tropical rainforests. The following is a review of some of the major tropical forest-related news stories for the year. As a review, this post will not cover everything that transpired during 2013 in the world of tropical forests. Please feel free to highlight anything this post missed via the comments section at the bottom. Also please note that this review focuses only on tropical forests.
Palm oil companies ignoring community rights, new study shows
(11/07/2013) Some of the largest palm oil companies are clearing forests and peatlands without seeking consent of local communities, leading to a spate of unresolved conflicts in plantation concessions around the world, warns a coalition of NGOs and researchers. Members of the Roundtable on Sustainable Palm Oil (RSPO) are violating the rights of local communities in tropical forests and failing to live up to social and environmental commitments, the coalition said in a report released on Thursday.
Investors beware: global land grabbing ends in 'financial damage' and human rights violations
(02/07/2013) Investing in companies that flout local community rights in developing countries often leads to severe economic losses, according to a new report from the Rights and Resources Initiative (RRI). A rising trend in "land grabbing" from Africa to South America by corporations and even foreign governments results in social instability, which can lead to large-scale protests, violence, and even murder, delaying and sometimes derailing projects. Such instability poses massive risk to any investor, not to mention supporting corporate entities that are accused of ignoring human rights.