Rainforest in Sabah, Malaysia, Brunei's neighbor."
The tiny, but densely forested country of Brunei Darussalam says it will limit agricultural conversion to one percent of its land mass, preserving much of the rest for biodiversity and other services afforded by healthy forest ecosystems, reports the Center for International Forestry Research (CIFOR).
Speaking earlier this month at CIFOR's Forests Asia Summit, Pehin Dato Yahya Bakar, Minister of Industry and Primary Resources, said his government is committed to forest conservation.
"We limit our agricultural production to no more than one percent of our land areas, even for (activities) as important as the production for staple foods such as rice," Bakar said."In Brunei there's a strong political will and active participation of all levels of society to protect and conserve our natural forest heritage."
The minister added that Brunei is working with Indonesia and Malaysia to conserve the "Heart of Borneo", a 22-million-hectare area of forests and ecosystems across much of Borneo. The three countries share the island, which is the world's third largest.
Bakar said that Brunei would meet growing food demand through "technology and know-how" to boost yields without clearing forests. It will also bar selective logging and continue to offer its forests up for research.
"We recognize the increasing value of our forest ecosystem based on its ecological services and biological biodiversity to be of much value than the timber services alone," he said.

Map of forest cover change in Brunei (top) and tree height. Courtesy of Global Forest Watch
Borneo has lost nearly half of its forests over the past 50 years including more than 5 million hectares in the 2000's. While Malaysia and Indonesia have seen forest cover under their control decline rapidly for timber, palm oil, and mining, Brunei lost only 3 percent of its forests since 2000. More than 80 percent of the country remains forested.
Brunei's economy is primarily driven by offshore oil and gas deposits — rather than forestry. These energy reserves have made the Sultan of Brunei one of the world's wealthiest people.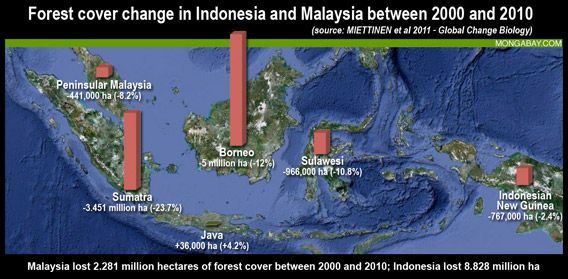 Forest cover change in Indonesia and Malaysia between 2000 and 2010. Background satellite image courtesy of Google Earth, design by mongabay.com. Click image to enlarge.